Buffy the Vampire Slayer #23 feels like the true first step on the path to the season 10 finale, in the best way possible. While headroom isn't necessarily made with each character and their fear of separating from the overall group, each of those distances is at least addressed and brought back to the forefront. In particular, the issue focuses most heavily on Andrew and his penchant for always stabbing his friends in the back—sometimes literally.
Other than finally coming out and having that arc wisely mixed with his overall need to discover himself and his place in the world, Andrew hasn't gotten much play this season. He's been used sparingly, but it's worked. Many of those sparse moments have been character defining and this issue is certainly no different. At the beginning,
Andrew is approached by a villain introduced earlier in the season called the Sculptor. The demon offers to make a new body for Jonathan, Andrew's best friend, who he killed in cold blood back in season seven. While Andrew's redemption arc has been a source of comic relief since the last TV season, it's become a pretty serious thing. He's had major missteps as recent as season nine and while he often gives us some reasons to root for him, he's rarely if ever given us a reason to trust him. This issue is all about that.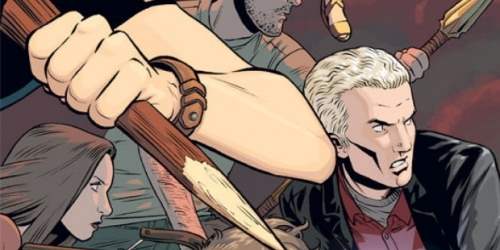 Of course, there are other characters who get their time in the spotlight as well. While Buffy and Willow may have stopped outright fighting over Willow's decision to work with the military, they've found that actually working together under those conditions is much easier said than done. We also get to see Dawn's study group, which is nice because it's just about the first time we've seen her in the academic setting—even though she's been going to college since before the comics began with season eight—and because it's the first time we're introduced to any of Dawn's actual circle of friends.
I really hope to see more of them, too. I know there's only room for so many characters, but it would be an easy way to see what's going on with Dawn and how she's dealing with everything, to just see her interact with her friends away from all the official Scooby business.
Last, but not least, we have Buffy and Spike. Their relationship has been called into question a lot lately, but issue #23 does a very appreciated thing by not talking about the same old points over and over again. Instead, the doubts and possible distance of their relationship at this point are expressed only through the artwork. We'll see a brief, unreciprocated look, or maybe just a twinge of doubt in the face. Little things like this, I think, more effectively set us up for the fall and will make it more believable when it inevitably comes. Of course, there's every possibility that Buffy and Spike could work through their differences and be a stronger couple for it, but from the stuff we've seen so far, especially over the last couple of issues, I don't think that's the route that Christos Gage and company are going to take.
As it has always been, Buffy is best when it is firmly focused on the character relationships. This issue is no different, but it's also an important one because it plays with our expectations for those characters as well.
WICKED RATING: [usr 8]