I'd never seen a comic book done in the style of an old grindhouse movie before this, but it's hard to imagine something doing it more effectively than Slay Ride. This taps into that very niche, exploitation style so well but, at the same time, manages to tell a completely new and original story. It's about a woman who is brought home to see the mangled bodies of her father and brother after her mentor, Mother Wolf, discovers the scene. The dying Mother Wolf and the woman Shayla then go out into the snowy evening on a mission of vengeance.
Naturally, they find it. But it's not easy. There are three killers involved: The Clown, The Overseer and The Man Who Walks. Each one of them stands in for one of Shayla's own vices. Mother Wolf, who is already dying and won't be around that long—that one's due to The Cowboy, she says, a representative for cigarettes who claimed her young.
Shayla fights her way through horrific things—including clown children that claim to be the ghosts of her abortions—before coming face to face with The Man Who Walks in a bloody and wonderful final battle.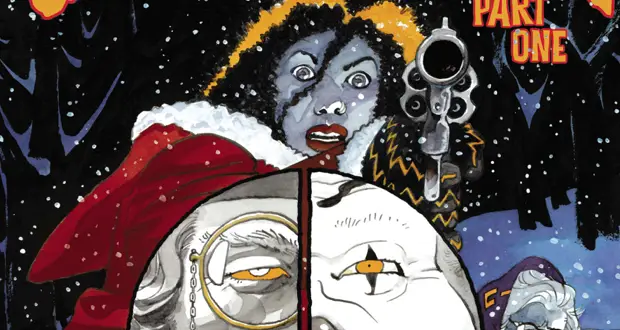 The style of this comic is so close to the 70's grindhouse exploitation films in a way I had never expected to see in a comic before. The violence, the language, it's not just-over-the top; it is an exploitation movie that happens to be a comic book and that, to me, is really, really cool.
The other thing that's neat is that even the heroes here aren't necessarily great people. Shayla does not consider herself a good person, and the narrative doesn't seem to particularly disagree with her, but she's still a fully fledged protagonist. Of course, with villains that serve as representations for vices, it's natural for it to come off as judgmental. But it's not present enough to really hold it back.
But the major success of Slay Ride, to me, comes with the fact that it is so hard to do horror in a comic book format. It's nearly impossible. Only a handful of comics have done it over the years, and the EC comics were the only ones to really do it consistently. But Slay Ride pulls it off. The scene with the clown children is terrifying.
There are a few pacing issues where it just jumps from one action sequence into the next, but really, that's a grindhouse trademark so it could very well be intentional and even if it's not, it still works. But there are definitely times where some of the mythology could be explained a little better, or at least in greater detail. These are minor things when considering how well the comic works as a whole. Slay Ride was a pleasant surprise for me, but one I definitely recommend checking out.
WICKED RATING: 7.5/10