Visionary director Guillermo Del Toro's highly-anticipated gothic romance Crimson Peak is not, as its leading lady is at pains to explain in relation to her own work, a ghost story. It is a story with ghosts in it. There will be those who argue that this latest effort from the Mexican maestro is not a horror movie, but such discussions seem utterly irrelevant when what is presented on-screen is so magnificent.
Our heroine is Edith (the enigmatic Mia Wasikwoska), a young woman living in late-1900s New York with big dreams of becoming a novelist. Trouble is, she's more interested in writing about manly things like ghosts, than falling in love with the dashing local doctor (played by Del Toro regular Charlie Hunman) and charting the romance. Into her life glides the impossibly fancy Thomas Starke (Tom Hiddleston, resplendent in a variety of suits) who's angling to work for her father.
He and his oddly cold sister Lucille (Jessica Chastain, doing a fine English accent) maintain a dilapidated country mansion in the wilds of northern England and it's here that Edith finds herself marooned after hopelessly falling for the dashing Thomas, much to his sister's obvious disdain. No sooner has Edith dropped her bags at the door than spooky apparitions begin appearing in the hallways and she soon finds herself wondering what's really lurking beneath the surface.
What's immediately striking about Crimson Peak is just how visually stunning it is. Even coming from the man who gave us Pan's Labyrinth, this is a feast for the eyes. Allerdale Hall, the place the Sharpes and subsequently Edith call home, is a physical property, built entirely on a sound-stage for the production, but it creaks and crumbles as though it's been standing for hundreds of years. The level of detail that went into creating the house is awe-inspiring, each corner of it impeccably presented from the hole in the ceiling, through which gently falling snow falls, to the gooey red clay that seeps up, like blood, through the floorboards.
Script to Pieces: Guillermo del Toro's Frankenstein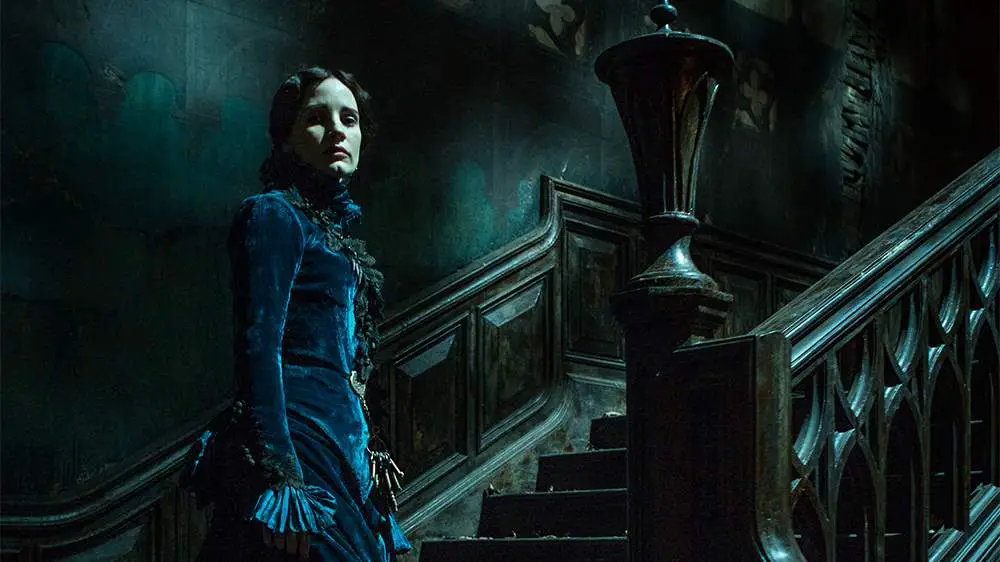 It's a work of art in itself, and it's elegantly presented to us as a living, breathing organism. Thomas notes to Edith early on that, when a cool breeze catches it, the house breathes – an idea that is simultaneously quite creepy, yet also strangely beautiful. There are ghosts hiding within its walls, most of whom quickly appear and disappear in front of Edith before we can get a proper look at them, but the real villains are the humans who inhabit Allerdale Hall. Lucille, in particular, is one of the most ghastly female characters to grace (or rather haunt) a mainstream movie in a long time.
Lady Sharpe is also Chastain's meatiest role since Zero Dark Thirty and the actress, who revealed she had to go to some very dark places in order to do the character justice, is clearly having the time of her life, her starched collars and tight corsets giving the impression she's constantly on the brink of lashing out. Of course, she takes a back seat, for the most part, to the swooning couple at the centre of the story. Originally, Del Toro had Benedict Cumberbatch signed on to play Thomas. Although it would've been interesting to see what Sherlock himself could've done with the role, it's difficult to imagine anyone but Hiddleston playing him.
The man most well-known for playing Thor's naughty brother inhabits the tortured, passionate Thomas, his every glance communicating a lifetime of pain and torment. He also does a fine job as a dashing leading man, literally charming Edith's pants off in one particular sequence that will leave the Hiddlestoners/Loki's Army gasping for breath. However, Del Toro is not a man who deals with sexuality often, or who does anything just for the sake of it, and he is quick to send us crashing back down to earth just a few short scenes later with a moment that will delight and sicken in equal measure.
Crimson Peak is, by all accounts, a gothic romance in the traditional sense, both tonally and in its execution. There are some lighter, comic moments, but they are few and far between. The mood is dark, the tension simmering like a kettle about to boil. Del Toro's ghosts were mostly captured practically, with CGI flourishes added in later to make them a bit spookier. In this regard, the director falls down slightly as the ghouls rather than adding to the gorgeous period detail actually take away from it due to being, as computer-rendered phantoms tend to be, a bit fuzzy around the edges.
It's disappointing coming from the man who studied under Dick Smith and, although budgetary concerns might have forced his hand, one almost wishes Del Toro had gone the whole hog with guys in latex instead, so that when one of the ghosts needed to deliver a message, it would've been slightly more convincing. The very obvious CGI takes away from the overall effect, especially when so much time and effort has gone into creating what is a perfectly chilly, spine-tingling atmosphere. However, this is a minor quibble in what is otherwise a modern masterpiece.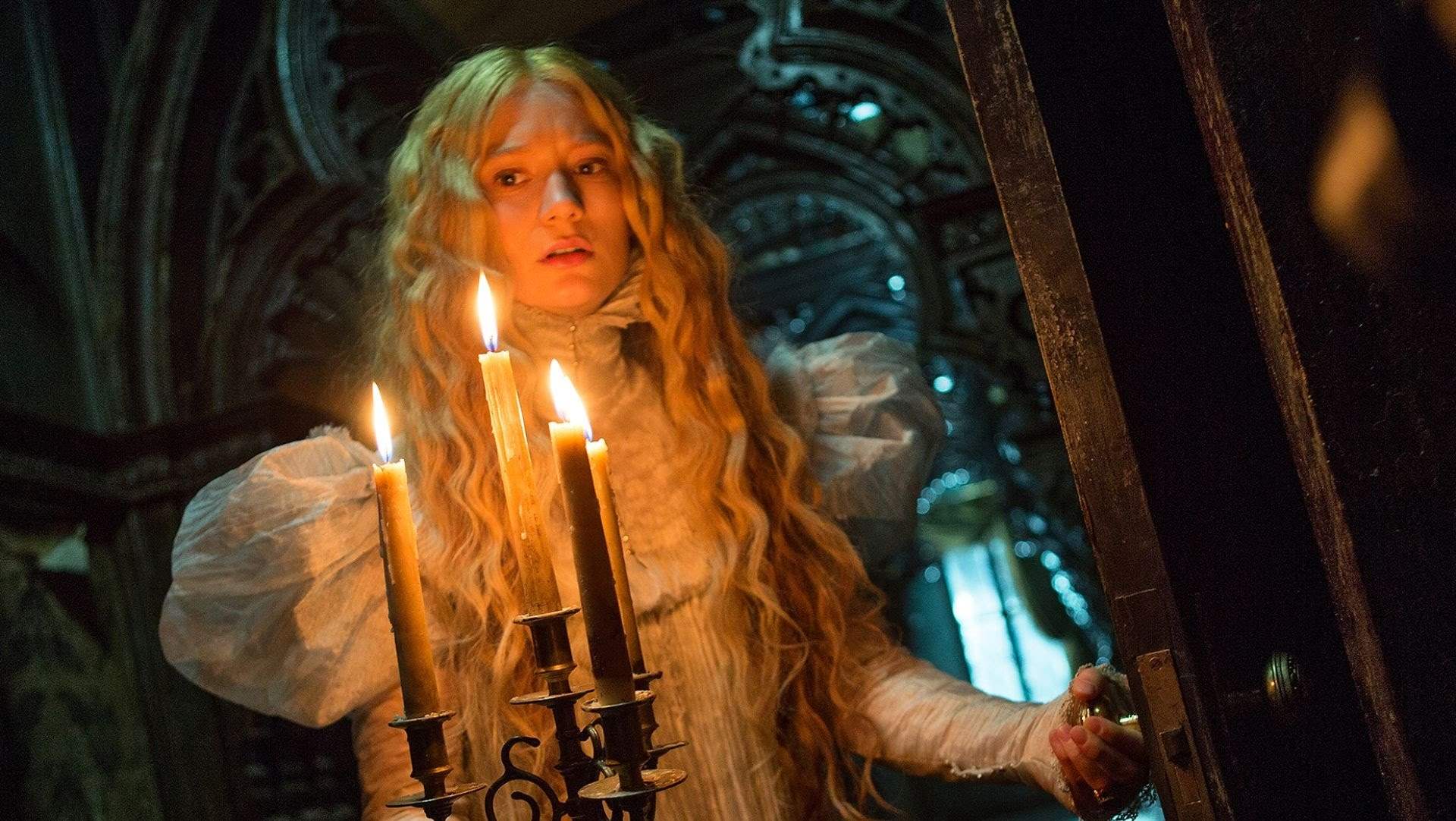 There may be some discussion about whether or not Crimson Peak qualifies as a horror movie but regardless it does have some genuinely frightening moments, a hellishly gory finale, and the tension is consistent throughout. The film is carried by yet another fine turn by Wasikowska, an actress who is so good at choosing her roles she ought to make a career out of doing so for similarly-aged international imports such as Imogen Poots, who would kill it in something like this if given the chance to do so.
Hunman, who struggled as the lead in Del Toro's Pacific Rim, does some of his best work here as supporting character Dr. Michael, tasked with hanging out on the sidelines, trying to figure out what's really going on at Allerdale Hall, alongside the audience. He's an interesting insert, a stark contrast to Thomas's brooding gent. It's doubtful anyone will be rooting for him with Hiddleston on the screen, but Hunman makes a case for him nonetheless.
Crimson Peak is one of the most highly-anticipated releases of the year, and it's a relief that it's such a joy to behold. It will not be to everyone's tastes, you definitely have to allow yourself to get swept up in it a little bit, and horror fans might be disappointed by the lack of outright terrors on show – though somebody definitely thinks this is a horror movie as trailers for both Krampus (yay) and Paranormal Activity: The Ghost Dimension (boo) played before it – but it's a creepy watch nonetheless.
Sumptuously gothic, chilling and expertly-performed by the three leads, Crimson Peak is Del Toro's finest work to date. So gorgeous it will make you want to lick the screen (and not just because of Hiddleston's butt).
WICKED RATING: 8/10
Director(s): Guillermo Del Toro
Writer(s): Guillermo Del Toro, Matthew Robbins
Stars: Mia Wasikowksa, Tom Hiddleston, Jessica Chastain, Charlie Hunman
Year: 2015
Studio/ Production Co: Legendary Pictures
Language: English
Length: 119 minutes
Sub-Genre: Romance, supernatural