Before I can even go any further…did you see what I'm reviewing today? Alice in Murderland. That's right, Murderland! I was in the mood for a slasher and this title caught my eye, so why not? I enjoy watching obscure horror films. And this flick is not something many people have heard of. Isn't it funny that people would rather watch Saw 16 than take a chance on a brand new, original horror film? Wait, I think I just spoke too soon. Oops.
Welcome to Horrible Films for Horrible People! This week, we will take a look at Dennis Devine's slasher Alice in Murderland. Alice is turning 21 and her sorority sisters decide to throw her a birthday party she won't soon forget. Her best friend Malory wants to put together a costume themed party in the style of Alice in Wonderland. The costume theme party sounds like a pretty cool idea until Malory decides to throw it at the Glass building. The Glass building is the place where Alice's mother was brutally murdered exactly 20 years ago. What a pal, right?! To make things even more ridiculous there are no boys allowed and no cellphones. Each sorority sister is assigned to a character from Alice in Wonderland based on their personality.
Of course Alice is Alice…duh. Malory is the White Rabbit since she's the host of the party. Pima, the science major who decided to bring her own mushrooms is the Caterpillar. Donna and Dee who are goofy and inseparable are Tweedledee and Tweedledum. The odd sister Kat who comes and goes when she wants is the Cheshire Cat. The sorority's mean girl Tiffany is the Red Queen and her minion, Samantha is the happy cook. No one really remembers the cook….I know I didn't. Oh and for some reason Malory's uncle is invited so he's the Mad Hatter. No one is the Jabberwocky…so we think. As soon as the "party" starts the girls realize they're trapped in the house and that there's a psychotic killer on the loose [Shocking].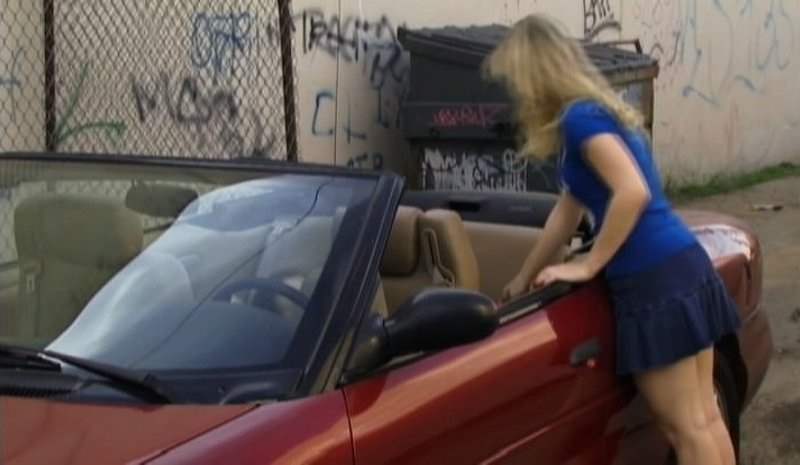 It sounds like a typical slasher, so why is it so horrid? To start I really like the title! It's very catchy and sounds like it has potential. But it all gets worse from there. The film is filled with girls getting murdered, one by one. Nothing new. I'm all for independent films but there must be redeeming qualities in order for the project to work on any level. Here, there really are no redeeming qualities: The film was clearly shot with a handy cam. And most likely the director didn't even own a tripod. The sound was really awful. It was muffled and low. The acting was
beyond
terrible. I feel awful for these girls. My advice to them is to continue to follow their dreams but make sure to enroll in some acting classes, pronto.
I noticed that some of the actresses in this film are getting other roles. How?! Well, hopefully they've learned from everything that didn't work here and applied it to any future projects.
The writing for Alice in Murderland makes no sense. There are so many potholes that watching the film became exhausting within 15 minutes. With a title like Alice in Murderland, I was expecting some great gore or clever kills but the picture lacked violence or any real creativity. You can't just turn your camera on and expect that skinny girls with slutty outfits will carry the whole picture.
There were many things I took issue with but instead of some long winded diatribe, I will focus on a few of the worst offenders: I just don't understand what was going through the character's minds when they thought it would be ok to have a party in an abandoned building with no music or activities. The whole purpose of the party was to walk around an abandoned building where the birthday girl's mother was murdered? What?!
When it came to the characters getting murdered, I would usually be all for that, especially in this film but of course it's not that simple. These girls would get chopped up like 40 times by an ax but for some reason…they're still alive, even after being hacked up to mince meat. Um, how? Major plot-holes like that enrage me.
Moreover, Alice's mother was murdered 20 years ago, T-W-E-N-T-Y years, ok? But the same brand new washer and dryer are still intact and in the same place twenty years later Oversights like this get me real cranky.
Finally, the ending….I don't get why Alice was laughing like she was at the end. It wasn't shocking, scary or appealing, it was simply annoying. Her laugh was so irritating and phony!
Overall, this film is 90 minutes too long. There is no reason why I would watch it again. It was so predictable that it was boring. Dennis Devine, who is the director and writer tried to pull off a twist ending and yet I knew within 15 minutes who the killer was. Hopefully Dennis doesn't get anymore ideas. Otherwise, we may be forced to sit through Cinderkiller. 
WICKED RATING: 1/10
Title: Alice in Murderland
Director: Dennis Devine
Writer(s): Dennis Devine
Stars: Malerie Grady, Marlene Mc'Cohen
Year: 2010
Studio/ Production Co:  Sterling Entertainment, Tom Cat Films
Budget: Unknown
Language: English
Length: 90 Minutes
Sub-Genre: Horror, Thriller