Welcome to Horrible Films for Horrible People…I'm back this week with Brett Simmons' creature feature Animal (2014). It's the typical storyline about a group of friends who decide to go hiking in the isolated, creepy woods. What's wrong with going to Vegas? Or,  I don't know…just going to Starbucks? That's a good, safe time. As predicted, the hike goes completely south when the group ends up in the pitch dark boonies with a vicious bear…or maybe a mole rat like creature with seal whiskers and bald spots.
Animal didn't surprise me, nor did it do anything new whatsoever. Honestly, it's a drag and very predictable. The scares that are attempted are predictable jump scares with loud sound effects that only scared my neighbors. There was definitely potential for the blood and gore, especially with the death scenes; however, everything fell short. I think one of the main reasons why I watched this film was because I thought there was going to be plenty of blood and guts. And while it was visually amazing, the film was lacking in virtually every other way.
As far as it goes with the characters, it fells like filmmakers and writers are getting far too lazy! It's like the characters were taken from other films and just renamed. When I first found out that Paul Iacono and Keke Palmer were going to be in this film, I was pretty excited! Paul played Sean, and he was awesome as expected, even though I've seen this character many times before. Keke Palmer's character was forgettable; in fact, I forgot her name. I could Google it, but why bother. There's the black character, the gay character, the slutty one, the brave rugged one and the complete ass hat. The only character that was missing from this one is that old, mysterious person who knows everything.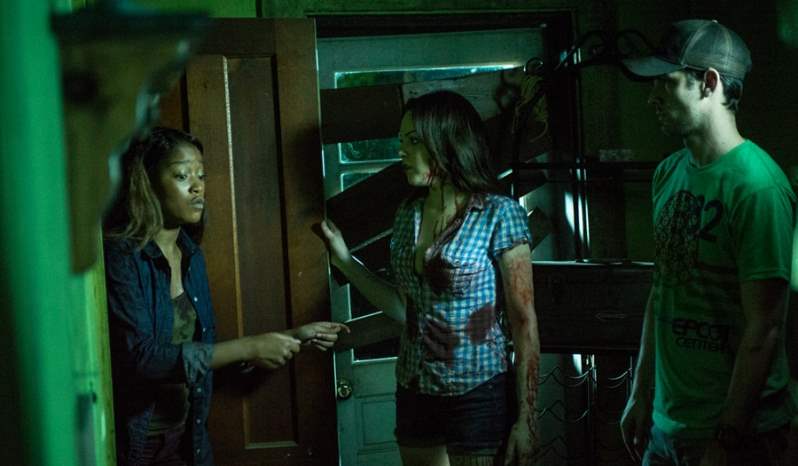 Out of all the characters, I really disliked the slutty one, Mandy. First, she was constantly screaming and throwing these dramatic fits that I just didn't have any sympathy for. I really didn't care for the fact that she was running around with her boobs sloshing out for pretty much the whole 86 minutes. I'm sure all you perverts out there will be happy to see that! This isn't the first horror film to pull the whole boobs-out-running-around-the-world act! Anyway, the actress who played Mandy, Elizabeth Gillies, used to be on a Nickelodeon show…don't judge me for watching it!  Regardless, she's an awful actress. Holy hell! I don't know what was going on but she was really overacting and it was unbearable at some points. Whenever I close my eyes I still see her face…ugh, God…make it stop. Anyway, I do suppose the group of friends were realistic.
Overall, Animal lost a lot of points because it wasn't original. It managed to deliver the correct formula for creature films as far as it goes with the deaths, even though there wasn't enough blood and guts for me! I suppose this film could be for the horror fan who simply has seen it all but wants some B-rated horror in their lives.
Also…I have to put this out there. I was really exhausted and disappointed that Keke Palmer did a song and music video for a horror movie. To be honest with you, I think I thought this was horrible, mainly because of her music video. Feel free to watch it. Just know that I warned you. You will quickly notice that the song and music video have nothing to do with the film. Nothing.
WICKED RATING: 2/10
Title: Animal
Director: Brett Simmons
Writer(s): Thommy Hutson, Catherine Trillo
Stars: Keke Palmer, Paul Iacono
Year: 2014
Studio/ Production Co: Chiller Films
Budget: Unknown
Language: English
Length: 86 Minutes
Sub-Genre: Horror, Thriller