This week on Horrible Films for Horrible People, we will be looking at Christopher Leitch's Secrets in The Walls (2010). I made the ill-fated decision to watch this movie despite it being a Lifetime film. It is listed as a supernatural film which seemed like a nice change of pace from Lifetime's countless entires in the I'm-always-crying-because-my-husband-has-been-cheating-on-me-for-the-last-seven-years sub-genre. Anyway, I was wrong. After watching Secrets in the Walls, I would have preferred one of those films.
Secrets in The Walls starts with a divorced mother named Rachel, who lives in Detroit and has recently rediscovered her independence after returning to work following an eight year hiatus. Rachel has two daughters. Lizzie, her oldest, is supposed to be in high school but looks like she's no older then twelve. Her youngest daughter Molly is also supposed to be a teenager but she looks like she's seven. Anyway, Molly has a strange ability that allows her to sense events before they happen. For example, she can predict when the phone is going to ring. Don't be jealous. This will not be the last time you hear about her cool powers. Lizzie, unfortunately, doesn't have any cool powers. But, she's getting ready to go to college so she's desperate to find her independence.
After Rachel's first day of work, she walks to the bus stop but pauses at a beautiful home for sale. Instantly, she knows she cannot afford the home. But she is eventually urged by a pushy real estate broker to check it out, anyway. Both soon find themselves in the dirty, musty basement of the house, where there's a random, creepy sound. The realtor immediately blurts out that she didn't hear anything without being asked. In case you couldn't tell be the title of the film, there's a huge secret about the house and clearly the assertive realtor knows all about it but refuses to a say word because she wants the damn house sold.
Flash forward to a couple of weeks later, when the price of the home drops even more. Unwilling to pass up such a deal, Rachel and her daughters move into the house but it is just too big for the three of them! Lizzie decides she wants to stay in the basement so she can have her own space and be the moody teenage daughter with issues. Meanwhile, Molly's super power radar goes off about a terrible feeling towards the basement, which she refuses to step into. While exploring her new space, Lizzie finds an eerie, dirty, music box with a twirling ballerina. Despite the music box being down there for over 20 something years, it still works. Of course it does.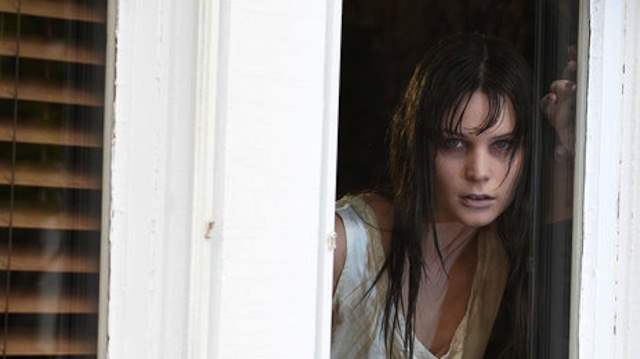 Eventually, weird things begin to happen. Molly is forever scared of a ghost girl she alone sees. Lizzie is locked in her closet somehow and almost rips her fingernails off. With episodes like this, you would think that the family would move out, but no. Instead, they go to their Uncle Marty's while Rachel checks into the history of her dream home. Along the way, she discovers that a girl went missing in her very home and was never found. At work, she decides to blab to the world about all of her problems, particularly to her co-worker who can talk to spirits. The co-worker is supposed to embody the role of that semi-old person who knows everything without any explanation. Somehow, Rachel's spirit-talking friend tells her the ghost girl is likely still in the house and that they need to find her body so they will no longer be pestered by her unruly spirit.
While breaking down walls in the basement, good ol' Uncle Marty discovers a secret area and finds a skeleton in a box. The cops come and take away the body, leaving Rachel to believe that her dead girl issues are over. Wrong, Rachel. Dead wrong. As the viewer, I knew there was more to it, especially since at this point in the film less than an hour had elapsed. Rachel and her daughters move back into the house and the film continues with a spirit haunting them, despite the body being removed. Lizzie even has an encounter with the dead girl living in her basement. The dead girl puts a necklace around Lizzie's neck and Lizzie is no longer Lizzie. Blah, blah, blah…..
Eventually, Rachel figures out that Lizzie is actually the dead girl. After Rachel and Molly trick the dead girl with major trickery that I won't reveal, they eventually get their Lizzie back and the dead girl goes off somewhere. After the ladies move out, they see a new family moving in. Rachel tries to warn them about the dead girl with wet, drippy hair. Of course, they don't listen. We also see the dead girl looking out the window with a ridiculous expression. Overall, this flick was predictable and I fell asleep twice while trying to watch it. The plot isn't anything new. In fact, it relies on an old storyline that we have seen too many times. The film started off pretty strong but immediately went downhill. For a TV movie, it managed to have a few thrills in the beginning. Unfortunately, a lot of these ghostly moments were smothered with overly loud sound effects. I was insanely disappointed because I thought I would have at least been entertained. I recommend this film to pre-teens for their sleepovers. Everyone else should just stay away.
Thank god there will be no "Secrets in the Walls 2: Still Dead".
WICKED RATING: 1/10
Title: Secrets in the Walls
Director: Christopher Leitch
Writer(s):  William Penick, Chris Sey
Stars: Jeri Ryan, Kay Panabaker
Year: 2010
Studio/ Production Co: Larkin-Goldstein Productions
Budget: Unknown
Language: English
Length: 89 Minutes
Sub-Genre: Horror, Thriller, Drama