This week on Horrible Films for Horrible People, we are setting our sights on Zombie A**: Toilet of the Dead. Does the film's title make you a bit curious? Let's see if we can satisfy your curiosity? Here goes nothing!
Zombie A**: Toilet of the Dead is a Japanese horror-comedy that's filled with cheesy special effects, human feces, senseless nudity, and outrageous farts. Still not sufficiently grossed out? Let's dive in!
At the get go, we meet a typical gang of teenagers (the druggie, the geek, the big-breasted sexually generous one, and the innocent girl) who decide to head off to the middle of the woods for some camping. The big-breasted sexually generous one is an aspiring model who specifically wants to go into the woods to find a tapeworm. She believes that ingesting the tapeworm will help her lose weight. As expected, it's not just tapeworms the group of teens comes across. The entire area is infested with a plague of defecating zombies! Yes, pooping! Liquid pooping zombies, solid pooping zombies, you name it, they were out there! In a panic, the youngsters run off and barricade themselves in a nearby house. The property is owned by a doctor and his daughter. The physician's daughter is suffering from leukemia. In spite of that, she is dressed up like a character from Sailor Moon. Why? perhaps, the director has a fetish.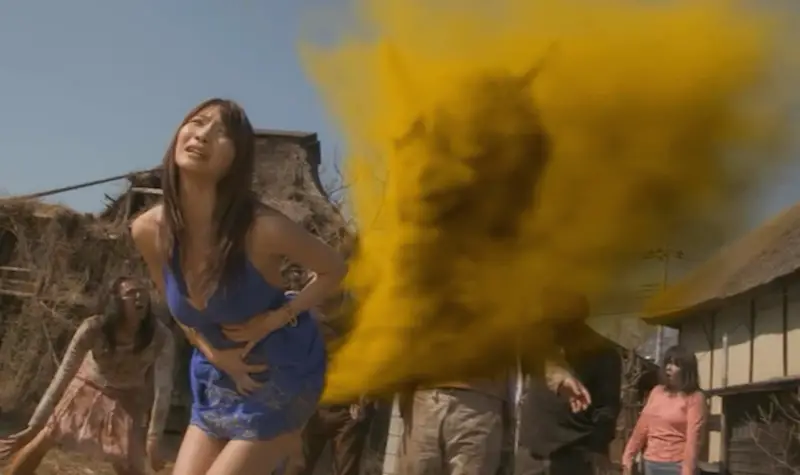 In desperation to save his daughter, the doctor has basically been experimenting on everyone in the nearby village, giving them tapeworms that turn them into feces-infested zombies. Lucky for him, the teenagers arrive at his home and he now has his experimental eyes set on them. However, further complicating matters, his daughter has some plans of her own!
This whole film was outrageous but the ending takes the cake! When Megumi (the innocent one) and the doctor's daughter have a battle in the air, they are battling in the air, the remain airborne by farting greenish tints of smoke from their butt cheeks. It's so outrageous, that  I wanted to look away but I just couldn't!
Another noteworthy sequence that I absolutely must mention is the scene where the zombies began chasing after the teenagers. These zombies weren't like any zombies I'd seen. It wasn't just that their entire bodies were smeared in feces, but also that they were walking and even running like backwards crabs with their pants down. I literally laughed out loud because it was so gross. GROSS!
Ok, so calling this film is bizarre is a complete understatement! The director/writer Noboru Iguchi clearly has some type of fetish! Take a look at his past films like Machine Girl and Robo Geisha if you don't believe me. He used to direct adults films, and after seeing this flick, it's no surprise. Also, this picture never let's up on the fart jokes, exploding diarrhea, or tentacles ripping out people's behinds. The further you get into the film, the more disgusting it gets!  Sadly, there are many disgusting sequences that I will never be able to erase from my memory; therefore, for your own good, skip this one!
What have I learned from this picture? Overall, if you're a fan of weird, absurd and immature films, look no further; this picture is for you! On the other hand, if you're looking for an intellectual feature you can watch while eating dinner, then for God's sake, look elsewhere.
Tips I learned from watching this film? Tapeworms are not a good diet plan. Furthermore, if you ever have to fart, please just let it out because one day it could save your life. No need to thank me. Just go live your farty life. You're welcome.
WICKED RATING: 1.5/10
Title: Zombie A**: The Toilet of the Dead
Director: Noboru Iguchi
Writer(s): Noboru Iguchi
Stars: Arisa Nakamura, Mayu Sugano
Year: 2011
Studio/ Production Co: Arcimboldo Y.K
Language: Japanese
Length: 85 Minutes
Sub-Genre: Comedy, Horror