Bailee Madison is no stranger to the horror genre. The 18 year-old actress has fought off monsters in Don't be Afraid of the Dark, ran from creepy dolls in R.L. Stine's The Haunting Hour, and has rocked the cradle with Adam Green in Holliston. Now, Madison faces her biggest challenge yet: The Strangers.
She stars as Kinsey in the The Strangers: Prey at Night, a stylish sequel to the 2008 home invasion nightmare. This time around, though, The Strangers prey on a new family—which includes Christina Hendricks, Martin Henderson, and Lewis Pullman—as they ship their troubled daughter off to boarding school.
Now, just in time for the film's Blu-ray release, the actress spoke with Wicked Horror about seeing The Strangers in-person for the first time, stepping outside of her comfort zone, and that pool scene.
Exclusive Interview: Lala Kent (of Vanderpump Rules) Talks Her New Slasher Film, The Row
Wicked Horror: Kinsey is a lot different than other characters you've played in the past. What attracted you to the role?
Bailee Madison: I was attracted to the role for so many reasons. I think it's just important to say overall, I was really attracted to the script. It was at a time when I was reading a lot of horror scripts and everything felt very much the same. And then I read this movie, and there was a sense of grounded-ness. There was moral of the story. There was this family fighting back and giving everything they had, and to me, that was really refreshing and wonderful. In terms of Kinsey, it was one of those things where I never really have been able to play this sort of a character before, and I thought it would be so fun and interesting to get out of my comfort zone.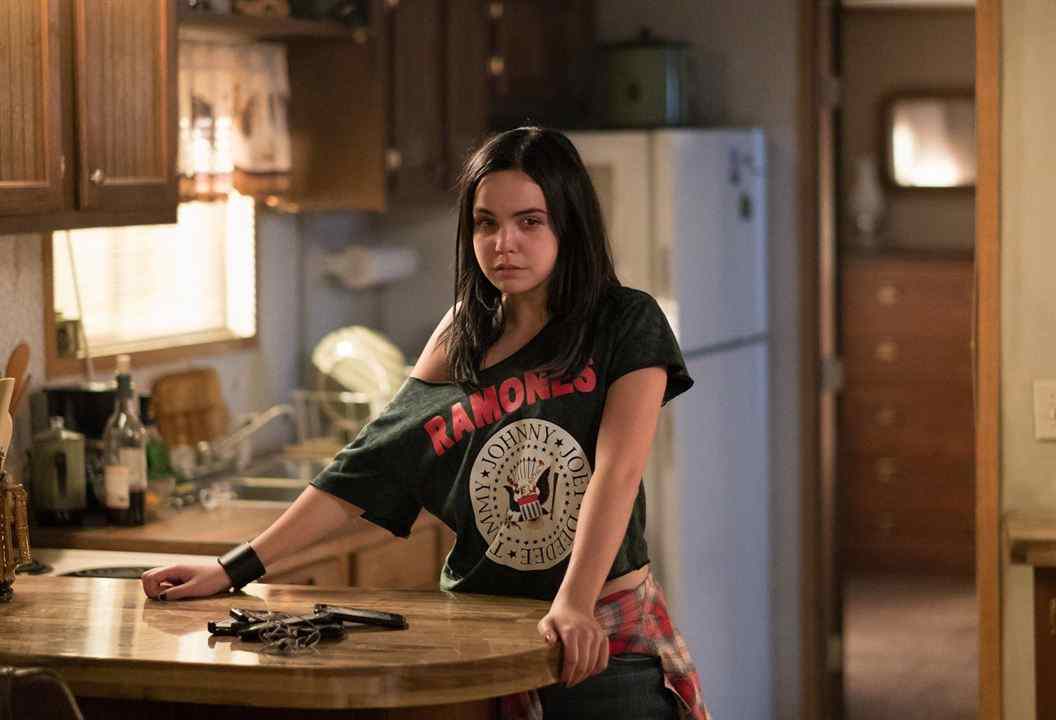 WH
: When we first see your character she's fighting with her family, and then we see her eventually fight
for
her family. What was it like to experience that growth?
Bailee Madison: I love that you noticed that. I think one of the things about Kinsey is when we meet her she's clearly being sent off to a boarding school, but I really think in her heart she is a really good person. I think she just doesn't know anything better than to just be this person that she is in her family. I think that really comes from her just wanting attention and love from them. So, it was very exciting to watch her shed this very hard, very tough demeanor, and immediately be shaken up and become that child who longs for her mom, and longs for the love of her mom. And then getting to see her grow from that and have to fight back and become the adult very, very quickly. It was just really, really fun to be a part of.
WH: Your character gets put through the wringer. Did you find it emotionally draining, or hard to decompress off set after filming?
Bailee Madison: I think I was really fortunate. I was just so excited to be there and so in love with the project, and in love with the people, that I was thrilled I was given the chance to just go and be physically bruised at the end of the day. Even though it was draining, that was one of the reasons why I was so excited to be a part of it, because I did really want to feel that every step of the way.
WH: This project is much darker than your Hallmark Channel series Good Witch. Were you nervous how fans would react?
Bailee Madison: (Laughs) You know what? I've been so fortunate because I started so young I was able to tackle different genres and different films. I think what a lot of people forget is that the thing is, when I started I was in films that were really centered around adults and adult situations. I think it was kind of fun for me to go back into that. To me, it didn't seem like a surprise or a shock.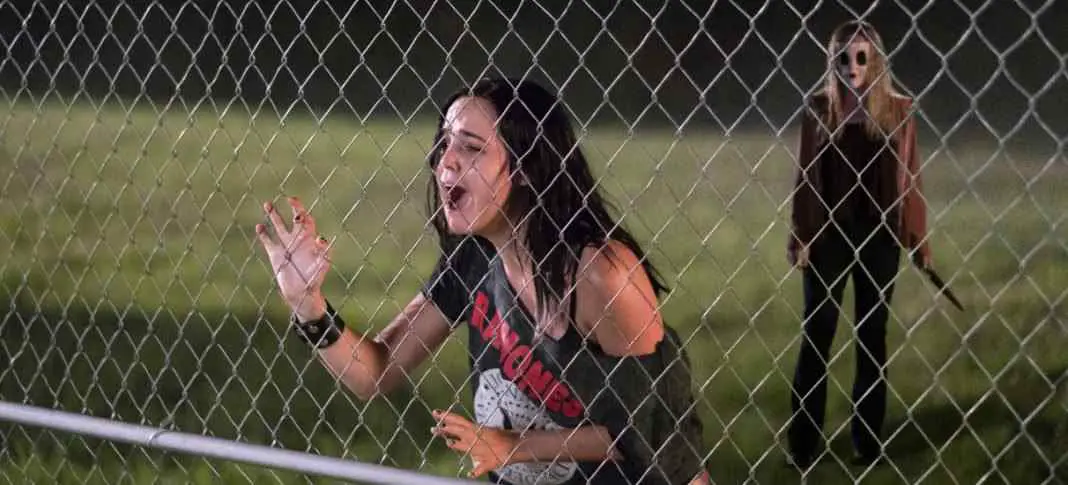 WH: I read that you didn't wanted to see The Strangers themselves until filming the first take. What was that like when you saw them for the first time?
Bailee Madison: Oh my gosh…we [Madison and onscreen mom Christina Hendricks] were both like, "Can we just wait and hold off?" and there ended up being a flaw in the organization where Doll Face came out during rehearsal, and we thought they were filming. So, we gave it our all in rehearsal. It was great. We thought they were messing with us. It turns out, they were not filming it! But, I will say the first time I saw the man in the mask, I was petrified! You can only separate yourself from them for so long, and they really are—pun intended—strangers in the movie, and I think that's why it's so scary because you have no idea who they are underneath the mask.
WH: There were some pretty cool scenes in the film. My favorite scene is when Kinsey has the stand-off with the man in the mask while "Air Supply" is playing. What was your favorite scene from the film?
Bailee Madison: That was probably one of my favorites to film just because it was a very fun, technical scene. The car really was on fire. It was about 4 o'clock in the morning and I was literally dripping and soaking in blood. The whole sequence was honestly, probably the most draining just because it is a pretty long scene. That was just a really fun experience for me, and then when the music was added I had goosebumps! Another scene I really loved—that I wasn't in—was the pool scene. I think Lewis [Pullman] is just absolutely breathtakingly phenomenal in that scene. And it's such a privilege and a joy to get to watch someone work that well. He's such a talent. So, for me, that scene is one I think will go down in the horror books.
WH: I think the pool scene is a favorite of many people!
Bailee Madison:: It's just so beautiful to look at, too.
WH: For me, home invasion movies are what terrify me most. What truly scares you?
Bailee Madison: Currently in this point in my life, having someone break into my house. That's a real fear of mine lately.
** This interview has been edited and condensed. 
The Strangers: Prey at Night is out now on DVD and Blu-ray