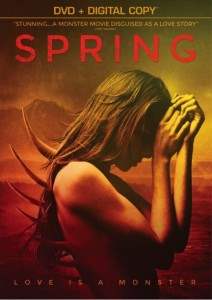 Drafthouse has reached out to announce that 
Spring
 will be seeing a DVD release this June. We have full details on that and more for you after the break.
Spring is helmed by the talented up and coming directorial duo Justin Benson and Aaron Moorhead (Resolution). It stars Lou Taylor Pucci (Evil Dead) and German actress Nadia Hilker, who is a relative newcomer to US cinema.
The film will see a DVD and Blu-ray release June 5, 2015 via a partnership between Drafthouse, Anchor Bay, and FilmBuff.
"Evan (Pucci) is a young American fleeing to Europe to escape his past. While backpacking along the Italian coast, everything changes during a stop at an idyllic Italian village, where he meets and instantly connects with the enchanting and mysterious Louise. A flirtatious romance begins to bloom between the two – however, Evan soon realizes that Louise has been harboring a monstrous, primordial secret that puts both their relationship and their lives in jeopardy."
Special Features on the Spring DVD release will include:
Audio commentary with writer-producer-editor-director Justin Benson and producer-editor-cinematographer-director Aaron Moorhead
Feature-length "The Making of Spring"
Deleted scenes
SFX case studies
Proof of Concept short
Alternate ending
Featurettes "The Talented Mr. Evan," "Angelo: The Worst Farmer," "Wankster Girlfriend Monologue" and "Evan Ti Odio."
Promo videos
English subtitles for the hearing impaired, Spanish subtitles