Nerd Block is a subscription mystery box that delivers geeky collectibles right to your door each month. You can choose whatever theme box you are into–there's the Classic Block, Arcade Block, Sci-Fi Block, Horror Block, Comic Block, and even a Boys Jr. and Girls Jr. Block for younger kids. The sets always includes a t-shirt, along with 4-6 other collectibles that are often exclusive to Nerd Block subscribers. Today I am unboxing the March 2017 Horror Block.
It's time to open another box of goodies from the folks at Horror Block. The March 2017 has a great selection of both wearable and useful items, as well as a collector's items, from a wide selection of horror movies and TV shows. Let's see what's inside!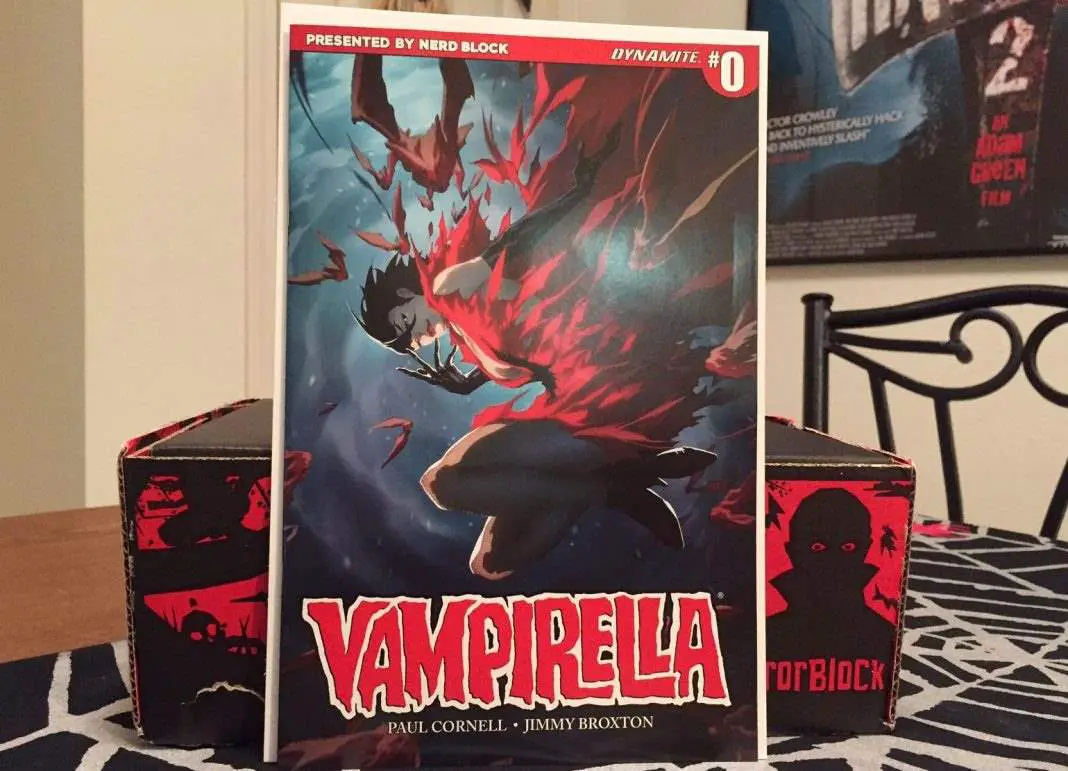 The first item is a Vampirella comic book presented by Nerd Block. The writer is Paul Cornell, and the artist and colorist is Jimmy Broxton, with letterer Travis Lanham. The comic itself is 17 pages long, telling the story of three adventurers waking Vampirella from a tomb in a snowy climate. The book also includes several articles about other Dynamite comics like Z Nation and The Greatest Adventure. They have also included a plastic sleeve to keep the comic book protected.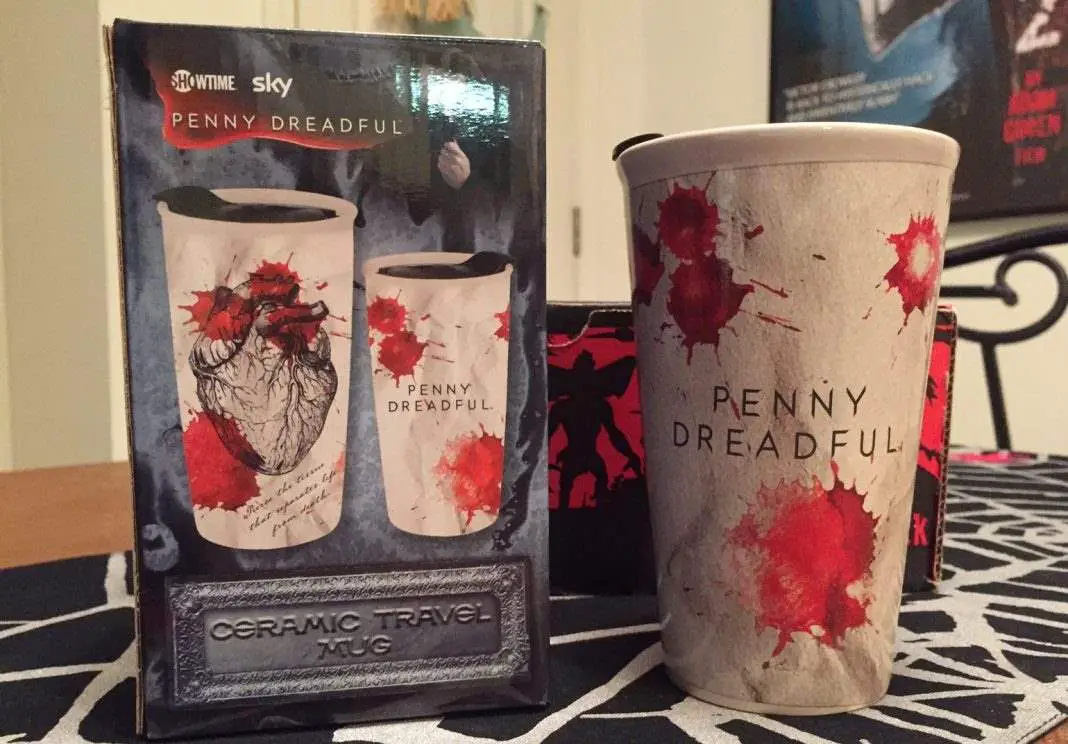 This must be some kind of sign from Horror Block that I need to start watching Penny Dreadful. This month's box includes yet another item from the horror television show, and this time it is a very cool ceramic travel mug. The mug has the show's logo and blood splatter on one side, and a picture of an anatomical heart on the other side with the quote "Pierce the tissue that separates life from death." There is a removable lid that fits snugly into the top of the mug for travelling, or you can take it out for use as a regular glass.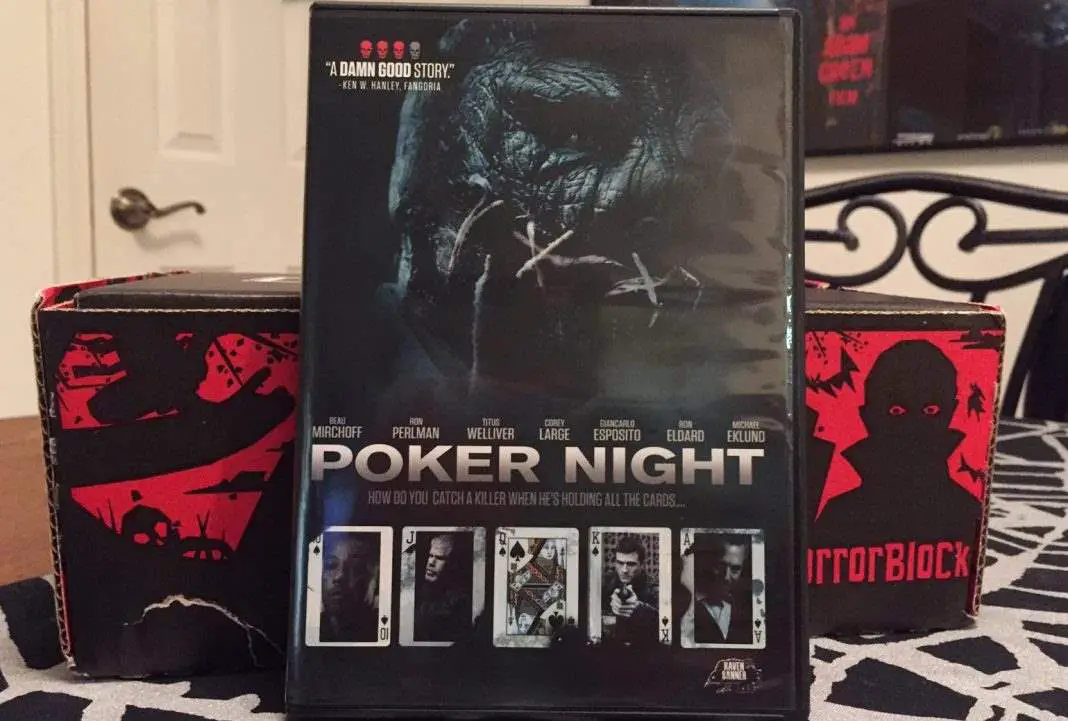 The next item in the box is a DVD copy of the 2013 film Poker Night. I've never heard of this title before, but with stars like Ron Perlman, Michael Eklund, and Ron Eldard, I'm excited to give it a watch. This is one of four DVDs that subscribers could have gotten in their box, and which one you got was chosen randomly. The other available titles were The Canal, Starry Eyes (which I wish I would have gotten!), and The Stranger.
Synopsis for Poker Night: "In this twisted thriller, a young detective becomes an unwilling participant in a sadistic game of cat-and-mouse when he is kidnapped by a masked serial killer. In order to survive, the detective must use the wisdom imparted to him by senior detectives on their regular poker night."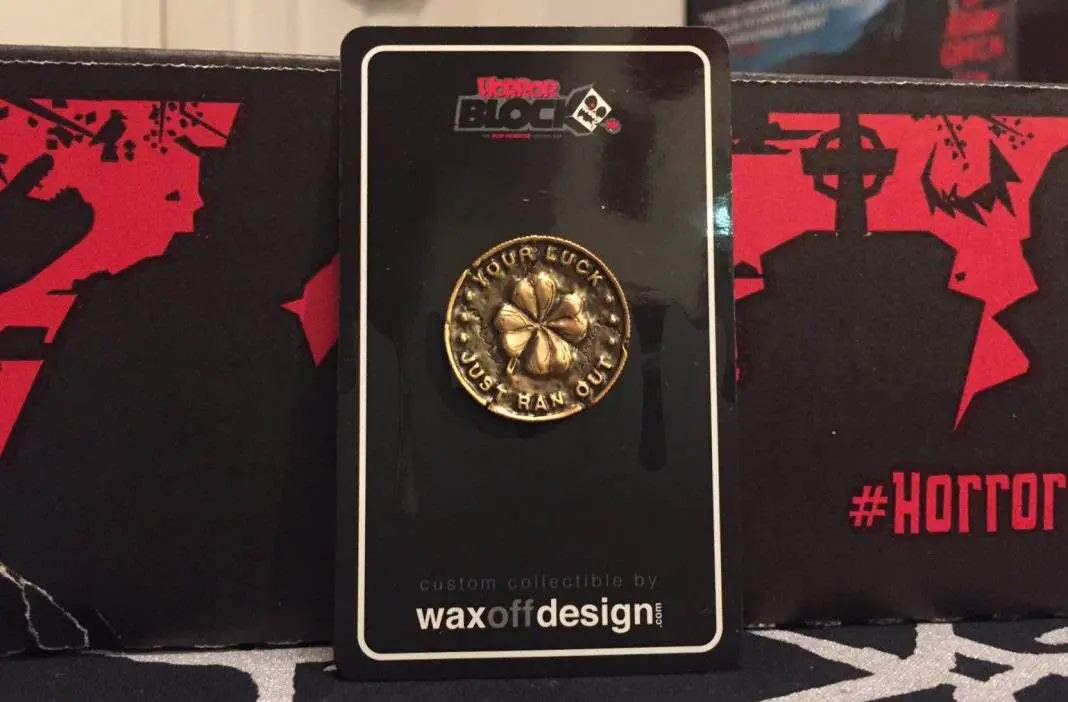 With March being the month of St. Patrick's Day, there had to be an item from the Leprechaun films in the block. It comes in the form of another collectible pin from Wax Off Design. The pin is made to look like an antique gold coin, with a four leaf clover in the center, surrounded by the words "Your luck just ran out." There are two fasteners on the back for security, and the pin is thick enough that it resembles a real coin.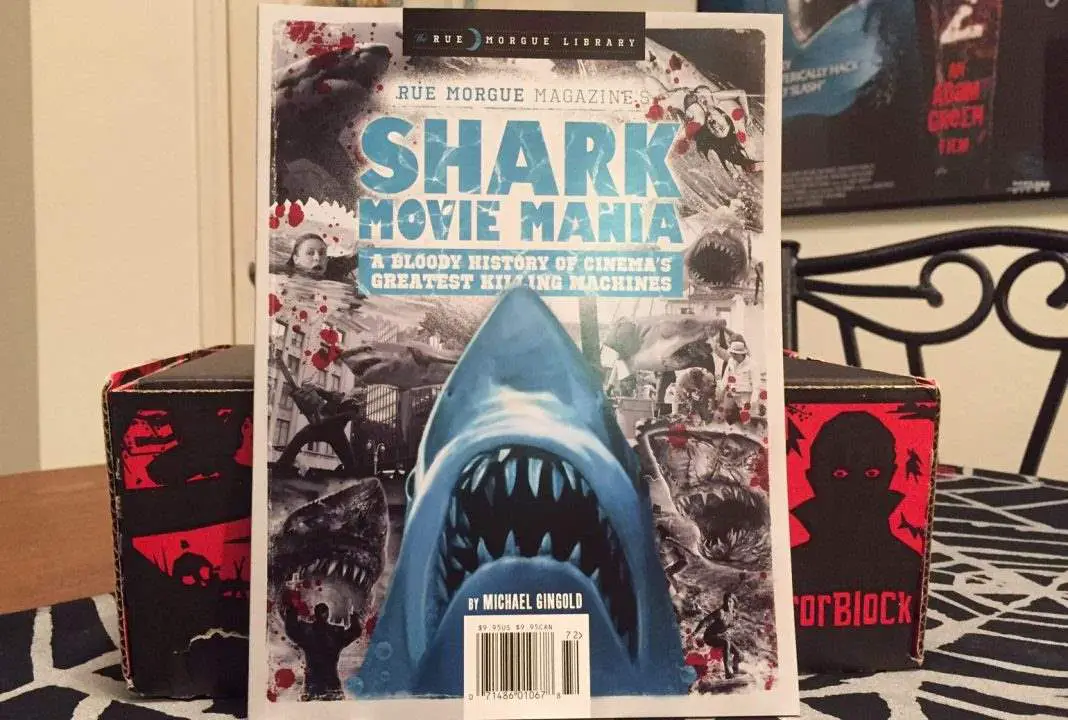 The next item is another great special edition of Rue Morgue magazine called "Shark Movie Mania: A Bloody History of Cinema's Greatest Killing Machines." The magazine contains several articles chronicling shark films in the horror genre, starting with the untouchable Jaws and going all the way up to 2016's The Shallows. The Jaws sequels and rip-offs are covered, as well as Italian outputs and SyFy films like Sharknado and Sharktopus. There are also several interviews with the filmmakers of some of these titles, like William Grefe on Mako: The Jaws of Death, and David R. Ellis on Shark Night 3D. As a huge shark movie enthusiast, I absolutely adore this magazine, and cannot wait to dive into all the articles, possibly discovering more films in the genre I haven't seen before.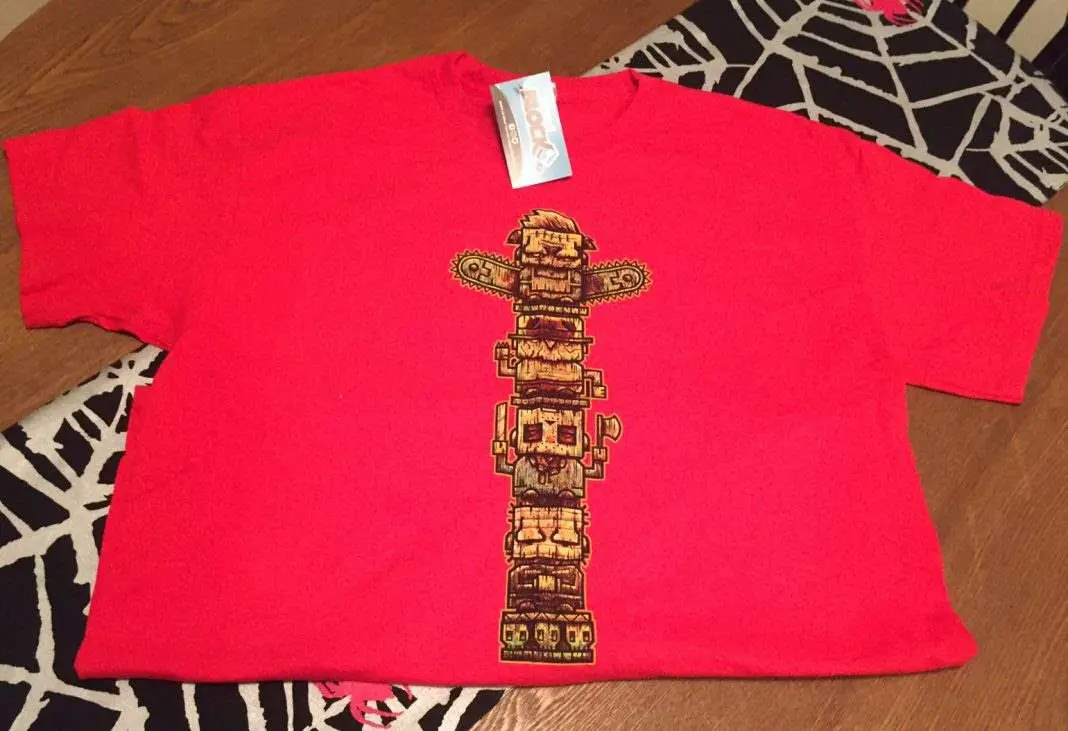 The t-shirt this month is an interesting one. The strange totem pole design threw me off at first, and I wasn't sure exactly what I was looking at. Looking more closely though, I saw that this design actually included adorable renditions of some of our favorite contemporary movie monsters. From top to bottom, we have Leatherface with two chainsaws, Freddy Krueger, Jason Voorhees with his machete and an axe, and Pinhead. I also like that the shirt is red instead of the usual black, which makes the design stand out more.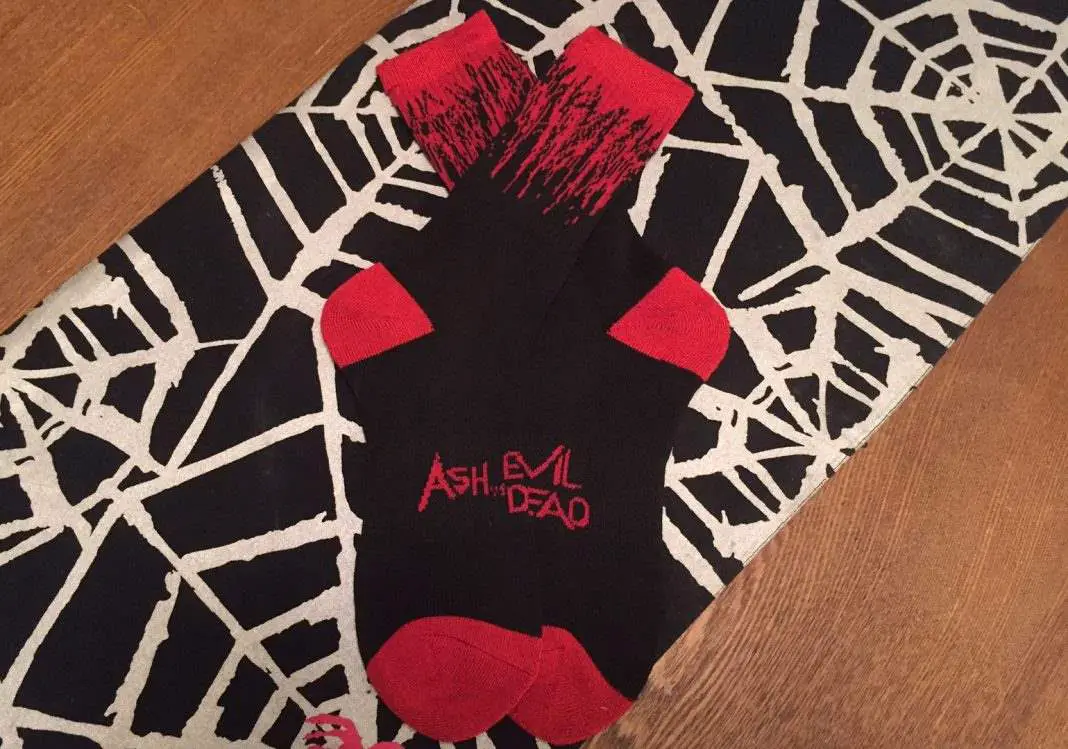 Saving the best item for last, I was ecstatic to find something from the amazing show, Ash vs. Evil Dead, in the box. It's a pair of black socks, with red heel and toe, and blood dripping down from the top. The show's logo appears in red on the top of the foot. They are not made of a thin, cheap material either. The socks are thick and comfy, perfect for a chilly night of kicking back and watching your favorite horror films.
All around, the March 2017 Horror Block is a win. The tease for next month's box is that it will feature items from The Evil Dead, Puppet Master III (fingers crossed for a figure of one of the puppets), and Court of the Dead. If you like what you saw here, head on over to Nerd Block to start your subscription today!