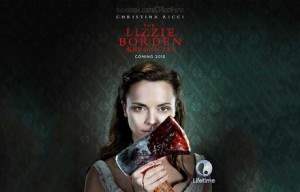 The upcoming Lifetime miniseries 
The Lizzie Borden Chronicles 
has debuted a bloody teaser trailer. And we have your first look at the promo after the break, so head inside and take a look.
The limited series will debut on Lifetime Sunday April 5th at 10 PM. In the meantime, you can check out the new trailer in the player below.
"The Lizzie Borden Chronicles delivers an intense and fictionalized account of actual events and people surrounding Lizzie's life after her controversial acquittal of the horrific double murder of her father and stepmother in 1892, when the exonerated figure lives a life awash in newfound celebrity filled with scandalous love affairs.
But when numerous people close to Lizzie – ranging from her half-brother, William (Andrew Howard), to Broadway luminaries and her business associate/underworld kingpin, Mr. Flowers (Jonathan Banks) – start to mysteriously die under brutal and strange circumstances, legendary Pinkerton detective Charlie Siringo (Cole Hauser) becomes determined to prove her involvement in their ultimate demise.
Jessy Schram plays Nancy O'Keefe, an alluring and ambitious actress and dancer who befriends Lizzie, and John Heard portrays William Almy, the business partner of Lizzie's murdered father, Andrew."