[soliloquy id="7167″]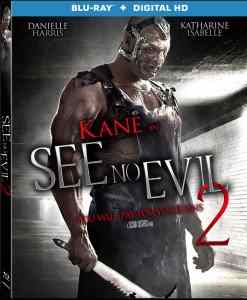 See No Evil 
is poised to make its debut on VOD October 17, 2014 DVD and Blu-ray October 21. In the meantime, we have a collection of stills from the film for you as well as a look at the Blu-ray cover art (left). Come inside and take a look at the new photos after the jump!
See No Evil 2 directly follows the events of the first film. Jacob Goodnight is taken to the city morgue where he subsequently rises from the dead and begins another killing spree. This time, his victims include a medical student working in the morgue  and a group of her friends that show up to surprise her for her birthday.
The upcoming sequel is helmed by identical twin sisters Jen and Sylvia Soska (American Mary). It is written by Nathan Brookes and Bobby Lee Darby. See No Evil 2 is the first feature film credit for both Brookes and Darby and it marks the third feature film effort for the Soska Sisters. The sequel sees WWE wrestler Kane reprising his role as Jacob Goodnight and Danielle Harris (Halloween 4) and Katharine Isabelle (Ginger Snaps) both taking on lead roles.
If you are interested in checking the film out, See No Evil 2 will see release via VOD on October 17, 2014 with a DVD and Blu-ray release October 21, 2014. Review coming soon!