Scherzo Diabolico, the piano solo by composer Charles-Valentin Alkan, is a fitting title for director Adrián García Bogliano's latest film. A hybrid of horror, dark humour and very human drama, the film is structured like the complex, difficult piece, or études, that it is named after: starting softly, it grows into an obsessive, violent crescendo.
Aram (Francisco Barreiro) appears to be the most unassuming, deprecated and mediocre man in the world. Barreiro, having featured in We Are What We Are (2013) and Bogliano's own supernatural-cum-grindhouse turn Here Comes the Devil (2012), is no stranger to modern horror. In Scherzo Diabolico, his small frame and impassive appraisal of the people around him–always taking, using and manipulating him–brings a quiet calmness to the role. An accountant in a small and struggling firm, Aram is consistently passed over for promotion while graciously, and ingeniously, solving (potentially illegal) financial issues that could topple the company. This causes him to stay at work well into the evening, resulting in him being belittled and ignored by his wife, as well as distancing him from his small son, who finds solace in comic book superheroes as opposed to looking up to his father.
The stillness of the first two acts beautifully builds as Aram patiently plans his vengeance. Though his painstaking manipulation of the people around him sets him on the fast track to success, his dark desires come back to not only haunt him, but unravel the intricate web he has woven. Kidnapping a school girl (Daniela Soto Vell), Aram subjects her to isolation and psycho-sexual torture, while simultaneously surrendering to his sexual fantasies with a prostitute and young co-worker. We eventually learn the reasoning for the kidnapping, but this does not take away from the effective scenes in which the girl is abused by Aram. Aram, and by extension the audience, does not account for the girl's resilient nature and, subsequently, her ultimate retribution.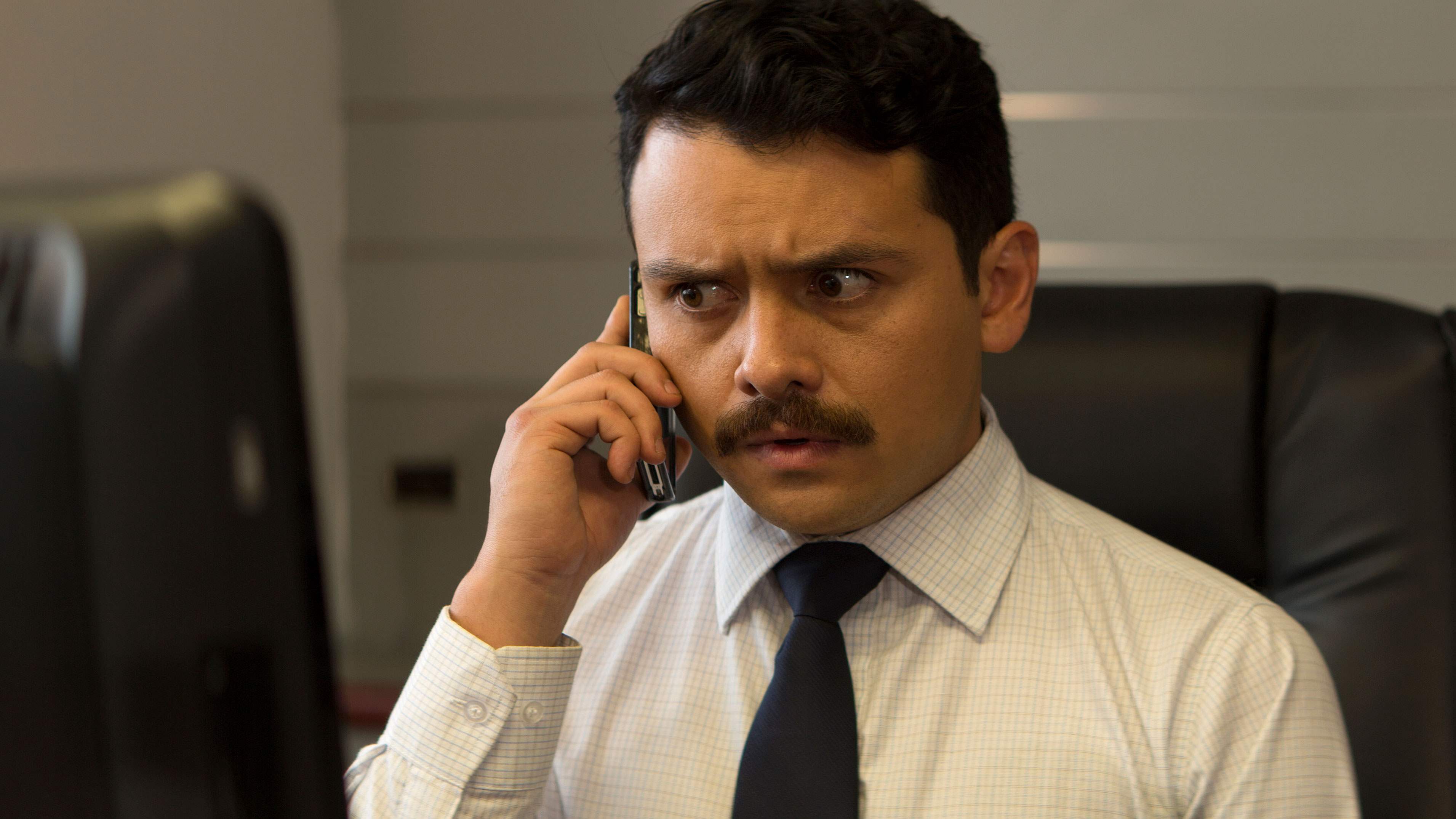 Bookended by stunning shots filmed via an aerial drone, the film is unapologetically cinematic. 
Scherzo Diabolico 
has
relatively little dialogue, rejecting verbosity in favour of the visceral. Each scene resonates with measured tension until the sudden and shocking violence that permeates the third act, which explores Bogliano's recurring interest in the relationship between women and violence, as both victims and aggressors, via a standout turn from Soto Vell. Every single cast member is strong and subtle references in the limited but clever dialogue ensures that even minor roles provide glimpses of nuanced, fleshed out characters in a very human story.
Peppered with Bogliano's recurring macabre humour, the film is reminiscent of the darkly comic and character driven work of the Coen brothers. The understated performances of the lead characters, along with the formal punctuation of graphic violence, are also a nod to recent dark and vehement Korean thrillers. This fusion of flavours creates a distinct, dark tone that perfectly complements the bloodshed. Bogliano, who brought us Here Comes the Devil, Late Phases (2014), Penumbra (2011) and one of the standout segments in horror anthology The ABCs of Death (2012), continues his fascinating exploration of violence and vengeance with Scherzo Diabolico, which is a classical study in tension. It will be available on DVD May 3, 2016.
WICKED RATING: 7/10  [usr 7]
Director(s): Adrián García Bogliano
Writer(s): Adrián García Bogliano
Stars: Francisco Barreiro, Daniela Soto Vell, Jorge Molina, Milena Pezzi, Vita Vargas
Release: May 3, 2016
Studio / Production Co: Dark Sky Films
Language: Spanish, with English subtitles
Length: 131 mins
Sub-Genre: Thriller