If you need evidence for why Own Voices stories matter, try watching the Conjuring Universe's middle of the road The Curse of La Llorona from 2019 and Jayro Bustamante's excellent La Llorona from this year back to back. Both films are about the same folk monster: La Llorona, a woman who drowned her children in the river and searches for their souls. In the Conjuring Universe film, La Llorona is a typical series villain, shoehorned in as a vehicle for largely unsatisfying jump scares. Bustamante, a native Guatemalan, uses the same folklore to address the Maya Ixil genocide of the 1980s, making an important film that still manages to be scarier than the Conjuring Universe collection of jump scares. 
La Llorona is focused around the fictional General Enrique Monteverde (Julio Diaz) who is on trial for committing genocide between 1982 and 1983. He's a clear fictionalized stand-in for  General Efraín Ríos Montt who was convicted of committing genocide between 1982 and 1983. The film opens with Enrique's trial. His men prepare, with one of them instructing, "Wear no badges. Dark suits, nothing shiny. Dark, not black. You must look flawless. You are heroes, not victims." Enrique is found guilty early-on with his defense arguing that his mass murder targeted guerrilas who all happened to be Maya Ixil, not the Maya Ixil people specifically.  
When that decision is annulled by a superior court, people protest outside of his home. Their chanting becomes the film's de facto soundtrack. It grates more and more as the film goes on, intensifying. The constant noise of the crowd brilliantly puts the viewer into the same irritating, frightening situation as Enrique and his family. The chanting scared away all of the house staff but Valeriana (María Telón), who's gotten into contact with her town to find replacements.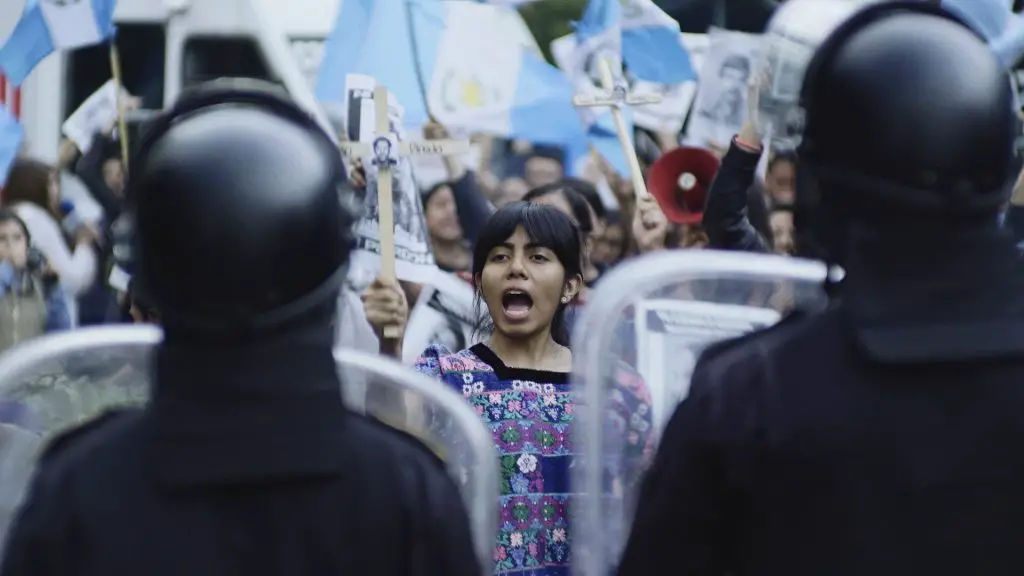 Alma (María Mercedes Coroy) is the only one brave enough to answer that call. She's introduced in a shot from Enrique's point of view. He's on the balcony, looking over the crowd. While everyone else is chanting, she makes eye contact with him and stays completely still. It's deeply creepy. Slowly, she makes her way to the door.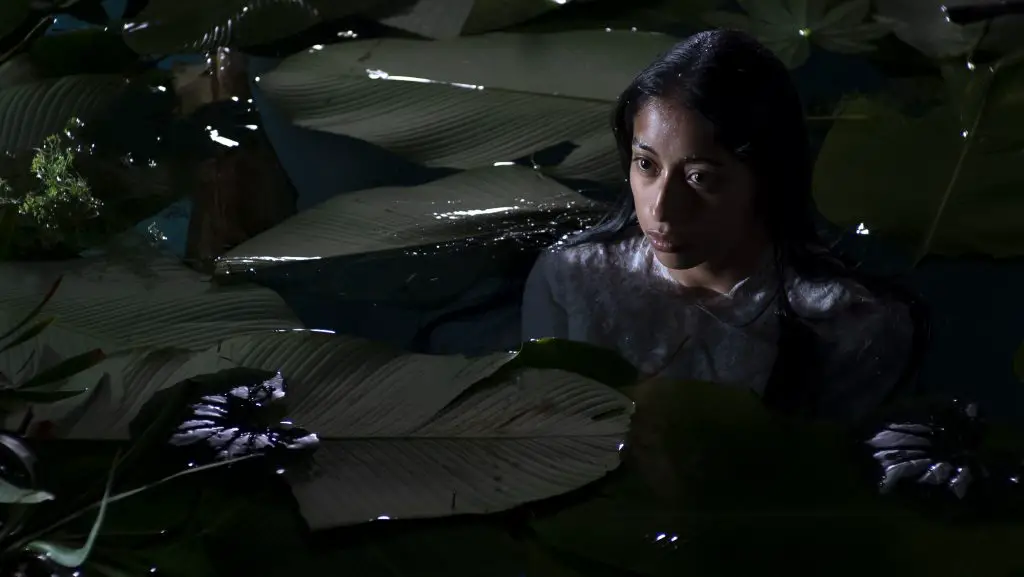 From here, Bustamante and Mercedes Coroy thread some deliciously psychological horror. It's never clear whether Alma is La Llorona, there for revenge, or if Enrique is deluded. He is suffering from dementia. The film is largely a conflict between those two, with three generations of women (as in the excellent Relic and David Gordon Green's Halloween) suffering as they try to take care of Enrique. 
His wife, Carmen (Margarita Kenéfic), is his most ardent defender. When their daughter, Natalia (Sabrina De La Hoz), questions him, Carmen defends Enrique by smearing the Maya Ixil people. She calls them "savages," and says, "We must move on if the country is to go on. What's in the past is in the past." It's familiar, hateful, rhetoric, yet also something Bustamante and co-writer Lisandro Sanchez could've taken straight out of the news. 
If there's any hope for the family's redemption, it's in the granddaughter, Sara (Ayla-Elea Hurtado), who becomes fast friends with Alma. With the film teasing Alma being La Llorona, her relationship with Sara that appears cute on the surface is a hotbed of tension. Will Alma take her revenge on the granddaughter of the man who killed her children? Enrique thinks so, but he's suffering from dementia (also a la Relic) so Carmen and Natalia don't believe him.
One of the film's highlights is the way Bustamante uses stillness. Most jump scares are based on motion, something is charging the screen. Bustamante flips that, filming Mercedes Coroy as she stands very still, emanating deep sorrow with a tinge of menace. She's a stand-in for the Maya Ixil people, a much needed avenging angel. Bustamante is using this film to answer Carmen's call to move on. La Llorona (which also could translate to "the wailing") is a political statement: no justice for the genocide, no peace in Guatemala.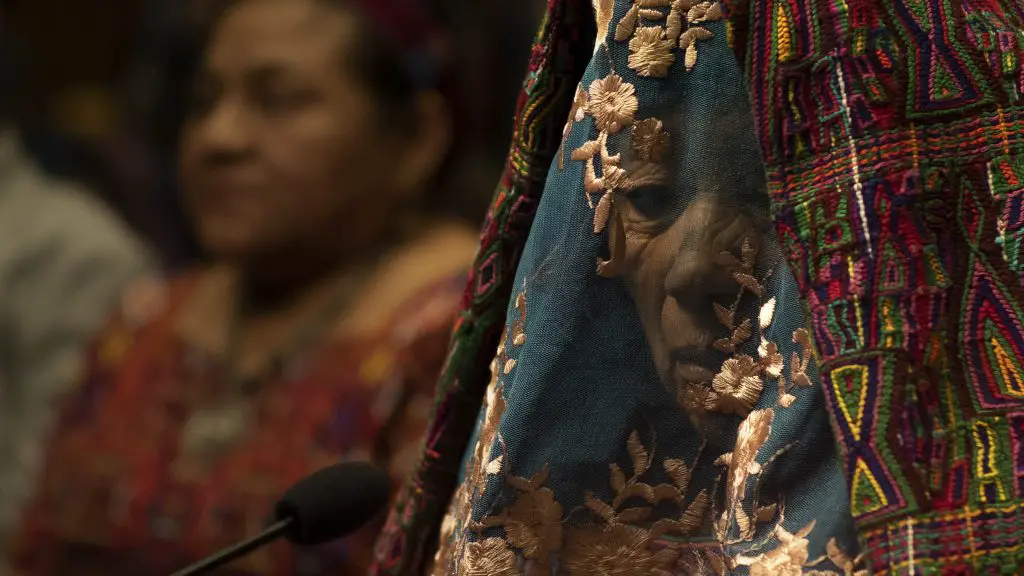 La Llorona is part of a long tradition of political horror films. The Texas Chainsaw Massacre presents a family who uses the skills they learn in a slaughterhouse on other people to stay alive when the slaughterhouse closes. Get Out uses a horror frame to show the way Black bodies are appropriated by White culture in the U.S., especially by white liberals who see themselves as above fault. Jayro Bustamante continues that tradition in his third feature, La Llorona, scaring audiences while calling for justice. 
Wicked Rating – 9/10
Director: Jayro Bustamante
Writers: Jayro Bustamante and Lisandro Sanchez
Stars: María Mercedes Coroy, Sabrina De La Hoz, Margarita Kenéfic, Ayla-Elea Hurtado, and Julio Diaz
Release Date: August 6, 2020 (Shudder)
Studio/Production Company: El Ministerio de Cultura Y Deportes de Guatamala, La Casa de Production, Les Films du Volcan
Language: Spanish, Ixil
Runtime: 96 minutes