Buffy the Vampire Slayer is back for its final comic book season. The end is bittersweet. While everything is clearly planned, it feels more like a cancellation, given that this new "season" will consist of only four issues. Given that a year has passed between the events of Season 11 and this new season, subtitled The Reckoning, there's a lot to unpack within the first few pages, as so many things have changed. These changes are sure to be controversial among fans and are impossible to discuss without spoilers. But they are also refreshing, given that both seasons 10 and 11 saw a return to a very safe status quo.
The first thing to note is the thing that everyone has been talking about since the first promo image went out: the picture of Buffy Summers holding a baby. It is, in fact, not her baby, as we were led to believe. That's definitely a little easier to digest so soon after the delicately handled abortion plot—not that Buffy couldn't be in a place for children if she even wanted any at this point—but will definitely piss off quite a few fans. Many fans of the Buffy universe tuned out during the season eight comic run when Dawn and Xander were revealed as a couple. So many people are extremely vocal about how disgusted they are by this pairing.
To be honest, though, it works in the context of the comic book. Dawn was halfway through college by the time season eight started, and the gap in age between her Buffy and Willow is not that large, which was always part of Dawn's frustration toward being treated like a child by people who were barely out of high school on the show. Throughout the comics, in seasons 9, 10, and 11, Dawn and Xander have absolutely had their ups and downs, have even taken breaks, but they've proven themselves to be one of the healthiest Buffyverse couples on the page.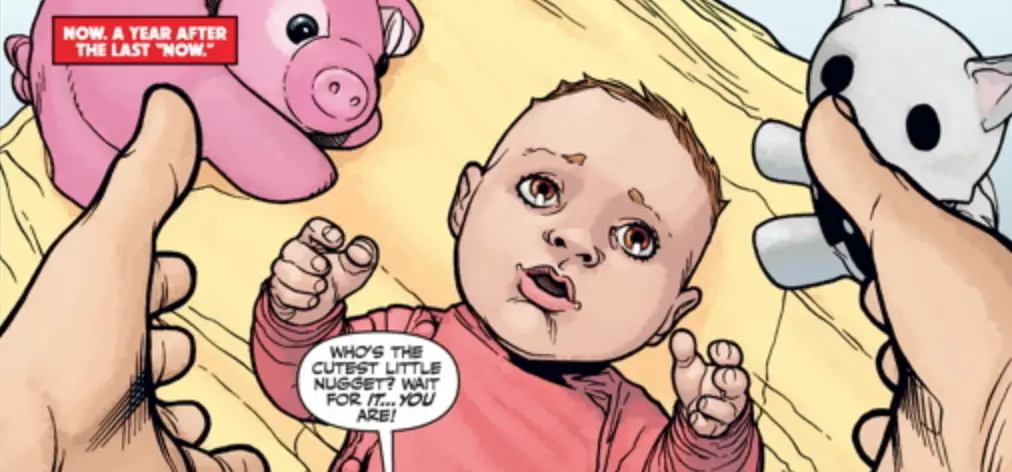 The baby is theirs. Dawn and Xander are now parents and Buffy is an aunt. My favorite thing about
Buffy
has always been that these characters constantly grow and change, that they wind up in different places and face different challenges as they go. They grow with their audience. I continue to love that. As a die-hard fan of Dawn as a character, I also think it's refreshing for that character to really have something of her own, a plot like adjusting to the responsibilities of motherhood, which none of the other characters are going through.
The other reveal of this issue—other than the casual note that Giles has magically returned to middle age and is no longer a teenager—is that Buffy and Spike are no longer a couple. Fans were really passionate about that pairing, which turned out to be a first go at an adult, healthy relationship for both of those characters. It worked. They got together in season 10 and stayed together throughout all of season 11. It was a really impressive move for them.
Now they've broken up, and honestly, this is a refreshing move for them too. They're still a huge part of each other's lives, they're still incredibly friendly and there are no hard feelings between them.
Plot-wise, the story goes back to Whedon's Fray comic book in many concrete and literal ways. We return to the future Buffyverse of those characters, but also return to an idea that was first laid out in that book that seemed to contradict the end of the show. This prophecy noted that the slayer line was wiped out in an apocalyptic battle during which demons were also banished from the earth. The end of the seventh season depicted the opposite, an apocalyptic battle in which the slayer line was amplified from two slayers to thousands worldwide. From the beginning of this book, we're seemingly led to believe that the battle promised in Fray simply hasn't happened yet—but that it is coming.

Everything about The Reckoning is gearing us up for a finale. We're facing down the end of Buffy the Vampire Slayer, at least as a seasonal, structured thing. All the growth, the development, the sheer amount of story that's been told over the course of eleven years in comic book form is coming to a close, and it's as exciting as it is bittersweet. It's great to bring back in Angel, Illyria and presumably Fred, as well as Faith, to get the whole gang back together for one last ride.
There are even some extremely surprising villain cameos thrown into the first issue, but I don't want to spoil everything for people who have yet to read. One of the biggest things that makes this feel like such a genuine, fitting start to a finale is the return of artist Georges Jeanty. Since the beginning of season eight, Jeanty's style has become the new look of the Buffyverse for me, and it wouldn't feel remotely appropriate to end it without him.
Overall, this is a very strong start to the final season, short as that season may be, and I can't wait to see what surprises (and devastating losses, no doubt) are in store for the next few issues.
WICKED RATING: 8/10