Laurence Campbell is the artist behind the newest Hellboy universe-building series, B.P.R.D: The Devil You Know. He candidly answered some questions from Wicked Horror's own April Bennett about his newest comic work, his impressive resume, artistic inspiration, and much more.
Wicked Horror (WH): First, excellent work on B.P.R.D: The Devil You Know, the artwork is stunning and captures traditional Mignolaverse elements and a creepy apocalypse. So, can you lend any insight into how you kept the end times in this series from being like typical depictions?
Laurence Campbell (LC): In the new series Devil You Know, the agents are still coping with the devastation from BPRD Hell on Earth. Cities have been wiped away, infrastructure destroyed and some monsters still roam. Ogdru Hen seem to be frozen still and now appear to be a white husk. The setup for this is in Scott's, Mike's and, previously, John's scripts. Everything is coming to a head in this final arc. I love the idea of BPRD having a beginning, middle and end and we are now in the final part.
WH: The art for both the first and second issues are creepshow, horror masterpieces. What made you decide to emphasize these elements as opposed to featuring the heroes of the story?
LC: I've been given some great things to draw, Scott knows the world so well and his scripts have hit the ground running. In the first issue, I had the opportunity to draw an exorcism and monsters in a barren landscape. In the latest issue, a BPRD team explores a town which has been infested with mushrooms and things take a serious turn for the worse. I love drawing things like this and with Dave's colors it really brings so much atmosphere to the series, he really does add so much to the feel of the comic. I can't express how much I love working with him.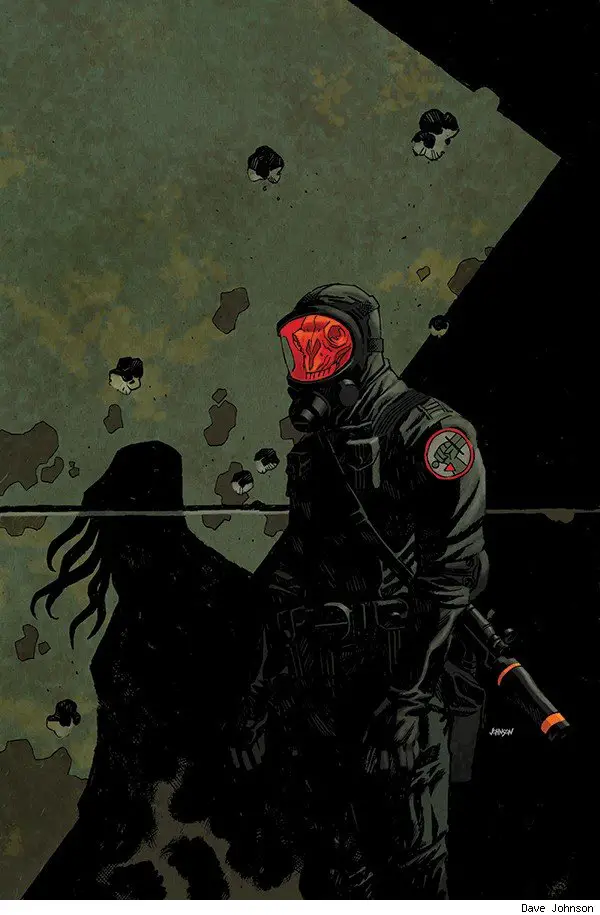 WH: I see from your resume that this is your first Mignolaverse comic, but from your Twitter you seem to be a fan. How does it feel to work on this series as a fan?
LC: I am a fan of BPRD and this is my second issue of Devil You Know.  But I have drawn about fifteen issues of BPRD Hell on Earth, Sledgehammer 44 mini-series and plenty of covers previously.  When Scott first told me the outline of the final arc of BPRD, I was very excited and it's such a privilege to draw it.
WH: Harkening back to your resume I notice that you have done some work with darker, less traditional superheroes like Punisher, Deadpool, and Judge Dredd. Are you drawn to these more complex, almost anti-hero characters or do you just find yourself enjoying their styles that are a stark change from more traditional storylines from such heroes as the Avengers?
LC: I do seem to like characters that feel a bit more three dimensional and have an edge to them. I think people are interesting when they are broken or reveal darker sides of themselves.   Whether I have consciously decided to draw these characters? I would say no, but I am happy that it seems to have gone that way.
WH: And of course, what is on the horizon for you?
LC: At the moment, I'm just focusing on finishing BPRD and doing my best work.  I'll think about what's next when we get closer to the end.
B.P.R.D. The Devil you Know #2 is now available from Dark Horse Comics and check out more of Laurence's work here.