Mr. Higgins Comes Home HC is a quirky graphic novel that puts you right in the mood for the fall season. The story revolves around a professor and his assistant who are in search of Mr. Higgins, a lonely man who mourns his wife but knows extensively about Castle Golga.
The Professor seeks Higgins' knowledge as the festival of the undead is about to be celebrated by Castle Golga by a pair of ruthless vampires that ruined his life and terrorize people in the countryside. Mr. Higgins woefully accompanies the professor and his assistant, not for honor or to avenge his wife, but in order to end his own suffering.
Overall, Mr. Higgins Comes Home HC is a fun if slight read as an enjoyable little tidbit to add to my day. The art style and story are more reminiscent of a short story in a traditional Halloween anthology that wraps up nicely and fits into the creepy season.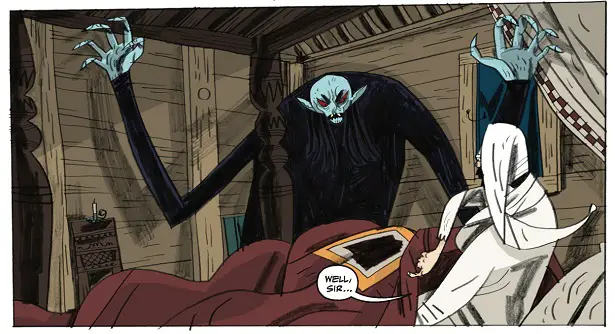 The only complaint that I have about Mr. Higgins Comes Home HC is that it is too short and could have easily been a part of a horror anthology or a part in the issue. Also, I find the title Mr. Higgins Comes Home HC is sort of problematic in that it really is not the main focal point to the story, so it can be kind of misleading.
But, Mr. Higgins Comes Home HC has Mike Mignola and British artist Warwick Johnson-Cadwell together on this project so combining a comic book legend with a unique art style is sure to be a big hit for creep and Halloween buffs.
Catch Mr. Higgins Comes Home HC when it releases from Dark Horse Books now.