Readers of a certain age will fondly remember Sabrina, the Teenage Witch. The frequently hilarious, often very sweet series was the must-watch TV show of our childhood and early teen years (full disclosure: I bought the box-set last year and binged the entire thing over about eight weekends. And I'm 30). The idea of Netflix soft rebooting it with a darker twist sent many spiraling. What would a new Sabrina for the Instagram age even look like? As it turns out, the streaming behemoth wasn't bluffing. Chilling Adventures of Sabrina, starring The Blackcoat Daughter's Kiernan Shipka as the titular teen witch, is darker, bloodier, and more frightening than the kitsch nineties/early 2000s sitcom could ever have imagined (yes, even with the terrifying Drell). The color palette is darker, too; loaded with deep blues, reds, and blacks, the only splash of brightness courtesy of Sabrina's corn-yellow (and super on-trend) bob.
Unlike Melissa Joan Hart's relentlessly goody-goody incarnation, this take on the beloved Archie comics character is no saint. In fact, she's quite the opposite, staring down her dark baptism (during which young Sabrina will pledge her soul to Satan) as the series kicks off. Over ten tight, gripping episodes, we watch as Sabrina gradually messes everything in her life up, particularly her relationships with boyfriend Harvey (Ross Lynch, fresh off his revelatory performance as Jeffrey Dahmer in My Friend Dahmer) and aunts Hilda and Zelda (Lucy Davis and Miranda Otto respectively).
Remember that moment in the original show, when Sabrina lost her powers and her Quizmaster deadpanned that she felt terrible because she was a normal teenager again? That's kind of what Chilling Adventures of Sabrina is like, only with better hair. She's closer to a regular teenage girl; precocious, ambitious, smart, and more than a little selfish. She gets angry and she fights back. She has a voice, and she isn't afraid to use it ("My name is Sabrina Spellman and I will NOT sign it away" — chills).
Chilling Adventures of Sabrina is a more modern incarnation, even if the world she inhabits, similar to fellow Archie show Riverdale, seems to exist in a kind of timeless limbo (the fleeting glimpse of a smartphone is genuinely shocking). And yet, by making her more human, more relatable, new Sabrina is also wildly more likeable than her previous incarnation — thanks in no small part to Shipka's spirited performance in the lead role. Unafraid to get down and dirty for Satanic rituals, or while fleeing through the woodland in just a slip, her Sabrina is the furthest thing from a delicate flower.
To that end she, and the show itself, are also proudly (and loudly) feminist AF. Aside from starting a women's support group in school (the acronym for which, amazingly, is WICCA — sign me right up), Sabrina defends her trans BFF Susie (played by non-binary actor Lachlan Watson) against homophobic bullies and consistently tries to find common ground with the resident mean girls at the magic academy she attends, led by the terrifying Prudence (she's fabulous but she's EVIL).
Also See: Ten Life Lessons We Learned from The Craft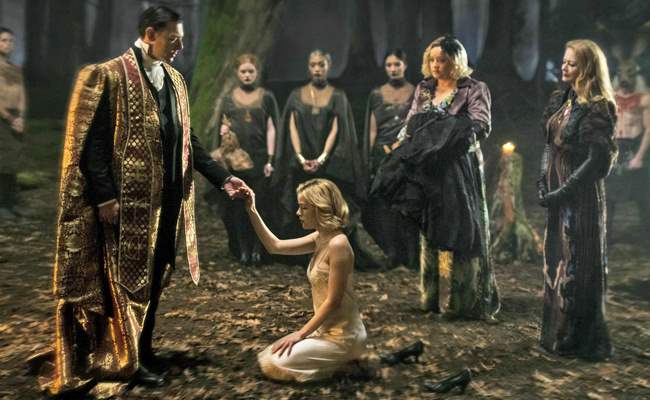 Tati Gabrielle's skilled performance as the Weird Girls leader is already being heralded as one of the best parts of the show, not least because she's a black woman facing off against a diminutive white chick who, crucially, isn't written as a one-note villain. Chilling Adventures doesn't demonize Prudence, in much the same way it doesn't lionize Sabrina. Rather, the two characters are given equal opportunity to grow, and to elicit sympathy which, as sad as it sounds, is still incredibly refreshing to see in a mainstream show.
The performances across the board are great, from Shipka to Gabrielle, Lynch, Watson, and, of course, Davis and Otto as the scene-stealing aunts. Davis ostensibly has the easier job as comic foil Hilda, but as the series progresses it becomes clear that the underlying issues with her elder sister are more worrisome than they first appear. Davis, as skilled at comedy as she is at emoting with her big, sad eyes, plays well off Otto's cold, even borderline cruel Zelda.
Women were instrumental in getting Sabrina, the Teenage Witch made, from its direction to its writing to its overall production. Nowadays, it's considered one of the most female-focused and feminist TV shows of all time (again, sad). Chilling Adventures of Sabrina takes that mantle and runs with it, ensuring its female characters are front and center once again — maybe even more so. It's worth noting, too, that Axelle Carolyn, the mastermind behind the brilliant Tales of Halloween anthology as well as Soulmate, is a writer on the show, her presence keenly felt.
This isn't some lip-service-paying, wannabe woke exercise in pleasing the masses either. Diversity is effortlessly and unflinchingly a part of the show's DNA, from Susie's bullied student to Sabrina's hilariously deadpan gay cousin, and reluctant housemate, Ambrose. These elements aren't signposted, or even thoroughly discussed (at least in the case of Ambrose), within the confines of the show. They exist and they feel normal simply because they should.
Chilling Adventures of Sabrina is imbued with an arch, jet-black sense of humor that has led many to (hilariously) criticize it for how the show portrays satanism and witchcraft as though it's a fundamentalist religion. We watch Sabrina, her aunts, and the other members of their coven huddled in a dilapidated church listening to their leader's sermon, uttering responses that put "unholy"  where usually a "holy" would be. There are also various rallying cries of "Hail Satan!" etc.
Anybody who grew up Catholic will recognize these scenarios from a million bored Sundays sat in church. Chilling Adventures of Sabrina ruthlessly skewers these conventions by making them dark, satanic, and evil. The earnestness of all this ceremony, the pomp and circumstance with which these rituals are conducted, just makes the whole thing so much funnier. To add to the hilarity, the Satanic Temple is suing Netflix for stealing their Baphomet statue (note: the Satanic Temple is not the Church of Satan) to use in the show.
Also See: Why Ginger Snaps is an Essential Feminist Horror Movie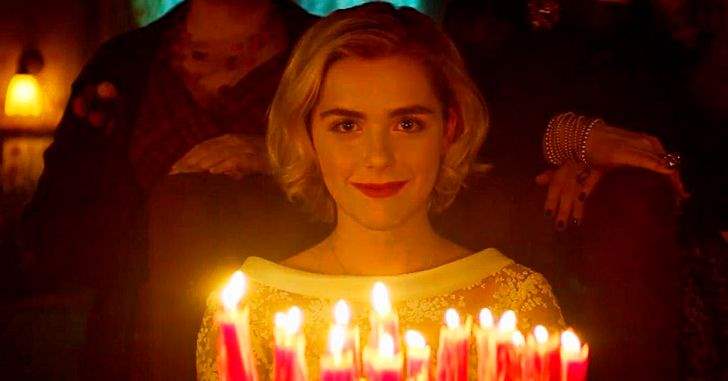 Considering just how bright and light the previous Sabrina TV show was, it's extra impressive that this take is as dark as it is. There's murder, deception, bullying, hazing rituals, you name it — all presented with a sheen of brilliant, practical gore and expertly crafted SFX. One particular demon, who terrorizes the extended family in their sleep, is straight out of the Buffy playbook, but Chilling Adventures also bears comparison to the hugely underrated Todd and the Book of Pure Evil in its depiction of Satanism and the madness of worshiping the devil (though actual Satanists technically worship only themselves, forsaking all gods, but that's a minor quibble).
Similar to sister show Riverdale, which it references in passing, Chilling Adventures of Sabrina is shot through with that hazy, dark, baby Twin Peaks sheen that makes it seem simultaneously old-timey and super modern. The cinematography is often quite lovely, while the jaunty score wisely side-steps the super popular death-wave strains in favor of something altogether more traditional, and more foreboding.
The two shows might share a creator in Roberto Aguirre-Sacasa, but Chilling Adventures of Sabrina feels more grown up, and yet defiantly sexed-down, in comparison to the wild antics of Archie and his crew. In fact, this show doesn't even have an Archie (no, it's not Harvey, so wash your damn mouth out if you've been throwing that disgraceful accusation around). It's worlds away from its contemporary, even if Sabrina's buddies do grate just a little bit, because it's not trying to show us shirtless hunks playing guitar or teens hatching nefarious schemes.
Sabrina has great, reliable friends, but her relationship with Harvey is the sweet core of a hilariously sour show. Lynch's Harvey is dopey, but he's no fool. It's clear how much he cares about and respects Sabrina (a moment when she has to undress in front of him is sensitively handled), and it's impossible not to root for these two crazy kids to work things out as things rapidly get more difficult for them. As sad as it sounds, it's refreshing to see a sweet, respectful, and healthy romantic relationship play out in one of these shows without the addition of sex games or massive public fall-outs.
Chilling Adventures' horror credentials are bonafide too, with references to everything from A Nightmare on Elm Street to Hocus Pocus cleverly threaded into the narrative so that nerds like us can pick up on them without the norms' enjoyment being ruined. In fact, the only real issue with this lovely, deliciously dark little show, is that it being dropped on Netflix all at once means we can't look forward to it every week like Riverdale, savoring every insane moment.
On the other hand, we can binge it over and over again while Archie and his buds are on yet another break, so give thanks to the dark lord for that.