This month Shudder is bringing back its popular "Halfway To Halloween" celebration, which includes its hotline of personal recommendations on what to watch and some impressive originals, such films like See For Me, The Cellar and new episodes of The Last Drive-In. Another title now available is Jennifer Reeder's Night's End starring Geno Walker, Felonious Munk, Kate Arrington and Michael Shannon. The film follows an anxious shut-in who unwittingly moves into a haunted apartment and hires a mysterious stranger to perform an exorcism, which takes a horrific turn.
The cinematography in Night's End by Christopher Rejano is quite impressive, with little to no white light being used, per the request of the director. We spoke to Christopher more in depth about his approach to the look of film in the below exclusive interview.
Wicked Horror: Night's End is your third collaboration with director Jennifer Reeder (Knives and Skin). Because of this, do you think you got to experiment more with different techniques you wouldn't normally use?
Christopher Rejano: Collaborating with Jennifer has definitely allowed me to use certain creative muscle that I don't use on a regular basis or on other work like commercials. Everything from the amount of color we use, to the use of Anamorphic format, to practical visual effects are all things that we tend to explore and make a part of the language of the films we make together.
Wicked Horror: Why do you think you and Jennifer work so well together?
Christopher Rejano: Over the course of 3 feature films and 6 to 8 short films, we've built up sort of visual shorthand. Jennifer is from Ohio and I am from Michigan and I don't discount the relativity of that to our sort of Midwestern/Great Lake gothic vibe. I think that there is a similar interpretation of this world that we're from that we share and it certainly has an effect on choices we make. Also, besides film, we're both influenced by other disciplines such as paintings, video art, and photography sometimes more so than say 'another filmmaker' or movie.
Wicked Horror: Much of the Night's End is told through a webcam. What sort of challenges did this bring, creatively?
Christopher Rejano: The biggest challenge of telling the majority of the film through webcam was keeping it dynamic. We've all been on Zoom calls before and we know it gets quite monotonous the longer we have to sort of stare at each other. Creatively, we wanted to make sure we were covered for all of the important dialogue while still maintaining a third person point of view that was noticeably different so as not to feel like we were jump cutting around for no reason. The view from the "webcam" became some of the scarier angles we used because it put the viewer right there as if they were talking to and watching what was happening to Ken in a first-person point of view.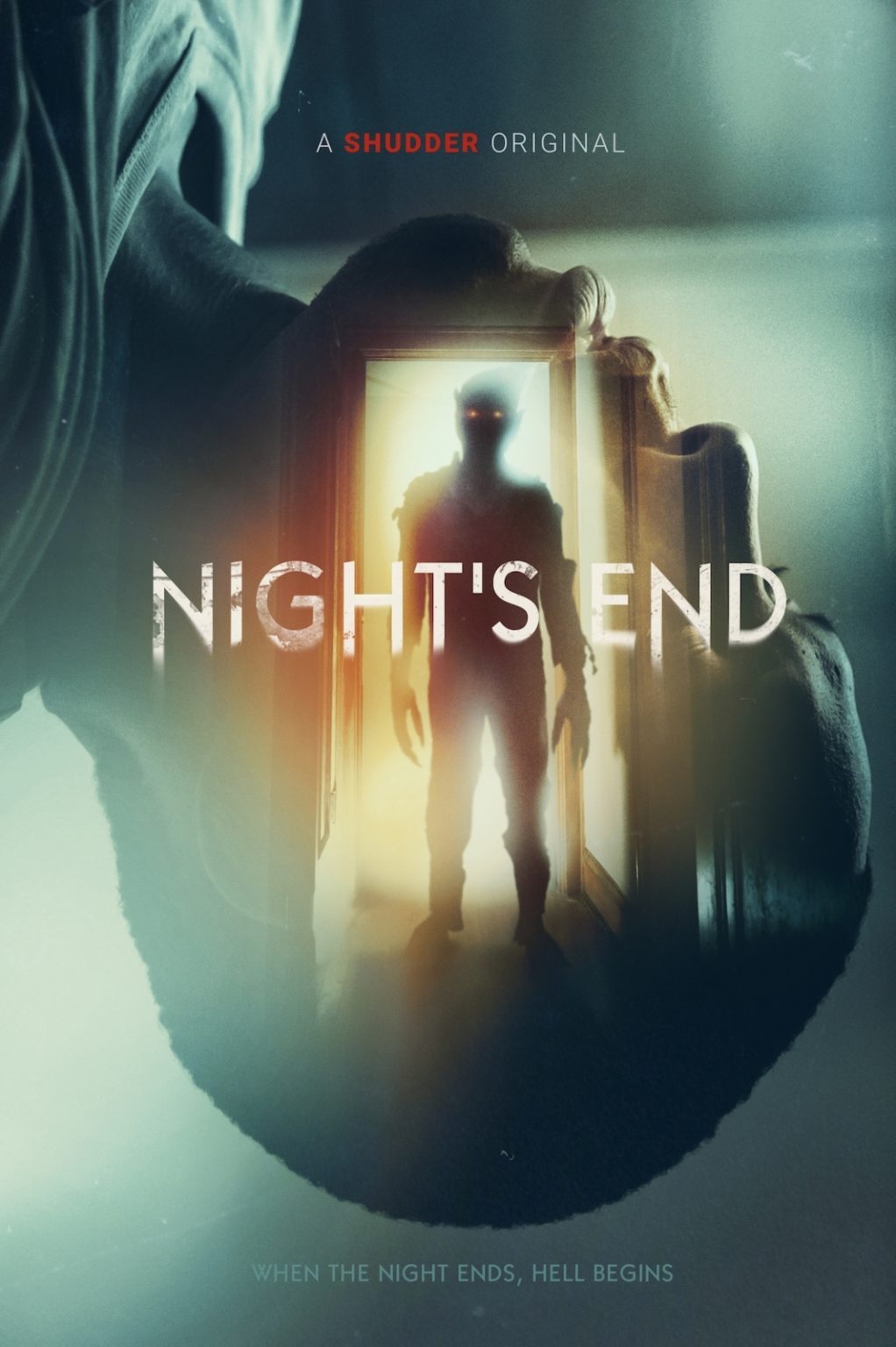 Wicked Horror: There are very dramatic color choices throughout the film. How did you land on those?
Christopher Rejano: I feel that the most use of color onscreen, tends to have very distinct implications. Oftentimes it's as simple as blue for night and warm orange tones for daytime. Having used a lot of cyan and magenta on Knives and Skin I wanted to hover in different areas of the color spectrum for Night's End. Jennifer had two major notes as we began to design the lighting for the film. She wanted the film to be "dark" and to have little to no "white light" This led us to establishing what we would consider our night and day colors. We landed on steel green and apricot as our "night" and 'day" looks and then based the rest of the colors on the strength of the color contrast. Basically, treating the contrast of the colors almost as levels of gray in contrast like in black and white photography and affecting the viewer's perception of what they choose to look at on screen as important information.
Wicked Horror: Would you say certain colors create a more unsettling vibe?
Christopher Rejano: I think our color choices were effective in creating a non-discernible time of day, which I think is something many people dealt with during the Covid lockdown of 2020. We came up with yellow as kind of our danger color which plays heavily during the climax of the film. So as Ken navigates the hauntings of his apartment the question of night or day becomes ambiguous at times because the black levels barely change, only the colors. This adds to the sort of shut in aspect of Ken's existence throughout the story. But to me the steel green and yellow are the colors that feel like danger to me. The turquoise, apricot and cyan vibes seem to almost normalize the environment that Ken inhabits.

Wicked Horror: The shots looking down when Ken is in bed and it looks like the camera is on the ceiling. How did you do those?
Christopher Rejano: We were able to carry a Panther Vario Jib throughout the shoot. It allowed us the freedom to get the camera in position for some high and overhead angles. It was tough in such small quarters but we were able to create some very evocative shots considering we were shooting 2.39:1 aspect ratio in such confined spaces.
Wicked Horror: Do you find that films in the horror genre come with their own set of guidelines when it comes to the cinematography?
That is one of the great things about horror film. I've looked back at certain films like Friday the 13th and there's actually a few kills in those movies that occur during daytime. It's interesting to think that now and to think of films like Midsommar, which takes place almost exclusively in the daytime. I think that horror films almost have their own subgenre based on the cinematography, whether its doc or verite style, noir/thriller style or medical grade gore. I think that there's been so many unique interpretations of what's expected in horror films that the guidelines have been reduced to guide-suggestions and cinematographers are creating innovative ways of scaring audiences.
Wicked Horror: Was there a scene in Night's End that doesn't look complicated, but was actually very challenging to film?
Christopher Rejano: The end sequence was probably the hardest scenes we had to do. We shot them almost in script order on our final day, which proved to be our longest and latest day because we had to do a night exterior to end the film. We had two actors that had to go through full special effects make up and then we had the climax of the film, which built to this crescendo of light cues, actor cues, and practical effects. Then we had to go outside and shoot the ending of the film, which then required more lighting effects and a crane shot. It was exhausting and the of course it was the only day of our entire schedule that had a full on thunderstorm. The crew really worked hard to get through it and I can't thank them enough for their dedication and tenacity despite the complications.
Wicked Horror: Did you watch any other horror films before beginning work on Night's End, to get inspiration?
Christopher Rejano: The films I watched before shooting Night's End weren't quite straight horror films. The Tenant by Roman Polanski, Last Black Man in San Francisco by Joe Talbot, Jacob's Ladder by Adrian Lyne. Arrival by Denis Villeneuve. Also, I looked at a lot of photography books: Robby Muller: Cinematography and Approximate Joy by Christopher Anderson and The Light Fades but the Gods Remain by Bill Henson just to name a few.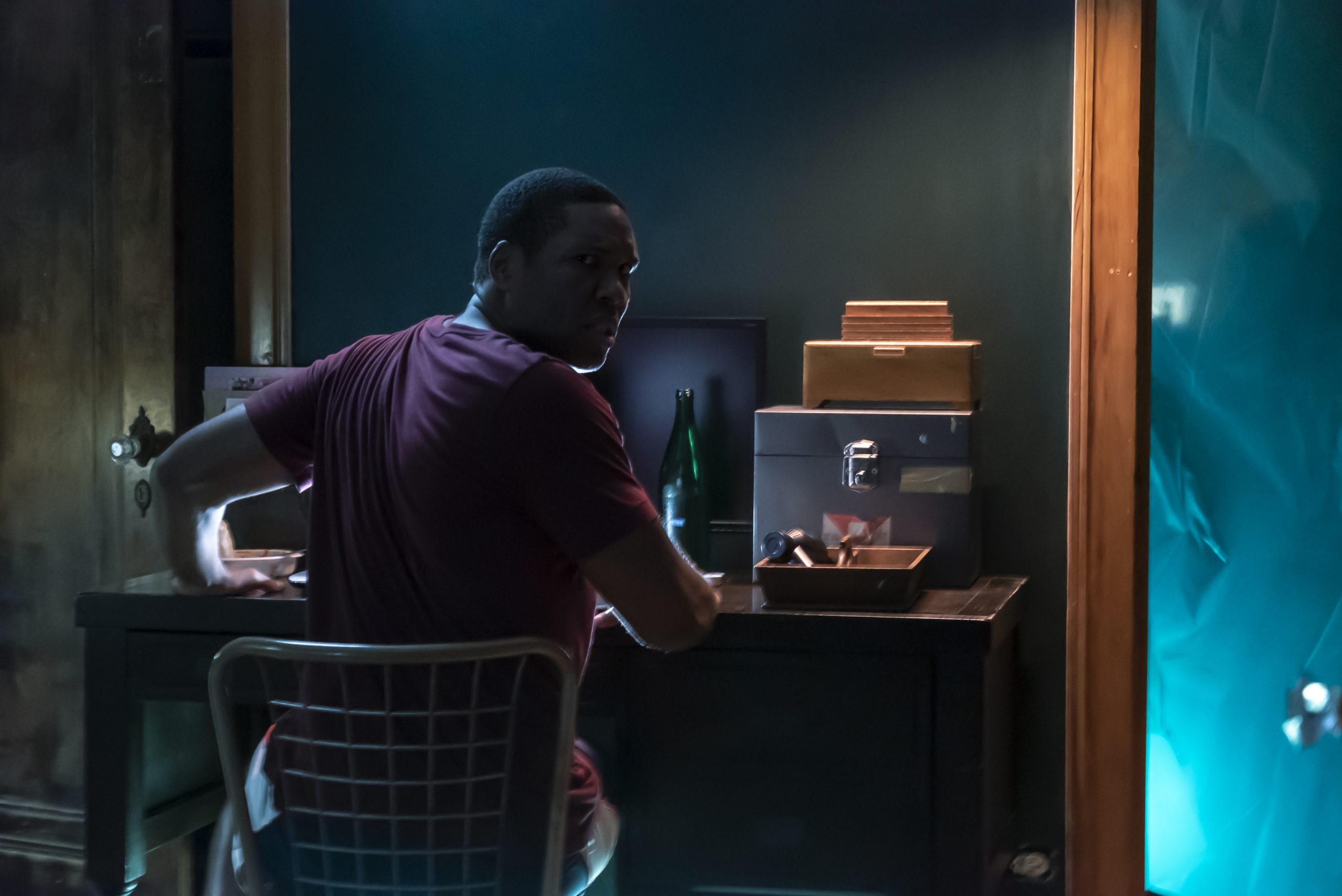 Wicked Horror: What are some of your favorite horror films?
Christopher Rejano: Classics:
The Fog. The Texas Chainsaw Massacre (1974) Gates of Hell (AKA City of the Living Dead) Suspiria
Recent classics: 
Midsommar, A Girl Walks Home Alone at Night, Climax, Candyman(2021)*not biased because I shot 2nd Unit, but it does a great job of creating new definitions of horror that lie below the surface*