It's finally August, which means the countdown to Frightfest 2017 is on. In the weeks leading up to the festival, Joey Keogh will be taking a look at some of the most anticipated movies on this year's jam-packed schedule. This week, it's Sequence Break.

Last year was all about one actor for me: Graham Skipper. Up-and-coming genre filmmaker Joe Begos's muse (and star of both his Almost Human and The Mind's Eye), Skipper saw his star rise considerably following Frightfest 2016 thanks to his eye-catching role as the protagonist of Beyond The Gates, which also happened to be one of the coolest and most popular horror releases of the year.
Skipper also, previously, played none other than Herbert West himself (to whom he bears a striking resemblance, clad in thick-rimmed specs, in Beyond The Gates) on stage in the joyous Re-Animator: The Musical. He discusses same on the commentary track for the brand-new Blu-ray release of the classic flick and is, judging by Skipper's social media feeds, understandably stoked about his involvement.
An actor with this much genre cred is begging to do a movie of his own, and thankfully, this year, Skipper is blessing us with his very own creation, Sequence Break. The flick reportedly hearkens back to Videodrome and, similar to Beyond The Gates, is a retro throwback of sorts. Skipper's onscreen brother from that film, Chase Williamson, takes the lead role in the surreal, sci-fi romance/horror movie.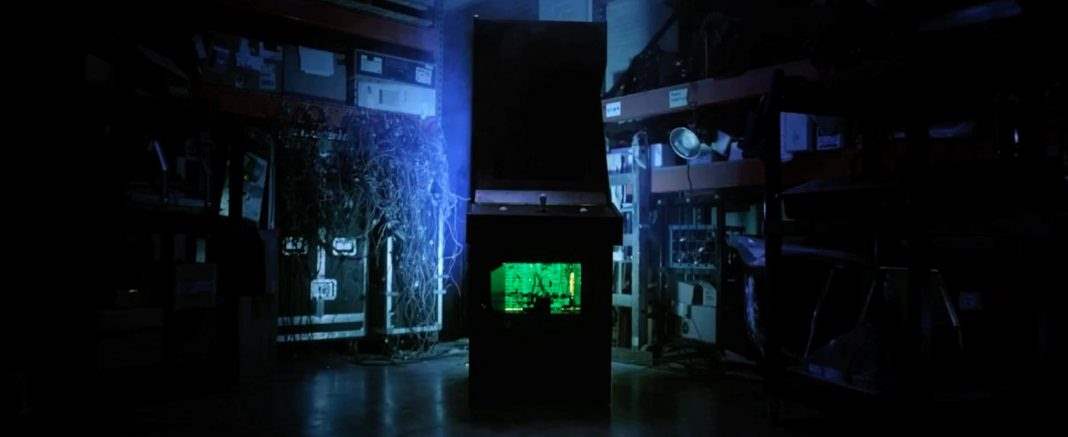 Sequence Break is an enticing prospect on its own, but the fact it comes from Skipper, who's got a wealth of experience behind him from his work on Begos's indies, as well as first-time writer-director Jackson Stewart's Beyond The Gates and even the likes of Carnage Park, makes this one an absolute must-see. It might even be one of the breakout hits of the year among fans, in much the same way Gates was last year.
The official synopsis for Sequence Break is as follows:
A reclusive video arcade repair technician (Chase Williamson) experiences bizarre bio-mechanical mutations and Cronenbergian hallucinations when a mysterious new arcade machine appears in his shop. Reality itself threatens to fracture as he works to solve its mystery and the new chaos that has entered his life
The flick made its world premiere at the Chatannoga Film Festival earlier this year, and the forthcoming reviews were super positive. Bloody Disgusting described it as a "superbly shot" debut that spells great things for Skipper as a filmmaker. However, they also warned it's not quite the body horror nightmare many might be expecting. The movie has no set US release date yet, but we'll share once we have it.
Check out the trailer for Sequence Break below, and sound off in the comments about whether you think this is a classic-in-the-making. Stay tuned to the site for more in the weeks leading up to Frightfest 2017.
https://www.youtube.com/watch?v=82oemDUPWnc
Sequence Break plays Frightfest 2017 at 1.45PM on Friday, 25th August 2017 in the Main Screen. The full festival line-up of films is available on their official site, where all ticketing information can also be found. Wicked Horror will once again be there, to bring you all the must-read reviews and exclusive interviews from this year's festival. So stay tuned.