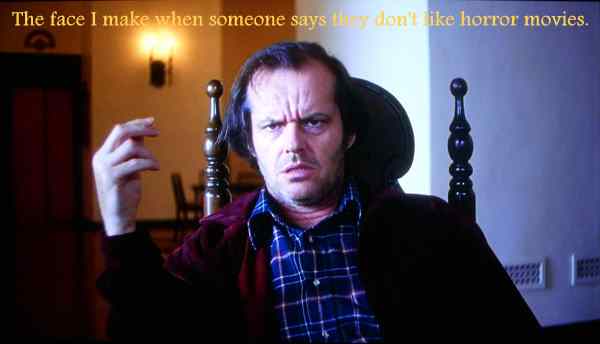 Settling down to watch a horror movie is one of my favorite things to do. If the person I am with doesn't like horror films I am afraid they have to leave. And never come back. Jack Nicholson's face in The Shining says it all for me.
WICKED RATING: 9/10  [usr 9]
Love horror memes? Stay tuned for more at WickedHorror.com!
Director(s): Stanley Kubrick
Writer(s): Stephen King, Stanley Kubrick
Stars: Jack Nicholson, Shelley Duvall, Danny Lloyd
Year: 1980
Studio/ Production Co: Warner Bros., Hawk Films, Peregrine
Budget: $19,000,000 (estimated)
Language: English
Length: 144mins
Sub-Genre: Classic Horror