As a fan of horror entertainment, I attempt to digest all I can, in as many forms as I can. Movies, cartoons, comic books, etc. But I feel that horror fans sometimes forget a very important facet of horror entertainment: music! There exist some amazing bands whose stage presence, music and lyrics deal with all the things horror fans love: the macabre and the occult. Below I have compiled a list, in no particular order of horror themed bands you should be listening to. 
The Bloody Jug Band
The melding of horror and country rock seems like an odd pairing, but The Bloody Jug Band makes it work. And they do it extremely well. Hailing from sunny Florida, The Bloody Jug Band consists of a group of 8 musicians with some members pulling double duty and providing backing instruments including the jug and the washtub. Band member Craigmire Peace told the website Blues.Gr that the band decided they wanted to do something different in music. Peace says that he was inspired by old Jug bands and the Americana Movement. He says this coupled with his love of old monster movies, cult films, and B grade cinema form the nucleus of The Bloody Jug Band. Their debut album Coffin Up Blood includes such macabre tales as Roadkill Boys, If You Want Blood and Reaper Madness. I, for one, think it's great to see someone doing something different in the realm of horror-themed music. 

Calabrese
For some reason, horror and punk are destined to forever go together. Horror punk was pioneered in the 1970's and most people credit The Misfits for beginning this match made in Hell. There have been many to try their hand at this musical mashup since but few have really nailed it. Phoenix trio Calabrese is one of the few who gets it right. Consisting of brothers Bobby, Jimmy and Davey, Calabrese is everything fans of horror, punk, and the macabre crave. Calabrese's 2003 debut album Midnight Spookshow is loud, aggressive and dripping with all thing's horror. With song titles like 'Backseat of My Hearse', 'Every Day's a Funeral', 'The House of Mysterious Secrets', and 'The Dead Don't Rise', it should leave no question as to Calabrese's horror credentials.
Wednesday 13
Every once in a great while, a band or artist comes along that shows us that shock and horror rock is not dead. My parents had Alice Cooper and I have Wednesday 13. Wednesday 13 is a one-man shock rock machine, who lives everyday like it is Halloween. His various albums take listeners on journeys through the paranormal and everything else this side of heaven you could think of. Wednesday 13 is a huge horror fan, which can be heard in various tracks like 'Haddonfield' which is a tribute to everyone's favorite babysitter murderer Michael Myers and the Halloween film series. 'House by the Cemetery' is a tribute to the Lucio Fulci film of the same name. 'Carol Anne…They're Here' is an amazing song celebrating the iconic horror classic Poltergeist. Recently, on one of his tours, Wednesday 13 was offering VIP packages where ticket holders could get a meet and greet and also watch a classic episode of The Munsters with the Duke of Spook himself. Be sure to check out Wednesday's latest release Necrophaze, which dropped in September 2019 through Nuclear Blast Records.
King Diamond
What can I say about King Diamond that overzealous religious folks and horrified parents haven't already said? King Diamond burst onto the music scene as the lead singer for the massively influential metal band Mercyful Fate before taking his special brand of horror and cadaverous music solo. Adorned with an ever-evolving evil inspired makeup scheme, King belts out tales of the supernatural and the occult. Diamond's records are special in the fact that they are all concept albums telling a new story of horrendous and ghostly happenings. King Diamond makes his music for horror fans. He is a practitioner of LaVeyan Satanism, lived in a reportedly haunted house, and professes a love of classic monster and horror films. One can easily see where King Diamond gets his inspiration. In a world filled with posers, King Diamond walks the walk and talks the talk. In an arm-wrestling contest between the Devil and King Diamond, I would put all of my money on Diamond.  While not for everybody, King Diamond's albums and music are one hell of a ride through all things evil and horrific. Long live the King. 
Acid Witch
Like the gritty, unforgiving streets of Detroit from where they hail, Acid Witch is horror inspired metal that brutalizes listeners with tales of abomination and the occult. Remember when 80's horror flicks had metal bands and punks in them? I do. And so does Acid Witch. I was introduced to them through their Midnight Movies album which includes covers from such great 80's metal horror flicks like Trick R' Treat, Return of the Living Dead, and Black Roses but with their own sinister twist. Blending elements of gore, horror, occultism, Halloween, and drugs, Acid Witch is a must for fans of brutal heavy metal and horror. I would highly recommend starting with their debut album Witchtanic Hellucinations.
DEATH SS
If you're a fan of the band Ghost, thank Death SS. If you hate Ghost, thank Death SS. Formed in 1977 in Italy, Death SS stands for (In DEATH of Steven Sylvester). The band refers to their brand of music as "horror rock" with each member taking on the role of a character. Singer Steven Sylvester assumes the persona of a vampire; the drummer, that of a werewolf; the bassist, a mummy; the guitarist, a zombie; and keyboards are played by a Phantom of the Opera-esque character. According to legend, Death SS would perform on stage with gravestones, human skulls, and funeral wreaths all stolen by the band from local cemeteries. With a catalog of songs including 'Murder Angels', 'Kings of Evil', 'Terror', and 'Death Waits Behind You', Death SS brings all the occult and horror goodness you can handle. If any band ever practiced what they preached and lived like they do on stage and in their music, Death SS would be that band. According to the group, the name holds no hidden political ideologies. The name Death SS is supposed to symbolize the death of the human known as Steven Sylvester and his rebirth under the powers of the occult. I would encourage all fans of heavy metal, black metal, horror, the occult or just an interest in good music to seek them out and give them a listen. Make sure the lights are out and prepare to take a trip to the dark side. As I mentioned before, the band has had a major influence on and helped pave the way for bands like Ghost. 
Gravediggaz
If you're a horror and hip hop fan, I've got you covered. Enter the world of the Gravediggaz. Formed in 1994, the Gravediggaz consists of Wu-Tang member RZA as The RZArector, Poetic as The Grym Reaper, Prince Paul as The Undertaker, and Frukwan as The Gatekeeper. The Gravediggaz are recognized as pioneers in the horrorcore genre of hip-hop. Horrorcore consists of hardcore rap mixed  with themes of murder, suicide, horror movie tropes, death, the occult, etc. Gravediggaz debut album 6 Feet Deep received praise from many outlets including Rolling Stone and Source magazine. It even reached #36 on the Billboard 200. 6 Feet Deep spawned three singles, including 'Diary of a Madman', 'Nowhere to Run, Nowhere to Hide' and '1-800 Suicide'. The group has released 3 albums, the last one being in 2002. Sadly, The Grym Reaper passed away on July 15th, 2001 after a valiant battle with colon cancer. While short-lived, the Gravediggaz have made a huge contribution to the horror rap genre. Their legacy continues to inspire emerging artists and garner new fans even today. If horror inspired hip hop is your niche, I would also highly suggest checking out The Geto Boys, Brother Lynch Hung, and the Flatlinerz, after you check out the Gravediggaz of course.
F.K.Ü.
F.K.Ü. which stands for Freddy Krueger's Underwear is a horror loving thrash band hailing from Sweden. According to the band's biography, F.K.Ü. began in 1987 with 4 guys who decided to form a band to "pay tribute to their two main interests, horror movies from the 1980's and thrash metal". The band sadly didn't go anywhere the first time around. But in 1997, they decided to reform and give it another shot after a 10-year hiatus. The band released their album Metal Moshing Mad that paid tribute to sleaze and classic slasher horror films like Maniac, The Texas Chainsaw Massacre, Hellraiser, and Halloween. Their second album, Sometimes They Come Back….to Mosh was released in 2004 and gave fans another horror-themed thrash outing. This time the band showed love to such classics as Maniac Cop, Christine, The Fog, and Motel Hell. Every subsequent F.K.U. release has covered the gamut of classic 80's horror films that we hold near and dear to our hearts. If you're a fan of thrash metal and horror, you cannot afford to pass by F.K.U. It's loud, abrasive, violent, and most importantly…it's fun. Just like horror punk, the marriage of thrash metal and horror seem to perfectly compliment each other.
Prozak
Underground hip-hop juggernaut Prozak is known as the Hitchcock of Hip-Hop. His music is rife with references to all thing's horror-related and the paranormal. With a sinister voice that commands you to shut up and listen, Prozak spins tales about the twisted and the macabre. With songs like 'Tell A Tale of Two Hearts', 'Full Moon', 'Crossing Over', 'Blood Paved Road', and 'Wicked 4 Life', listeners are transported to another world where most fear to tread. Prozak is also a member of Haunted Saginaw. They are a group of paranormal investigators who have released several full-length films, which are hosted and directed by Prozak, documenting their examination of purportedly haunted locations in Michigan. The films are better than most paranormal investigation docs, as the evidence they collect is surprisingly convincing and makes you wonder if other worldly things exist right beside us. Prozak seems to be a jack of all trades when it comes to entertainment and his music and films never disappoint. As a horror fan, I give Prozak my stamp of approval, and I think you will too.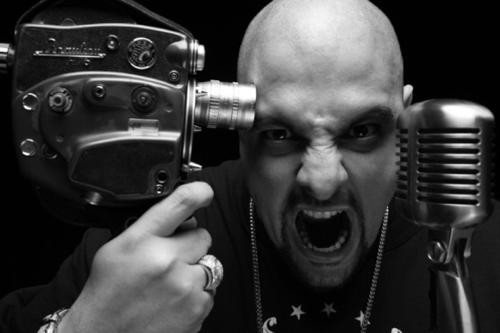 Lordi
Finnish heavy metal band Lordi is everything horror-inspired rock should be. Performing in elaborate costumes that make them look like they just crawled out of the 9th circle of hell, Lordi blazes a trail of blown out eardrums and face melting pyrotechnics. Lead singer Mr. Lordi has put together a behemoth of a band who draws heavy influence from horror movies and the music of classic rockers KISS. Lordi currently has 9 studio albums under their skull-studded belts and even won the 2006 Eurovision Song Contest. Check out some of these classic Lordi songs to scratch that horror itch: 'Would You Love a Monsterman', 'Blood Red Sandman', 'The Children of the Night', 'Haunted Town' and 'The Kids Who Wanna Play with the Dead'. In addition to being horrific monsters who play horror-themed rock and metal, Lordi has also appeared in a couple of films. The Kin and Dark Floors see Lordi playing themselves as the main monstrous villains stalking unsuspecting victims. Keep your eyes peeled for Lordi's new album Killection which was released on January 31, 2020. According to singer Mr. Lordi, this album contains tracks in the style of music one would expect to hear between the 1970's to the 1990's. The only condition for listening to Lordi, is that your neighbors must listen to them too.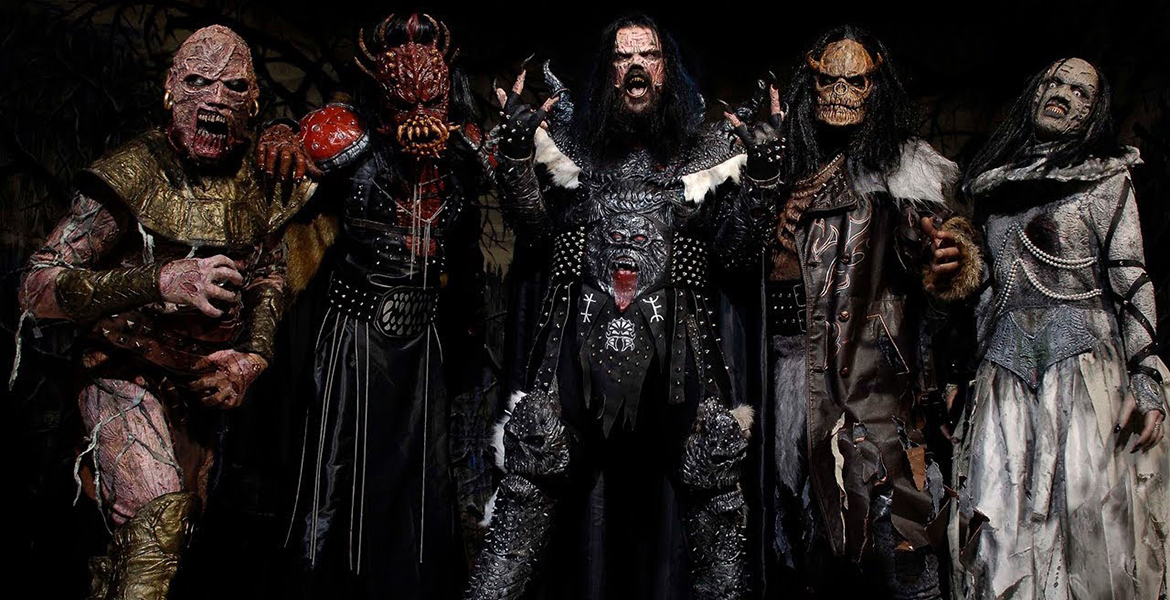 *Updated July 1, 2023