Nic Cage is no stranger to the horror world having starred in films such as The Wicker Man, Vampire's Kiss and more recently Color Out of Space and Mandy. In his latest horror film, Willy's Wonderland, Cage finds himself playing a janitor fighting off killer animatronics, all while trapped in a family fun center. The official description reads: A quiet loner (Cage) finds himself stranded in a remote town when his car breaks down. Unable to pay for the repairs he needs, he agrees to spend the night cleaning Willy's Wonderland, an abandoned family fun center. But this wonderland has a dark secret that the "The Janitor" is about to discover. He soon finds himself trapped inside Willy's and locked in an epic battle with the possessed animatronic mascots that roam the halls. To survive, he must fight his way through each of them.
Based off the trailer, the music in Willy's Wonderland plays an integral part of the film, adding another level of creepiness to the animatronics that are supposed to be cuddly and cute. The man responsible for the music is named Émoi. Émoi not only scored the film, but he also provided the voice of evil Willy Weasel and performed a lot of the lyrical songs in the film, very reminiscent of Danny Elfman's contributions in A Nightmare Before Christmas. We spoke to Émoi about his work on Willy's Wonderland, why it was a dream gig for him and how he got inspiration from his childhood hangout, the Santa Cruz Beach Boardwalk, where some of his favorite horror movies (Killer Klowns From Outer Space, The Lost Boys) were filmed.
Wicked Horror: In a previous interview you said that you initially got the script from one of the film's producers, Grant Cramer. People might not realize this, but Grant played Mike Tobacco in Killer Klowns From Outer Space. How did you initially make this connection with Grant? You were a fan of Killer Klowns, so Willy's Wonderland seems like a full circle moment for you.
Émoi: About 13 years ago I worked at this production company, and in walks this guy with a camera covering half his face. He got a few words out of his mouth, when suddenly I shouted "Wait a second! Are you Mike Tobacco from fucking Killer Klowns from Outer Space!? He lowered the camera and was beet red with a huge grin on his face. Everyone started laughing. I instantly began quoting lines from the film. I think he was impressed that even though 20 years had passed since he did Killer Klowns, I recognized him in about 3 seconds just off his voice alone. Is that creepy? (laughs) We got to talking, and just hit it off instantly, been friends ever since. So yes, full circle for sure!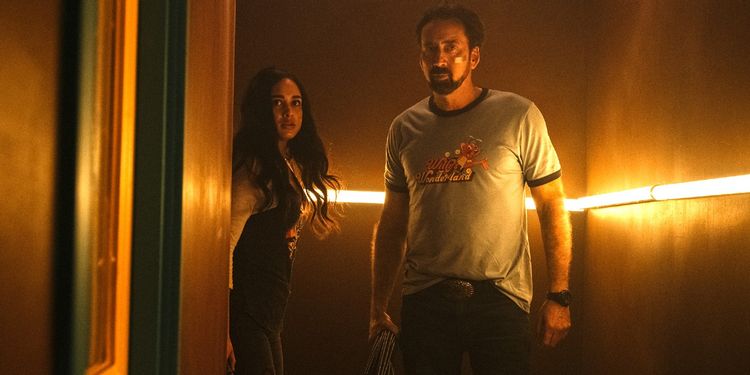 Wicked Horror: We heard that you grew up next to a Chuck E. Cheese and would spend most of your birthdays there as a kid. Do you remember any times in particular when the animatronics malfunctioned and it actually was pretty creepy?
Émoi: Back in those days it would have been odd if there wasn't some kind of malfunction at Chuck E. Cheese. Whenever I'd go, one of the characters was always broken and stuck lifeless in the dark while the others were singing. But I do recall one time in particular, it was my birthday, and Chuck's eye was busted. His body was flailing around, but his eyelid was stuck half shut, and his eyeball was just staring right at me. He looked like he wanted to kill me. Then suddenly, the in-costume Chuck came up behind me (you know, they don't talk, they just stick their head to the side of your head and you have to notice them that way). I jumped off my chair and almost broke the arm of the kid sitting next to me. Nightmares proceeded.
Wicked Horror: Because you were so familiar with the vibe of Chuck E. Cheese/Willy's Wonderland type places, do you think that allowed you to bring another level of effectiveness to the music? Because you were coming from personal experiences from these places.
Émoi: With the music for Willy's, I really made it a goal to conjure the vibe of the 80's-90's Chuck E. Cheese / Santa Cruz Beach Boardwalk experience. The 80's-90's was when they filmed Killer Klowns and The Lost Boys at The Boardwalk. These were the days when it still rained in September, and Halloween nights were always cold and dreary; pink popcorn, fresh spun cotton candy, Hot Dog On A Stick, people being less distracted by technology. Life had a lot of adventure back then, and you could feel those haunted vibes sewn into the films of that era. So I never wanted Willy's music to be an imitation of another film score, I wanted to do something completely fresh, that sounded like what those memories felt like back then. I'm hoping the score on Willy's acts as a true time machine for those of us who miss those days.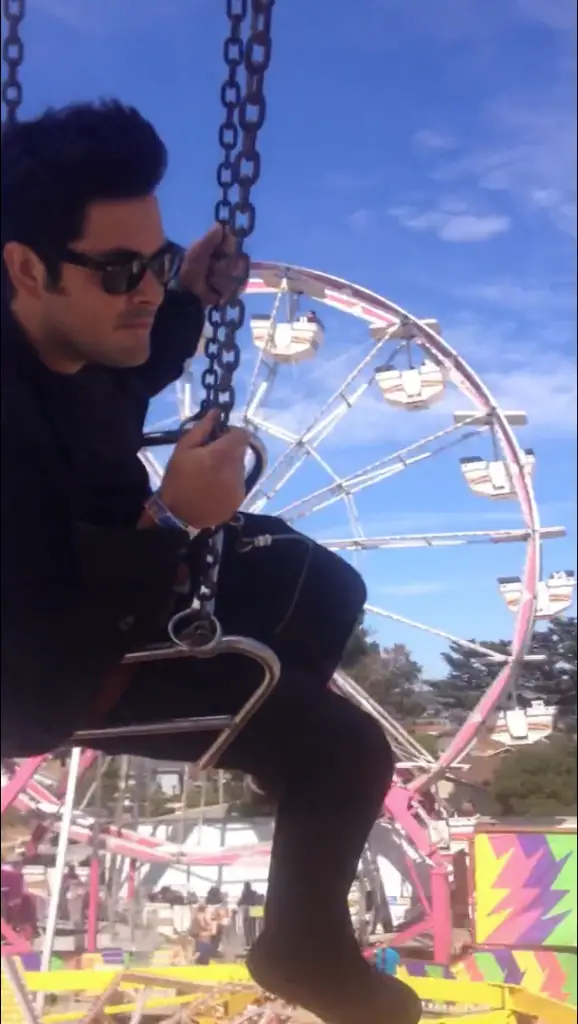 Wicked Horror: You sang the chipper, yet eerie "The Birthday Song" in the trailer, that has been already covered by a lot of people on Youtube. How did this come about? Why did you decide to focus on a "birthday theme" for the film?
Émoi: Animatronic family event centers are all about birthdays. So naturally, the theme song to Willy's has to be a birthday song. In the script, there was a very short lyric "It's Your Birthday and we want you to have fun, it's your birthday and let's party everyone". So I took those words, changed the second "and" to "so", and created a melody line that I felt really encapsulated Willy's Wonderland. Outside of "The Birthday Song", that melody is also an instrumental theme that threads together many cues and scenarios in the film.
Wicked Horror: Did you watch any horror films to get you in the right headspace before beginning work on Willy's Wonderland?
Émoi: I purposely did not. I was too afraid of being influenced. Instead, I ate a lot of pineapple pizza, drank cherry coke and lemonade, snacked on popcorn, Reese's pieces, and red vines, stared at my Garbage Pail Kids collection – and did everything I could to pull myself back into that world. I really wanted to augment those memories of being a kid at those family event centers and theme parks. I gained a few pounds, but had a blast time traveling.
Wicked Horror: From the trailer, the movie looks completely over the top, yet scary at the same time. How did you find the right balance between the two, for the music?
Émoi: Great question, because it's true – this movie has some real scares…and at the same time, has some extremely brutal, darkly comedic, over the top action. Finding balance was key. And to do so, I employed completely different approaches to the multiple scenarios using completely different instrumentations.
Wicked Horror: I know you performed all the original songs for the movie, but can you talk about the film's score too. What instruments did you heavily rely on for this score?
Émoi: Musically, Willy's really has five unique departments: the character songs, The Janitor themes, The kids music, the animatronic score, and the ambience of Hayesville and Willy's Wonderland. For the characters, it's all songs, organ and marching band-like instrumentation. For the Janitor, it's guitar-heavy rock. For the kids, it's keyboard driven synth electronic (with punk guitar elements), and for the animatronics and Hayesville, it's orchestral – both textures and full ensemble. For this reason, guitar, piano, and synth play a huge role.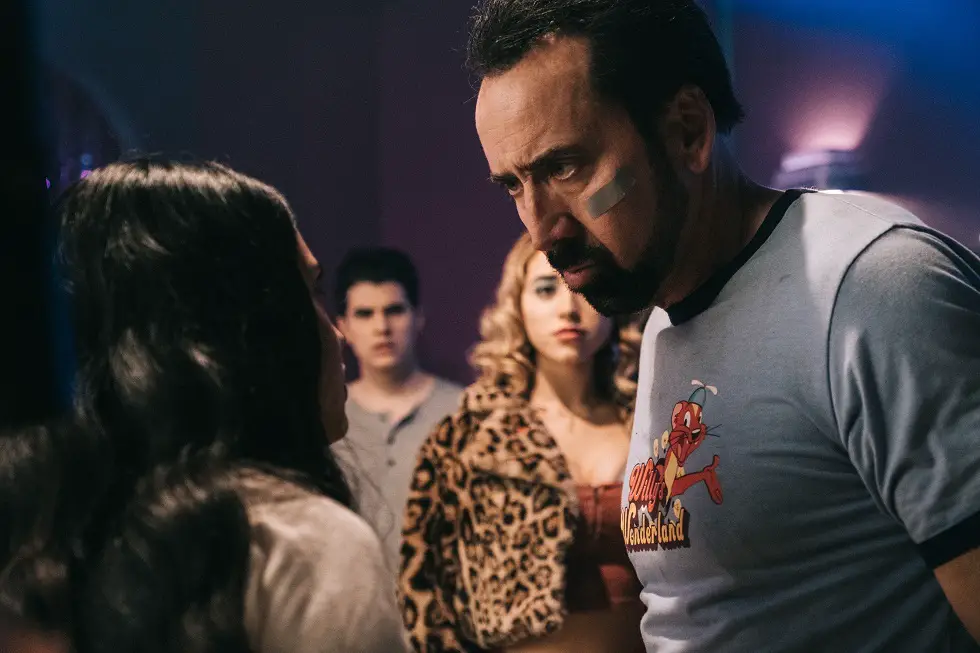 Wicked Horror: On IMDB, it says you were the voice of Willy too. How would you describe your voice for this? Did this come about after you had already created the music?
Émoi: Willy's voice was inspired by Christian Slater and Lampwick from Disney's Pinocchio. It was meant to be a temp voice. I was trying to create something cool to sell the demo of "The Birthday Song And Willy's Jingle" to the team. Growing up in the time of Chuck, I knew that the characters always talked on stage during the songs. So when I did the demo, I wanted to have Willy say "Hey Kids!? Do you know what time it is!? It's Birthday time!!" – so I put that on the original demo. Little did I know the voice and the dialogue would stick. When the teaser was released and it started with Willy saying that, I was floored. Just way too awesome!
Wicked Horror: Nicolas Cage is the lead in the film, did you create any specific musical themes for his character, The Janitor?
Émoi: Yes! "The Janitor" theme is probably the most used theme in the film along with the melody of "The Birthday Song". "The Janitor" theme evolves right alongside Nic's performance. The Janitor's mood dictates the way the theme is conveyed, and let me tell ya, there are a lot of moods.
Wicked Horror: You are a big fan of horror, is there a horror director that you would love to work with one day?
Émoi: I've always been a huge fan of Sam Raimi, and I think James Wan is incredible. But Sam has Christopher Young, and James has Joseph Bishara, and those are sacred unions not to be disturbed. I think it only makes sense that Romero would return from the grave to direct again. If so, I would love to be a part of that!
Willy's Wonderland is being released in select theaters and VOD February 12th.