William Sadler is an actor I grew up watching, as so many of us did, so the chance to interview him was honestly nothing short of an honor. From Shawshank Redemption to his appearances on Tales from the Crypt and its first feature film, Demon Knight, Sadler has proven himself to be an all-time great character actor, let alone such a genre staple. He is returning to one of his most iconic roles after nearly thirty years in Bill and Ted Face the Music. With the movie finally happening after so many years, plus the way Bill and Ted's Bogus Journey has become embraced as one of the best comedy sequels, not to mention the fact that we really need some positivity right now, there is truly no better time for it.
We caught up with Sadler to talk about Death, about how it feels to pick up the scythe again, the legacy of Bogus Journey, his own favorite incarnation of Death and so much more. Catch Bill & Ted Face the Music in theaters and on demand starting August 28th!
Wicked Horror: After so many years of rumors and maybes and false starts, how did it feel to get the word that this was actually happening?
William Sadler: I didn't believe my ears! I couldn't believe it was actually going to happen. It's been, wow, twenty-nine years or something. About three years before we made the movie, though, Ed Solomon called me and said, "I want to write Death into the third movie. Would you be interested in doing it?" And I said, "Yes," and that's when it started to get real for me. If you get the chance, talk to Alex, talk to those guys, ask the producers about the financing, getting the studio's interest and so on, that's a saga. That went on and on and on and on. But when they were finally, actually about to begin filming, I was thrilled.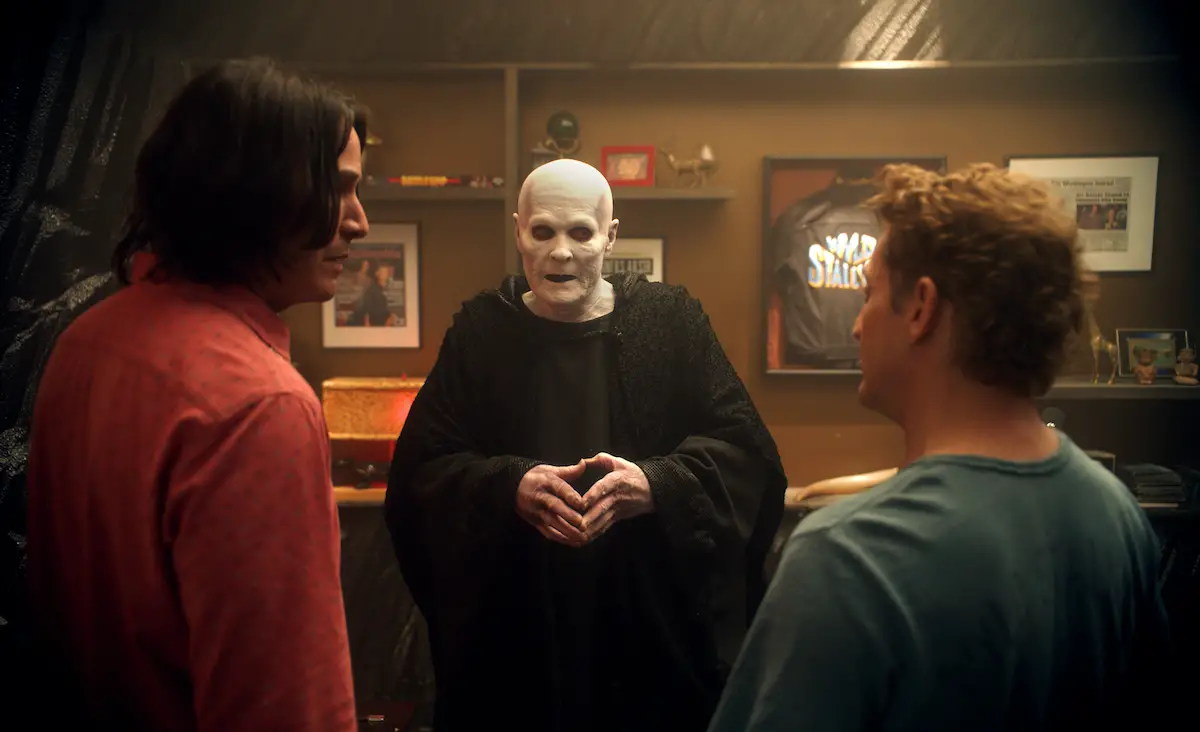 Wicked Horror: We're in a privileged age to see so many iconic actors return to their roles, years or decades later, but you reprising to Death might be the most seamless thing I've ever seen. Did you have to re-familiarize yourself at all with what you had done in Bogus Journey or was it all right there?
William Sadler: A little bit of both. I went back and watched Bogus Journey again to refresh my memory. I wanted to look at the gestures and [transitions into Death Voice] get the accent back the way it was back then. But I was really surprised how easily it all came back. Apparently I'd been carrying this character around inside me for years and years, so when he got the chance to come out and play, he just went nuts.
Wicked Horror: And back when you did Bogus Journey, that's such an incredible take on Death, in general. How much of that was in the script and how much did you bring to creating that character?
William Sadler: I think we have to give the writers their due, they wrote Death to be scary as hell in the beginning and then fall apart during the games. I just took it as far as I could. It was a genuine collaboration, that journey that the Grim Reaper takes. Clearly, he's intended to be scary in the beginning, when the boys have been murdered, they're dead and then there's this frightening figure.
Wicked Horror: That's what I love so much is that in that first shot of you, that's Bergman's Death and then it just isn't.
William Sadler: Yes! Yes! It's Bergman's Death. And then of course when he tries to play the games that they know how to play, Clue and Battleship and electronic foosball, he's awful at it. That was actually my favorite part and that was also the first day of filming for me on Bogus Journey, the games sequence. That was the first time I set foot on the stage. So yeah, I guess I created the specific character, but the general character was the writers.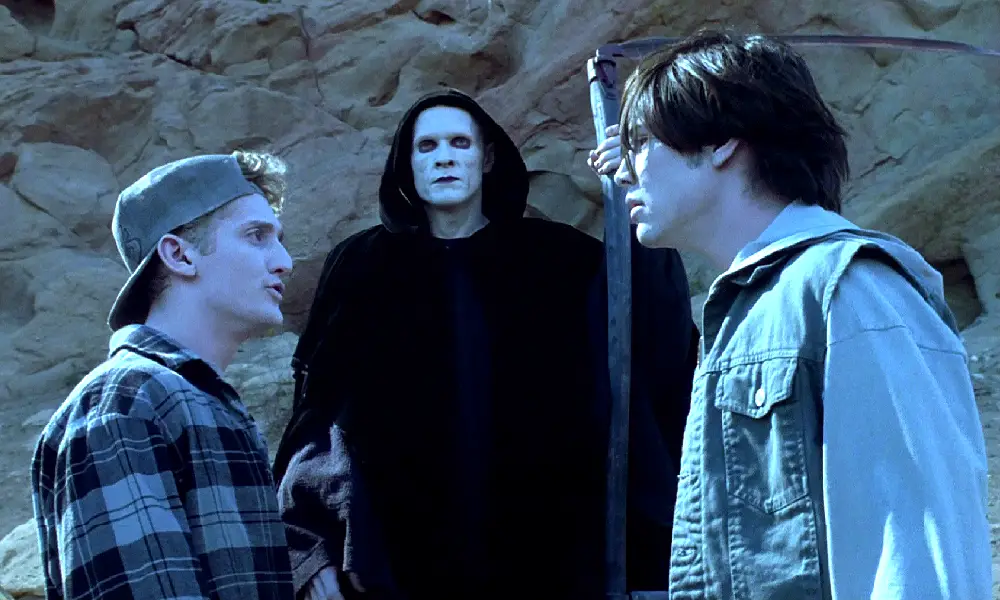 Wicked Horror: Outside of Bill and Ted themselves, I'd say Death is the most beloved character in this saga. What do you think it is about him and what you brought to him that has resonated so much with people, especially more and more over time?
William Sadler: You know, I'm not entirely certain. I think it has a lot to do with the fact that inside, he's just a big softie. He's vulnerable. He's insecure, like we all are. We need people to tell us we're okay. He needs a hug. When the girls tell him "We love your solo in Pale on Pale," they're flattering him, but it works because he's so needy. He really needs to hear somebody say, "You're good. We love your stuff."
Wicked Horror: It's such a smart take to play Death as this really lonely guy, because why wouldn't he be? He's Death?
William Sadler: He doesn't get invited to many parties, I guess.
Wicked Horror: Do you have a personal favorite movie version of the Grim Reaper?
William Sadler: Oh my. Well, I'm fond of the one that I did. Other people's Grim Reapers? There was a Twilight Zone years ago, where Robert Redford played Death and I thought that was a brilliant take on it. He's the most attractive man you've ever seen. He's sweet and not scary at all. I remember thinking that was a brilliant take on the Reaper, as opposed to the like Vincent Price horror movie version. I guess I like Max Von Sydow's Reaper, too. But he wasn't very funny.
Wicked Horror: Bogus Journey has had this amazing renaissance over time of becoming I'd say pretty widely recognized as one of the all-time great comedy sequels. What's it like just as an actor when a movie gets rediscovered like that?
William Sadler: It's awesome! It's completely awesome. We shot the movie, it came out in '91, it ran in the theaters and then it disappeared and everybody went on with their lives. Then you find out years and years later that it's been percolating under the surface, people have been watching it and it's been gathering steam and it's been discovered by people who weren't even born when we shot it. That's like the most ridiculous thing I've ever heard. I was 40 when I played it the first time. It's really, really fun to hear that people are adopting it as their own personal favorite, you know?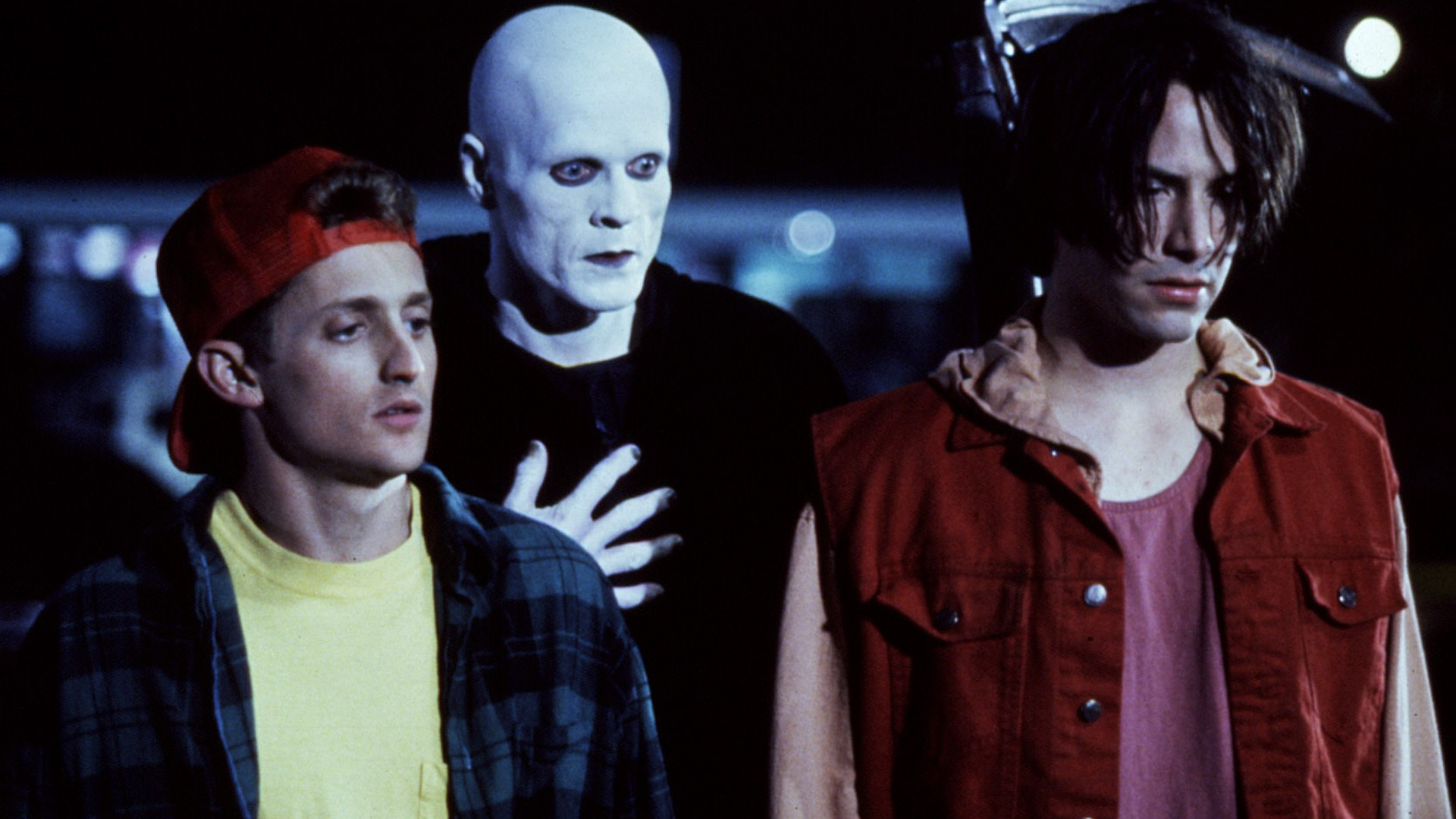 Wicked Horror: The last time you guys did this, everyone had certainly done things, everyone had had success, but since then everyone's gone onto these incredible careers. Keanu became Keanu. What was it like just being back on set with those guys again?
William Sadler: To be honest, I wasn't exactly sure what it was going to feel like to be back on the set with them. Because you're right, we weren't exactly novices when we did Bogus Journey, but Keanu hadn't rocketed to superstardom and Alex hadn't gone off and done all of his documentaries that he's done, I hadn't done Shawshank yet. I was really, really pleasantly surprised when the band got back together. It was like we'd never said goodbye. The characters fit like comfortable shoes and the feeling was there, the vibe was there.
Wicked Horror: You can really see it on screen, too.
William Sadler: Yeah, I'm glad! You could feel it in the room. People were very excited to see us all back together again.
Wicked Horror: Just in general, you've appeared in some seminal films in just about every genre. What are some of the challenges or freedoms of doing a more off-the-wall comedy like this one?
William Sadler: Well, I don't get a chance to be funny all that often. Sometimes I'll read a script and being funny isn't called for, not only isn't it necessary, it's not called for and sometimes I do those. But I love being able to be funny, being able to take the character just as far as I could, as far as I wanted to. Maybe that's why the Reaper is as fun to watch as he is, because you're seeing this actor who, you know, I don't get to fly all that often. And I truly get to fly as the Reaper.