Welcome to Script to Pieces, a recurring feature at Wicked Horror where we look at the best, most interesting and at times most unbelievable horror movies that never happened. Sometimes these will be productions that never came together at all, other times, they will be original incarnations that were completely different from what we wound up with. Each should be fascinating in its own way, because the stories of movies that never see the light of day can sometimes be even more interesting than the stories of those that do.
The Texas Chainsaw Massacre franchise is wildly fractured. It's almost an anthology, with no real narrative threads between the sequels. The remake barely felt out of place in 2003, considering that both Leatherface: Texas Chainsaw Massacre III and Texas Chainsaw Massacre: The Next Generation were loose remakes of the original film. The only thing that stood apart as truly doing its own wildly different thing was Tobe Hooper's own follow-up, The Texas Chainsaw Massacre 2, as he didn't want to repeat anything he'd done in the original. It was a much more overtly comedic movie than the first, a much gorier movie than the first, and introduced us to a new member of the cannibalistic clan, Chop Top.
In addition to launching the genre career of Bill Moseley, Chop Top would become one of the most beloved characters in the franchise. At conventions, fans can be seen in their own Chop Top cosplay, and the character even eventually received his own action figure. There's something about the manic, weird and often gross hillbilly that people have always responded to, perhaps even more so than the original film's Hitch-Hiker.
That popularity even grew to the point that the character was given his own spinoff film. And in this instance, we don't mean one was considered, either. This is a rarity for Script to Pieces, as in this instance, the film was actually shot. It was even nearly completed. The only thing that really qualifies it for this column is that it will almost certainly never see the light of day.
Related: Script to Pieces: Wes Craven's Shocker Remake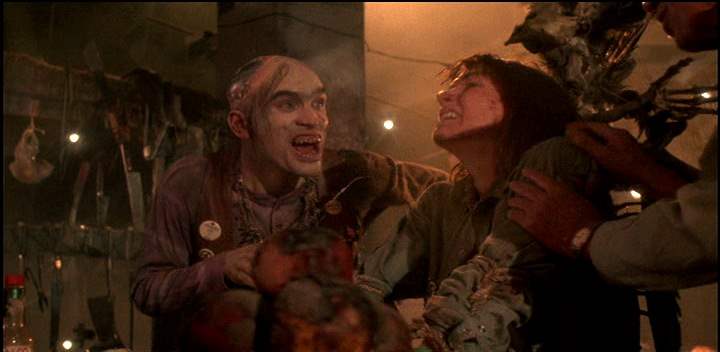 Chop-Top brings the mental instability of the Sawyer family to an even larger degree, as he suffers from Post-Traumatic Stress Disorder due to his time as a soldier in Vietnam, which could also explain his absence from the original film, as many soldiers were still overseas in 1973. This is something that his solo film,
All-American Massacre,
planned to explore. Directed by none other than William Hooper, son of Tobe,
All American Massacre
takes place
both before and after
the events of
Texas Chainsaw Massacre 2.
With flashbacks to Chop Top's time in Vietnam, the film would also have found Chop Top in a state psychiatric hospital in Texas, where he had been held for decades, since the events of the film—though it's unclear how they explained he survived. Originally planned as a short, All American Massacre shot from 1998 to 2000. It was during the editing process that things eventually got put on hold.
In 2011, there was a Kickstarter launched in hopes to cover the cost of post production. Unfortunately, the campaign was kind of a failure. The creators were only asking for $8,000, something that seems extremely low by today's crowd funding standards, but they only received a little over $1,000 from 18 backers. So after that, the thing went to rest once more.
It's still unclear exactly what happened to prevent All American Massacre from ever seeing the light of day. It was extremely low budget and was a Texas Chainsaw Massacre that not only didn't feature Leatherface, but centered on a character who had only appeared in one movie over a decade before this film even began shooting. It's now been twenty years since then, too. It's been said that the rights holders got nervous and had second thoughts, thinking that it might tarnish the franchise. But it's hard to say if there's actually any truth to that.
Also See: Script to Pieces: Scream 5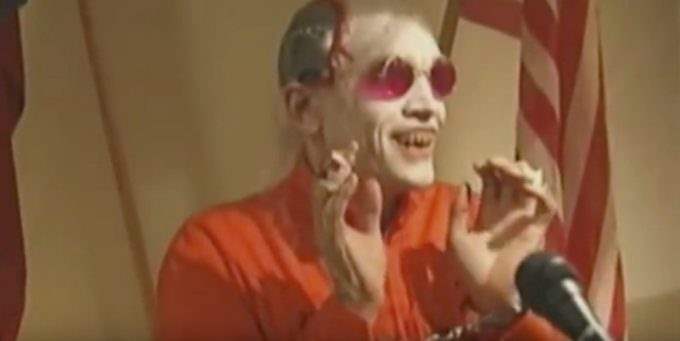 When I asked Moseley about the project in 2016, he mentioned that one of the stars, as well as the FX makeup creator on the project, Todd Bates, had just passed away. But instead of complicating matters further, he suggested that that should only be more incentive to finally let the film see the light of day. He, too, reiterated that it seems to be entirely on William "Tony" Hooper whether the movie is ever actually completed and released, noting that twenty years is "plenty of time to edit and tweak."
But even he didn't seem confident that anything might actually happen with it. It's entirely possible that after the Kickstarter campaign, Hooper may have lost faith in the fan demand for the project, as so few people actually wound up donating. In truth, we have no idea what reasons there might be for the project never actually seeing release. If there are behind the scenes circumstances we don't know about, or if Hooper simply lost interest in completing the project. All we can really do is speculate.
Even if All American Massacre was extremely low budget, there's no way that a film revolving around Bill Moseley as Chop Top did not have potential. I think it's so clear, at this point, that fans of that character and Texas Chainsaw Massacre in general will always be dying to see this project completed. Even if that dream is completely unrealistic, fans will keep hoping because that's what they do and that's part of what makes being a horror fan so great in general.
And in a time when we've got Nick Castle (briefly) returning as Michael Myers and Robert Englund dusting off the glove to play Freddy Krueger once more, seeing Moseley back in the Sonny Bono wig doesn't really seem like that much of a stretch, especially considering that the damn thing was already made.