While I was working on my interview with Marty Engle and Johnny Ray Barnes Jr. on their book series, Strange Matter, they shared information on several titles which were advertised but never drafted. Alongside concept artwork for covers and character designs for their pitched animated series. Since the interview was long enough as is, I am showcasing these unreleased elements right here.
The most well known of the scrapped story ideas is the 31st Strange Matter book, Rilo Buru's Summer Vacation, which currently exists as an incomplete draft. The book followed the titular monster wanting to go on vacation and winning a free cruise trip, only to be targeted by NeuHorizons Biotech Research for experimentation.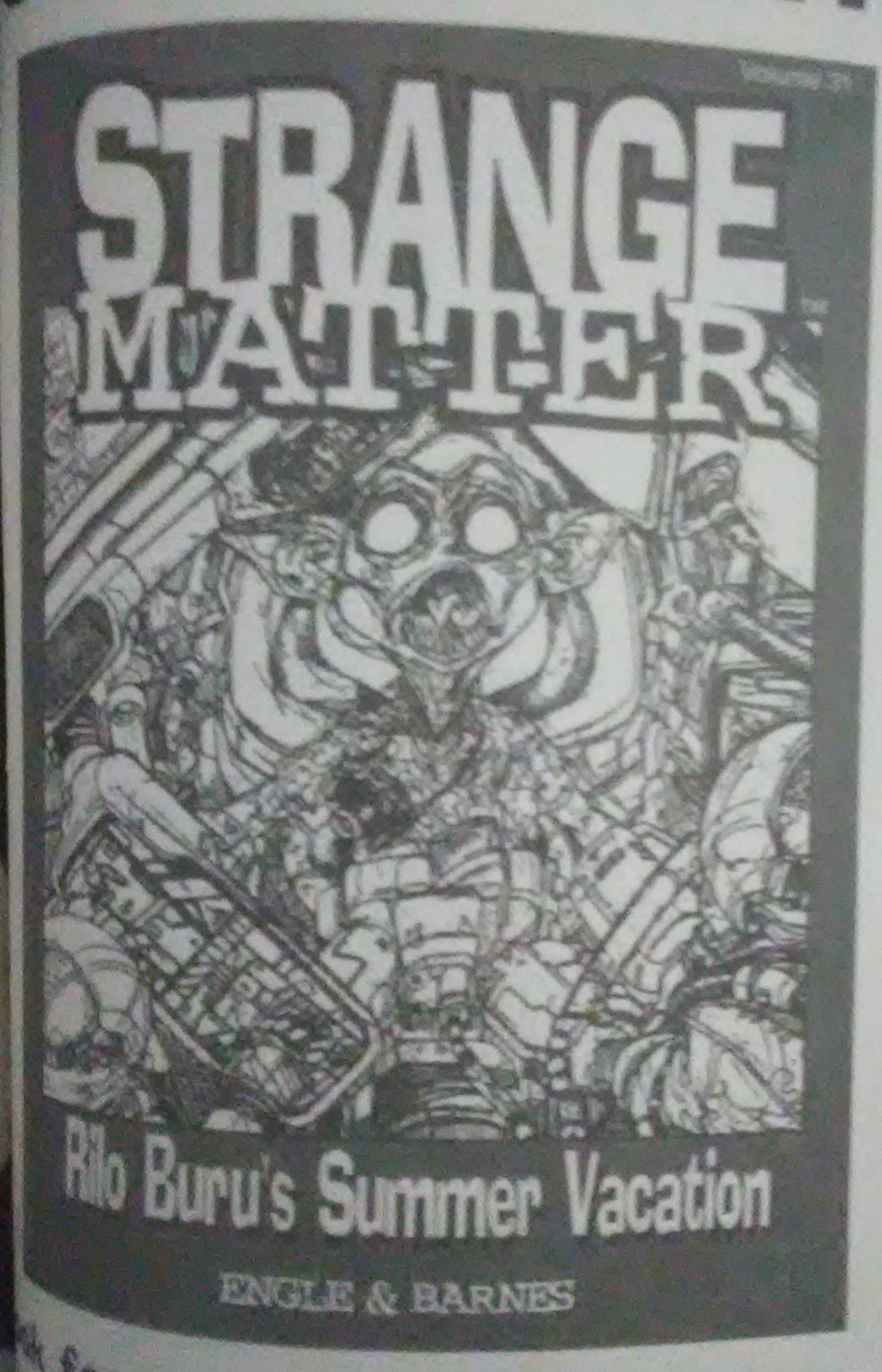 Aside from Rilo Buru's Summer Vacation, followers of the Strange Matter series only knew of these titles that were never published.
Shriek: About a haunted playground and ghostly bullies
Scariest Show On Earth: About an evil circus that sets up shop near the remains of Fairfield Manor
From The Ashes: A semi follow-up to the book Something Rotten, featuring a lava worm emerging from the Fairfield Caverns
Stamped: About a Mongolian death worm
Mission Extraterrestrial: A follow-up to the Summer Offworld trilogy of books
The Infestors: About intelligent insects invading Fairfield
This information came directly from Engle and Barnes, but wait, there's more! As I was awaiting their responses to my questions, they managed to uncover old publishing information shedding light on some of the titles mentioned above, alongside the revelation of Fathom and Probe, two more books which hadn't been mentioned previously.
These books heavily featured characters such as Amanda Wheeler from Primeval and Marlon Walker, who was a major character in the Summer Offworld trilogy.
31. Rilo Buru's Summer Vacation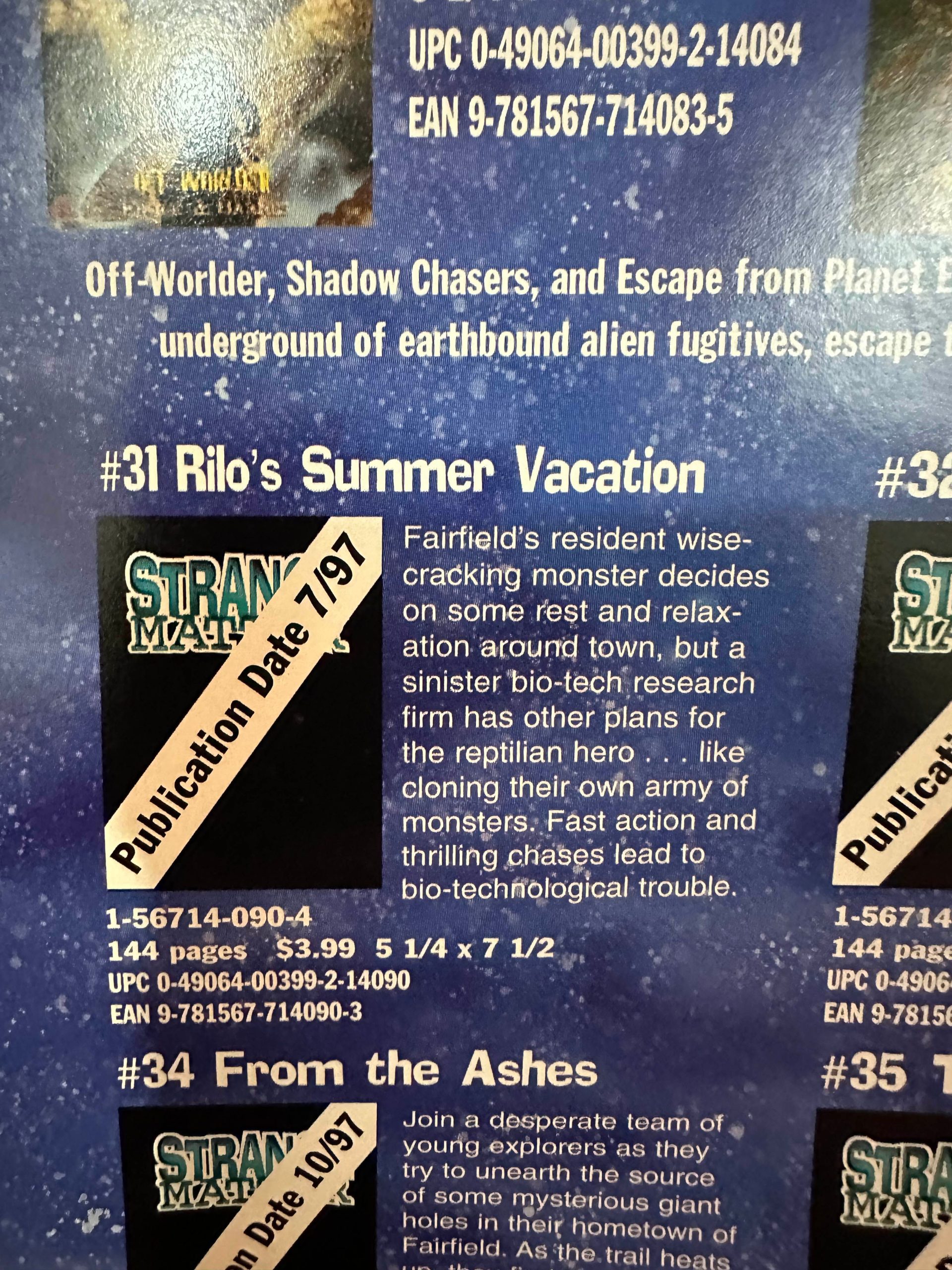 32. Probe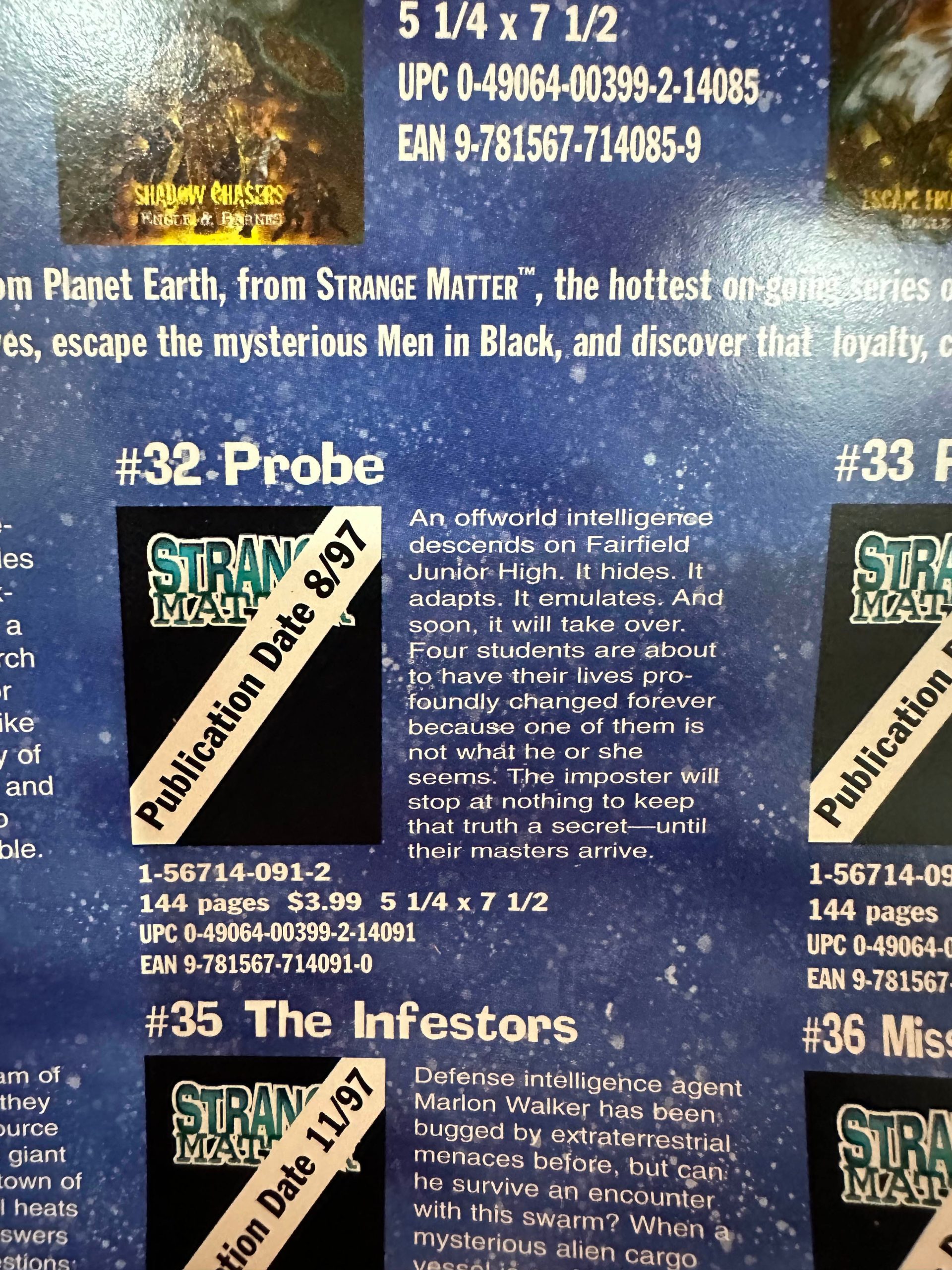 33. Fathom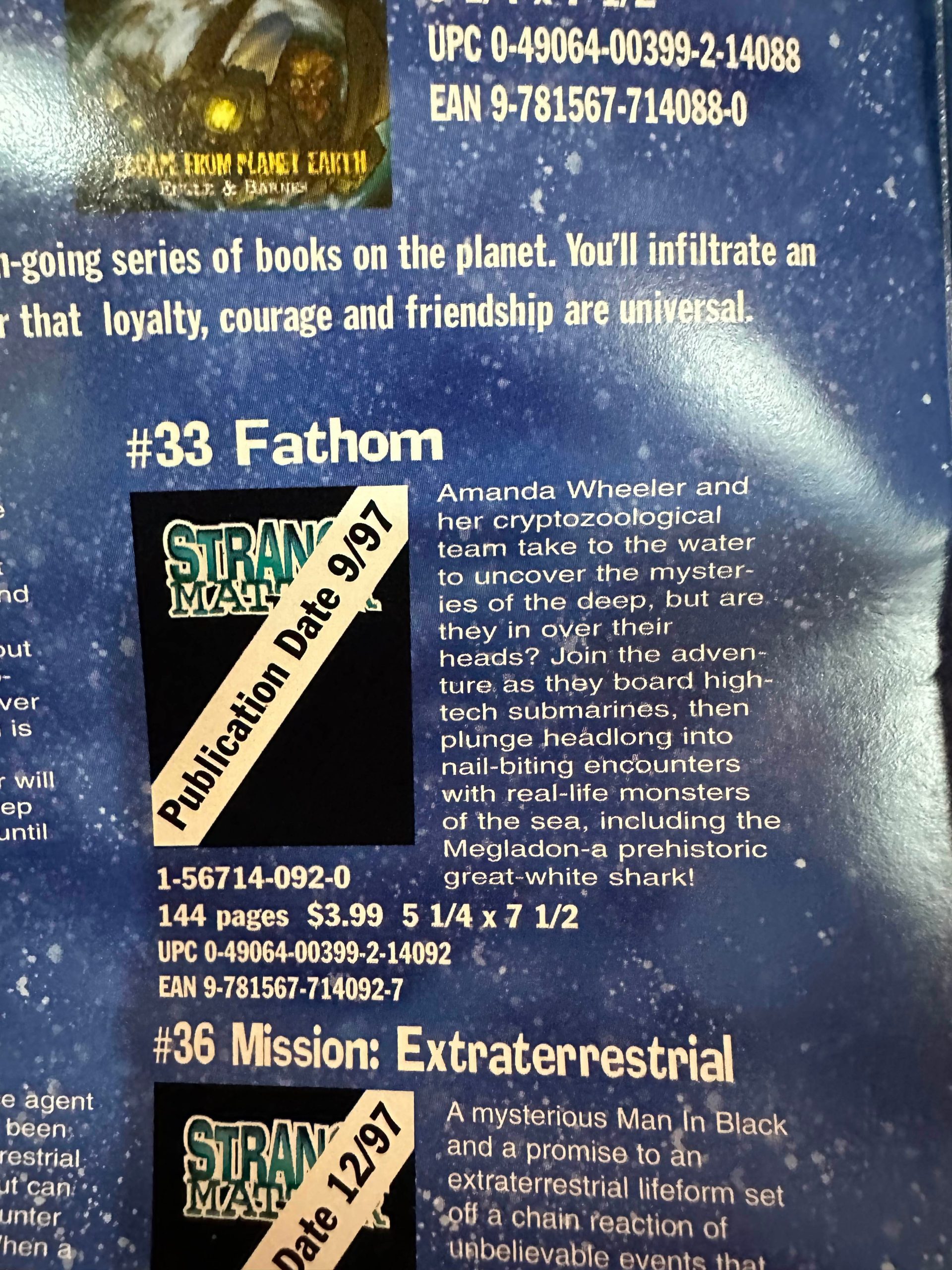 34. From The Ashes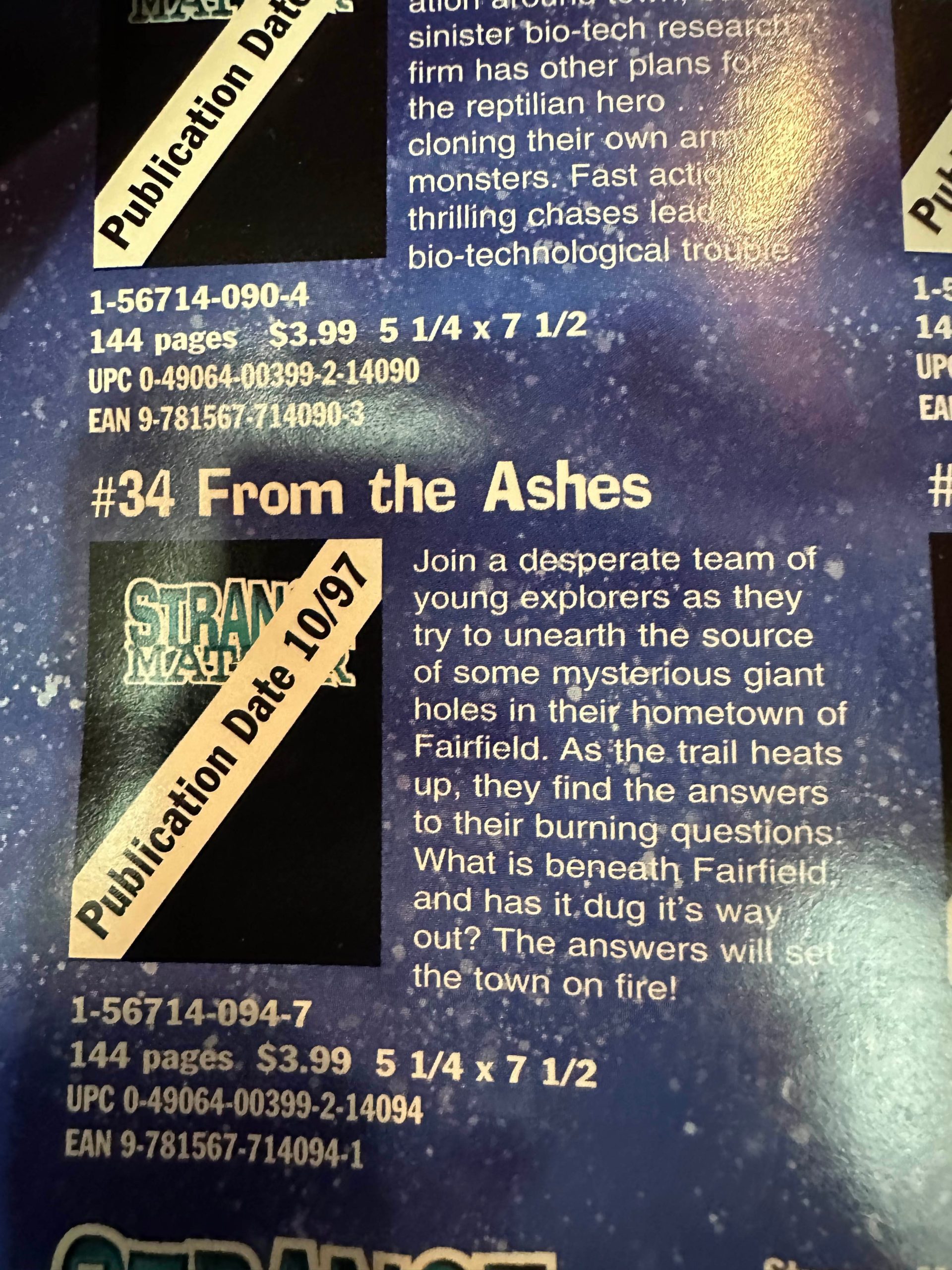 35. The Infestors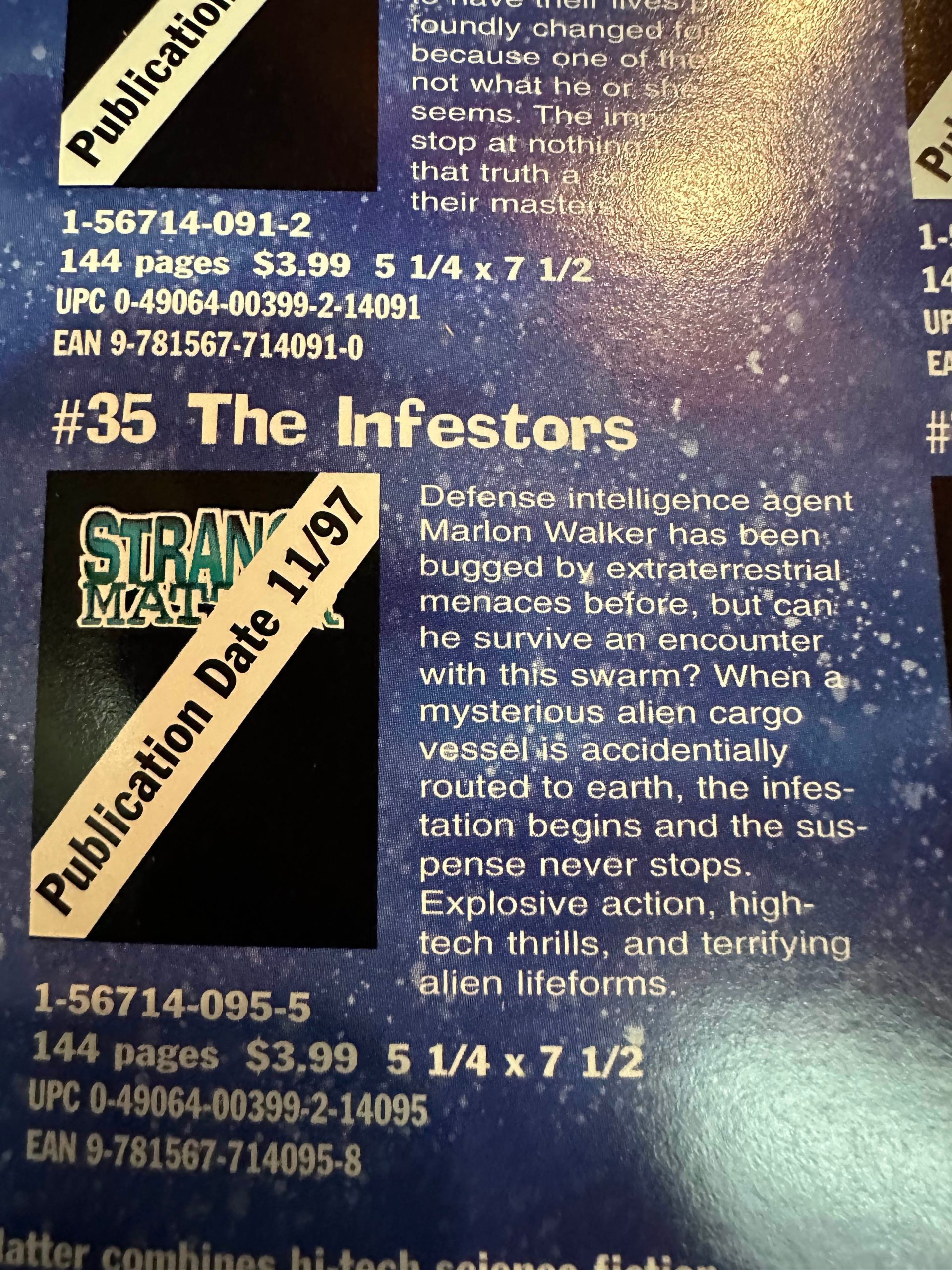 36. Mission Extraterristral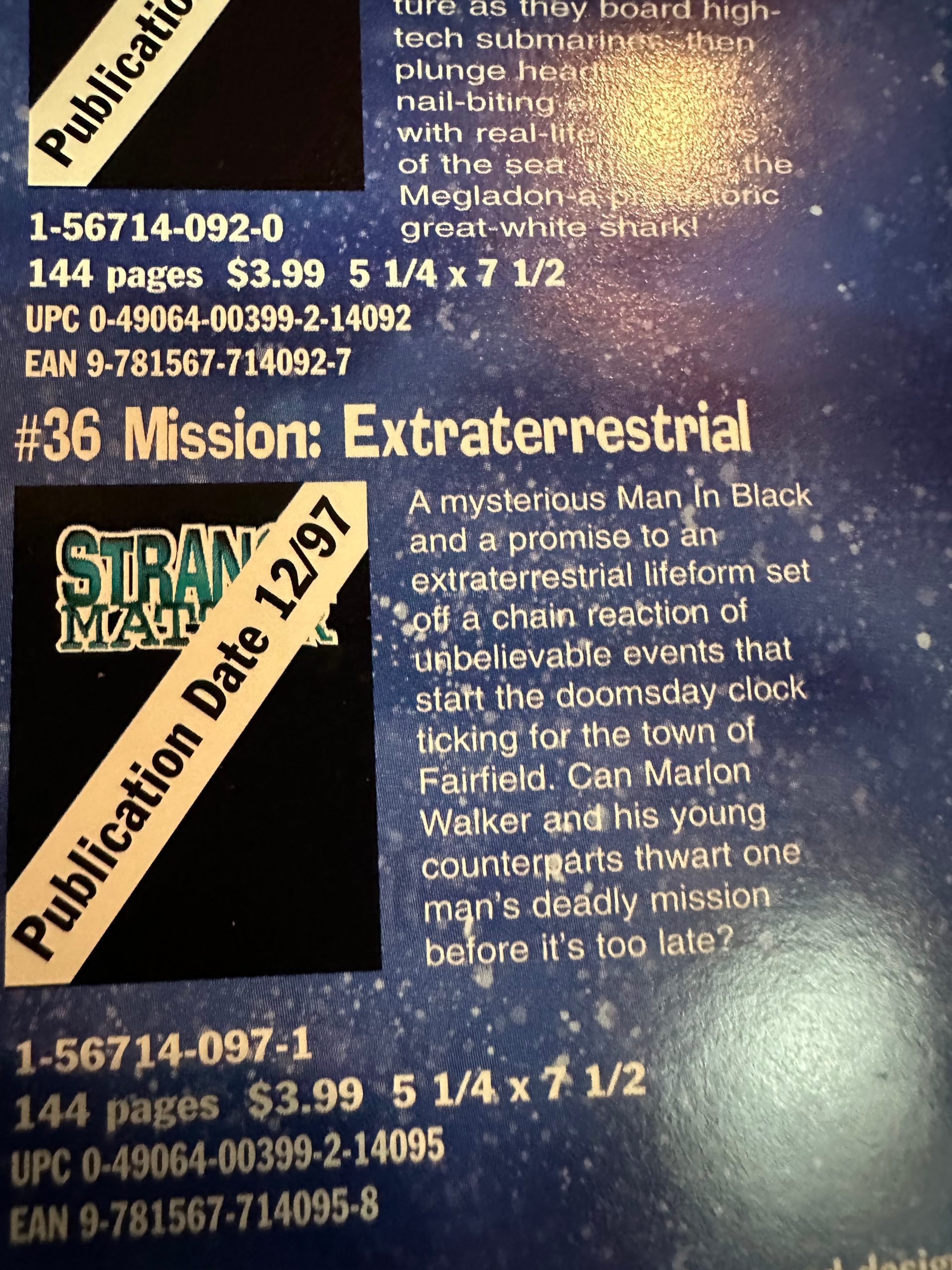 Engle and Barnes were also able to find proofs of cover art created by Carlos D'Anda for Fathom and From The Ashes.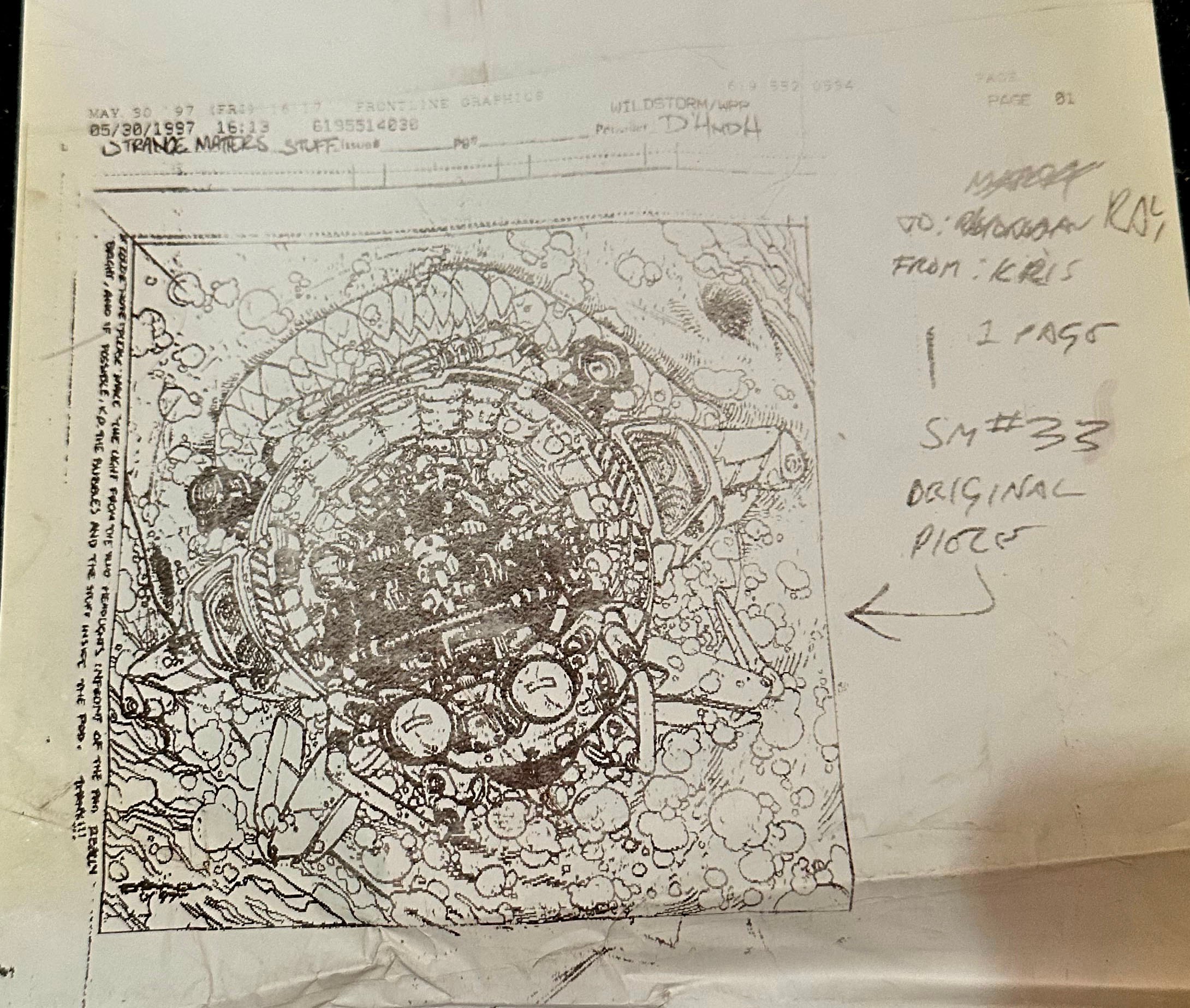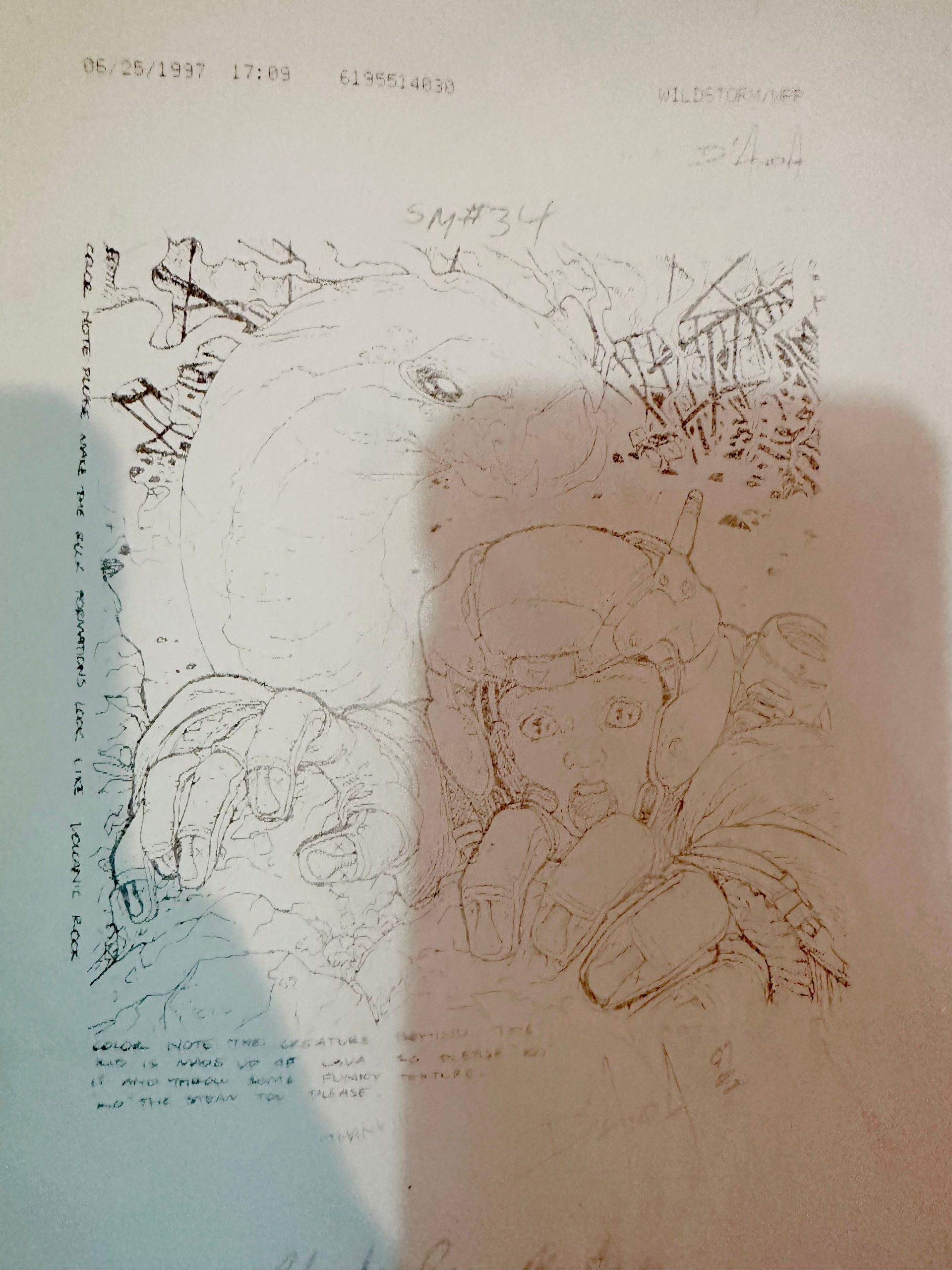 Judging from the above, these were conceived and solicited following the franchise's restructuring as more of a sci-fi/action based genre. Meanwhile, Shriek, The Scariest Show on Earth, and possibly Stamped were conceived when Strange Matter was still specifically horror/sci-fi.
In 1996, Engle and Barnes hosted a short story contest for their readers to participate in. Andy Gobles won with his entry "The Abominable Snowman." Gobles got mentioned in the 22nd book, Dangerous Waters, and had his story printed as a bonus.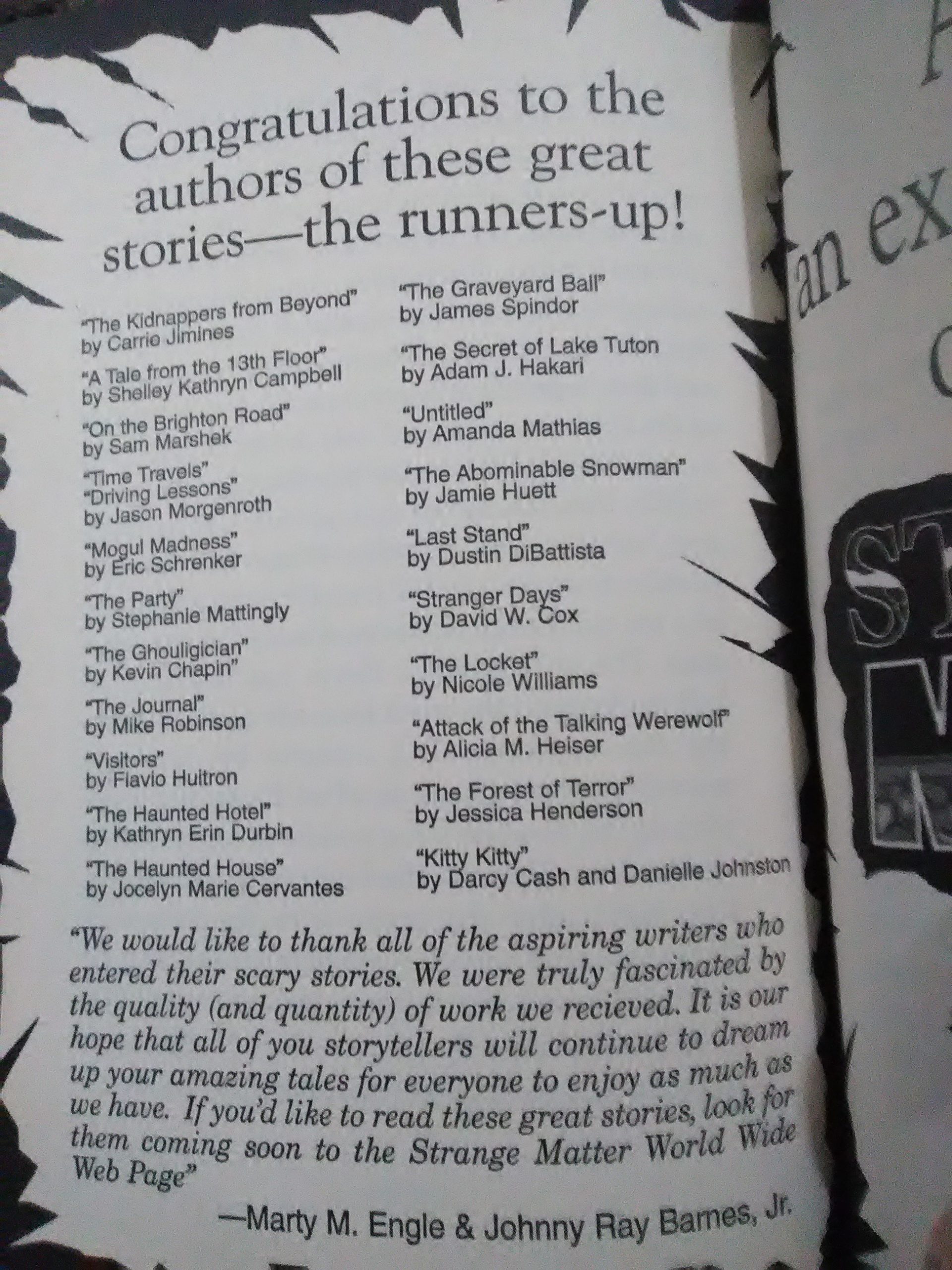 A list of runner-ups was also included in Dangerous Waters, mentioning their stories would be posted on the Strange Matter website. Unfortunately, most of these stories have since been lost due to the website going defunct. Over the last couple of years I've toiled to track down some of the contestants to see if any of them still had copies of their stories buried somewhere in their homes. Many never responded. Some did but no longer had their stories. As of right now I've managed to find only four stories fully intact. They've been recapped on the website Point Horror.
The Journal by Mike Robinson: A man ends up in the crossfire between a scientist and a gunman concerning a mysterious journal.
Kitty Kitty by Daryn Cash and Danielle Johnston: A pair of married scientists hijack a plane and use the occupants as guinea pigs for dangerous genetic experiments involving feline DNA.
Mogul Madness by Eric Schrenker: Kids take skiing lessons from the totally innocent and not at all evil Dr. Doom.
Last Stand by Dustin DiBattista: Siblings sequester themselves inside their home during a zombie invasion.
All four of these stories are unique and twisted in a way you wouldn't expect from kids. It goes to show that Engle and Barnes knew what they were doing by creating books which didn't speak down to the readers.
Author Flavio Huitron couldn't find his story Visitors but said it was about aliens. Carrie Jimines, Kevin Chapin, and Hakari were unable to find their stories, but recalled the details and shared them with me via social media.
The Kidnappers From Beyond by Carrie Jimines: "It was about twins and it chronicles one of the twins experience after her twin dies. She lives with a very spooky creepy people who "rescued" her after a ship wreck in which her sister died. Lots of odd stuff happens to her and she keeps being called home by her twin in a dream. Anyway, in the end you find out she is the sister who died and was kidnapped by spirits."
The Ghouligician by Kevin Chapin: "When the contest was announced, my kid self was wondering why so many monsters were showing up in Fairfield.  So I made my own explanation.  A kid that wanted to be a magician is sold a spell-book by a man who owns a new magic store.  The kid uses the book, and literally unleashes his inner monster, "the ghouligician" literally a magic ghoul.  Half is face is deformed, almost pure red slime like the blob.  The other half is human, except for a bizarre ring of spikes jutting out around his eye.  If he keeps transforming, he gets more hideous…. Turns out the owner of the magic shop needed a new soul to use the book and unleash pure hell in the form of the monsters that now inhabit Fairfield.  The owner is destroyed and out poor cursed soul is left knowing that a future generation will do battle with the monsters he let loose…."
The Secret of Lake Tuton by Hakari: "I do remember the story roughly involved a lake monster. I believe there were two kids investigating, and one got dragged into the lake, and I implied that that kid got turned into a second lake monster. I had a thing for transformations at the time — I don't think I described it graphically, but it did end with the narrator kid going, 'There's another monster, it's my friend, stay away from this lake.'"