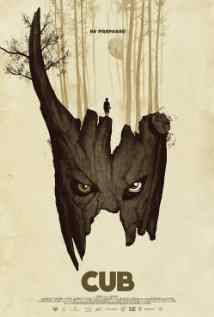 We have just learned that Artsploitation has acquired the Belgian horror film CUB for distribution. They will be releasing the film theatrically and on DVD and VOD. It's being speculated that the feature will see release this summer.
The feature made its world premier as part of the Toronto International Film Festival's Midnight Madness lineup in September of last year.
Cub is directed by Jonas Govaerts in his feature film directorial debut and co-written by Govaerts and Roel Mondelaers. This marks Mondelaers' first feature film as well. It stars Evelien Bosmans, Titus De Voogdt.
This film looks quite promising. But we will know for sure fairly soon. Keep an eye out for our review on the site in the coming days. The trailer is excellent and the picture has been generating a lot of positive buzz from a variety of genre film and mainstream entertainment outlets. We will keep you in the loop as more information regarding a stateside release date and more details regarding the release strategy that Artsploitation has in mind for the film are made available.
Official Plot Synopsis from IMDb: Over-imaginative 12 year-old Sam heads off to the woods to summer scout camp with his pack convinced he will encounter a monster…and he does.