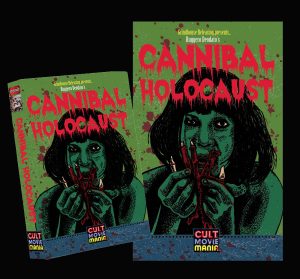 Grindhouse Releasing and Cult Movie Mania are brining several notorious classics back to VHS as part of a limited edition collection. The titles being rereleased to VHS will include 
Cannibal Holocaust, Cannibal Ferox, The Beyond,
and
Cat In The Brain
.
From the press release: The Cannibal Ferox tape will include the ultra-nasty, completely uncut feature film along with bonus video of the Cannibal Ferox Hollywood Premiere, an interview with director Umberto Lenzi, and trailers. It will also feature exclusive new artwork painted and designed by horror director Marcus Koch (100 Tears, ROT) and a poster only available with this edition of the movie. 
The Cannibal Holocaust tape will include the uncut feature film in its nauseating entirety, plus the Cannibal Holocaust music video and trailers. The striking new special edition artwork, featuring design by Chamuco ATX and illustration by Vader Paz, will come in three different collectible color variants. Each tape also comes with a matching poster exclusive to this release.
In the coming weeks, Grindhouse Releasing and Cult Movie Mania will also be releasing a Lucio Fulci Double Feature containing his masterpiece The Beyond and the ultra-bloody Cat in the Brain. That will be followed by the first ever VHS edition of AN AMERICAN HIPPIE IN ISRAEL, the long-lost, completely insane Israeli-made hippie cult classic that will freak you out.      
Due to limited quantities, these tapes will be available on a "first come, first serve" basis with subscribers to Cult Movie Mania's FREE email newsletter receiving the exclusive chance to pre-order tapes in advance. If the tapes sell out via newsletter, they will not be made available to the general public. Anyone can sign up for the newsletter and it is 100% FREE. Sign up now at CultMovieMania.com.