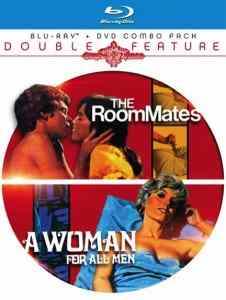 Gorgon Video is releasing a grindhouse double bill to DVD and Blu-Ray in March 2015. Both films are from notorious exploitation director Arthur Marks.
The films will be released as a two-disc combo pack with gorgeous throwback cover art that effectively captures the era in which the films were first released. Expect a review of this release closer to the street date of March 24th!
In The Roommates (1973), four beautiful college roommates and a sexy stewardess are in for much more excitement than they planned for when a summer getaway in the woods turns into a bloody fight for their lives. Looking to spend a swinging summer at Lake Arrowhead, Carla, Beth, Brea, Heather and Heather's shapely cousin Paula head to the picturesque hills for a little R&R. The usual raised eyebrows from the resort's male crowd follow them wherever they go as they split up and find summer jobs, spend a little refreshing time in the water, and fall into the occasional seasonal romance. But soon a shadow is cast over the girls' sunny vacation when a mysterious murderer begins picking off the lake's bevy of beauties. Genre favorites Pat Woodell, Roberta Collins, Christina Hart, Marki Bey and Connie Strickland star.
Judith Brown (The Big Dollhouse) is the deadly object of affection in A Woman for All Men (1975). Karen Petrie (Brown) is a beautiful young woman with a mysterious past. When she becomes millionaire widower Walter McCoy's (legendary actor Keenan Wynn) new belle, it ignites a flurry of jealousy and passion in Walter's two twenty-something sons. Soon Karen's seductive spell is cast on the whole family, including housekeeper Sarah (Lois Hall, Dead Again), leading to a string of deception, crime and eventually murder. Also starring in this tale of dangerous temptation are Alex Rocco (The Godfather) and Andrew Robinson (Dirty Harry).