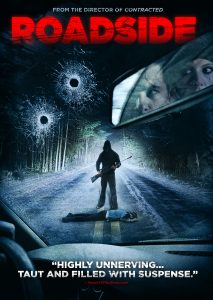 As a champion of the film from the moment it was completed–that's my quote on the poster to the left–I am thrilled to announce that the suspenseful thriller 
Roadside 
has finally landed distribtuion. The title has been acquired by Image Entertainment. The distributor will hold all US distribution rights.
The picture is directed by Eric England (Contracted) and produced by Ace Marrero via Swim with the Fish Productions, Daniel F. Dunn of Dunn-Rite Productions and Eric England through his production company Southern Fried Films.
No word just yet on a release date or a rollout strategy but it's likely that the picture will see a multi-platform release in the next few months. We will keep you apprised as we learn more about this title.
The film follows Dan (Ace Marrero of Madison County) and Mindy (Katie Stegeman of  Contracted) as they head out on a road trip that sees them trekking along a remote mountain road. When the couple is forced to pull over due to an obstruction in their path, they find themselves in mortal danger. A killer literally has them in his sites and is intent upon engaging them in a sadistic game of cat and mouse. The film delivers Hitchcockian-esque suspense and will offer something to both horror fans and thriller enthusiasts alike.