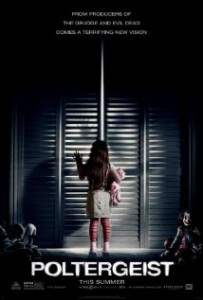 A secondary trailer  for the 
Poltergeist
 reboot has been released and as always, we have it available for you to check out. So, head inside for your first look after the break!
This second trailer is actually more enticing to me than the first. It creates a genuinely creepy atmosphere and has me awfully anxious to check out the film in May.
The upcoming reboot of Tobe Hooper's Poltergeist was originally slated for release February 13 of this year. But the film's debut has been pushed back to May 22, 2015. In the meantime, check out the newly debuted trailer in the player below.
The remake is directed by Gil Kenan and written by  David Lindsay-Abaire. When I spoke to producer Rob Tapert about the upcoming reboot some time ago, he suggested that the idea was to introduce a new generation to Poltergeist and to improve upon some of the aspects of the picture that haven't aged well in the years since its release.
Like in the 1982 original, the core concept of a family's youngest child being taken away by supernatural entities will remain in tact. We will keep you apprised as more details about the film's plot and any other news is made available.