Gift Guide is a recurring segment on Wicked Horror where we showcase macabre inspired gift ideas for you or the horror fan in your life. Have an idea for something we should feature on Gift Guide? Let us know in the comments below. On this installment, we showcase the ultimate Freddy Krueger, from the ultimate Nightmare On Elm Street movie, Dream Warriors.

NECA have been killing it lately, making all of our childish dreams come true with a selection of must-have toys including an incredible Ash collectible from Evil Dead 2.
Now it seems all of our nightmares are about to come true too, as they have unleashed the Ultimate Freddy Krueger, from A Nightmare On Elm Street 3: Dream Warriors (i.e. the best Nightmare film by a long shot – apart from the first).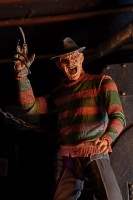 As is customary with NECA, the 7" scale figure of Freddy comes in collector-friendly deluxe window box packaging with opening flap.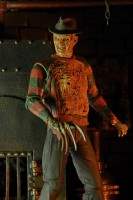 Ultimate Part 3 Freddy features plenty of gruesome detail and tons of accessories, including 2 interchangeable heads, 2 pairs of hands, the Elm Street house, Freddy puppet and removable hat. He's fully poseable and truly terrifying – swap out his regular sweater front to display the tortured spirits trapped in his Chest of Souls!
The toys actually start shipping for retail next week, so hop on over to the site now to take a closer look at the plastic Horror Icon in all his glory.