While searching for a completed version of the Goosebumps Creepstakes contest story, three more Goosebumps story contests from 1998 were discovered by accident. Newspapers in R.L. Stine's home state Ohio ran a contest for children to win tickets to see Goosebumps Live On Stage. The Saenger Theater in Pensacola, Florida also ran a similar contest. And the Yak's Corner section of the Detroit Free Press ran a competition for children to meet Stine. It's funny what you find when you aren't even looking. 
During the search for the Goosebumps short story that was given as a prize in a contest held by Lunchables, another piece of the Goosebumps mythos was rediscovered. Art dealer Paul L., a.k.a. ArtDiabolique on Etsy, had two pages of comic artwork created by one John Ross for sale, each depicting a compressed adaption of Goosebumps #5: The Curse Of The Mummy's Tomb. The description on the page explained this was published in FBX (For Boys Exclusively) Magazine, a kids magazine run by BBC. The listing even included a copy of FBX #2.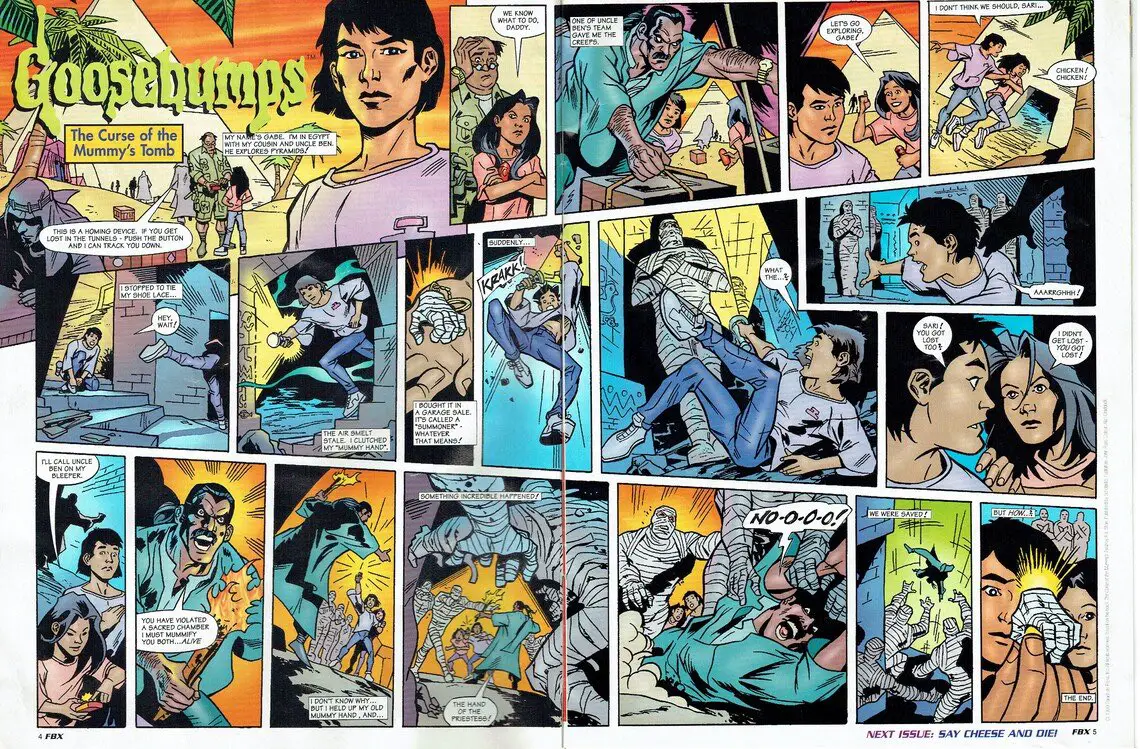 Paul explained that FBX Magazine featured comic strip adaptations of various Goosebumps books and short stories for roughly eighteen issues. Each adaption was illustrated by John Ross, who also worked on Spectacular Spider-Man and Doctor Who comics.
The first story FBX adapted was Goosebumps #42: Egg Monsters From Mars.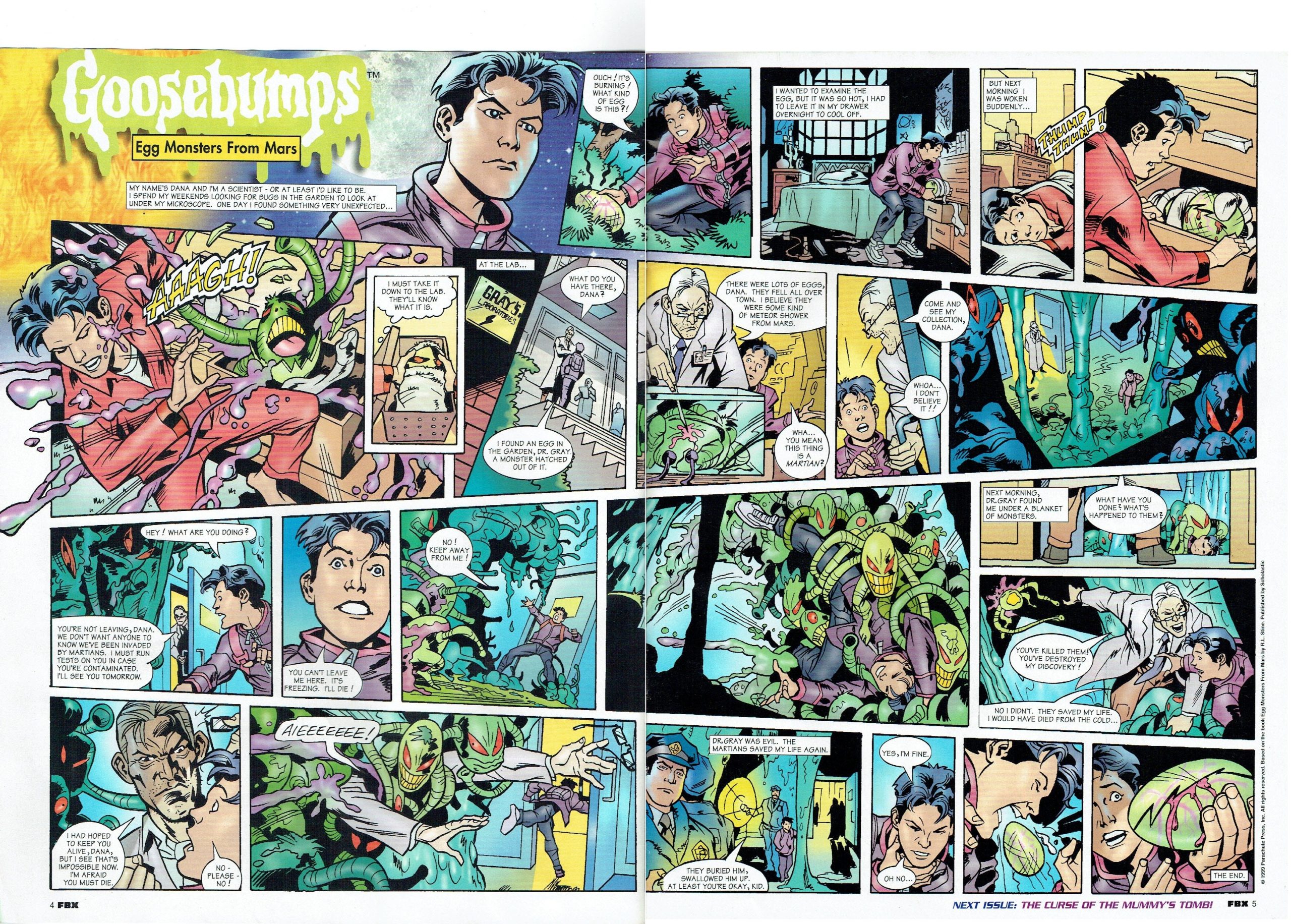 Rather serendipitously, the reemergence of the FBX comic coincided with the release of the "Egg Monsters" event in Goosebumps HorrorTown.
As of this moment, only an incomplete list is available of the stories adapted for FBX:
#1 – Egg Monsters from Mars
#2 – The Curse of the Mummy's Tomb
#3 – Say Cheese and Die!
#9 – Don't Wake Mummy
#11 – The Werewolf's First Night
#13 – Poison Ivy
#17 – Dr. Horror's House of Video
#18 – You Gotta Believe Me!
??? – The Perfect School
Paul also had artwork available for all of the stories mentioned above except for "Say Cheese and Die!" and "The Perfect School."
Unfortunately, the individual issues of FBX Magazine are extremely difficult to locate. While Paul had the first and second, it was only by luck the seventeenth issue was recently found and bought off eBay by a member of the Goosebumps fandom.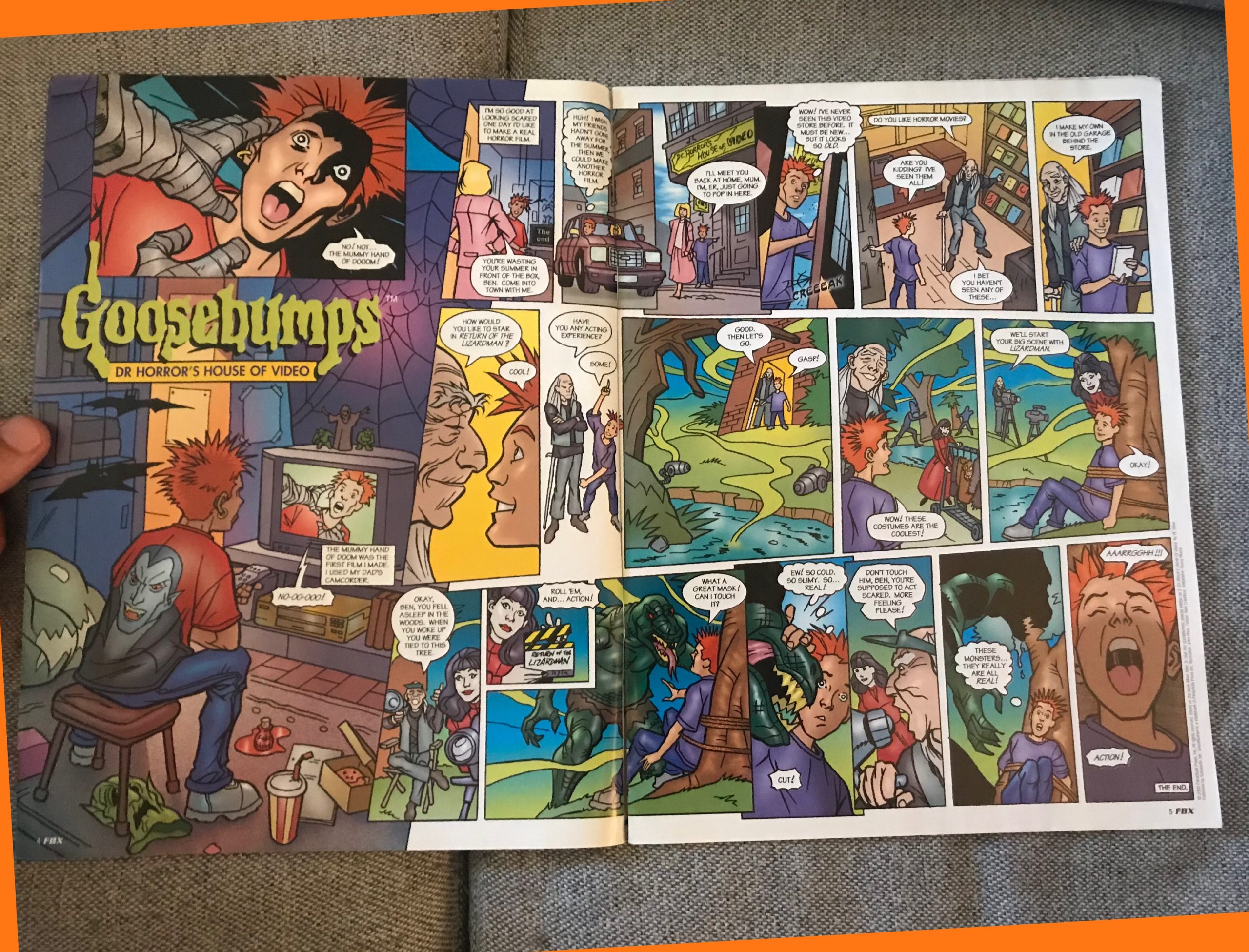 This would not be the only Goosebumps comic adaption to originate from England. Rather surprisingly, there were two others.
Paul revealed the existence of the Funday Times adaption of two Goosebumps books as serialized comic strips. As he put it below:
The Funday Times was a large format, 16 page newsprint comic that came free with the UK Sunday newspaper The Sunday Times and began publication in 1989. As far as I'm aware Goosebumps only appeared in issues #500 to #520 – running from April 1999 to August 1999, before it was replaced by Scooby Doo. One person rooted through 600+ issues of the Funday Times for my benefit and could only find those 21 issues (all but one of which I now have). However, it could be that it re emerged in later issues. The strips were half a page each, a few of them appearing on the cover, the rest on page 2. Only two stories were adapted in these issues – 'Night of the Living Dummy II' (500 – 511) and 'A Night in Terror Tower' (512 – 520). The adaptations were by Kevin F Sutherland, and I think the artist was John Erasmus.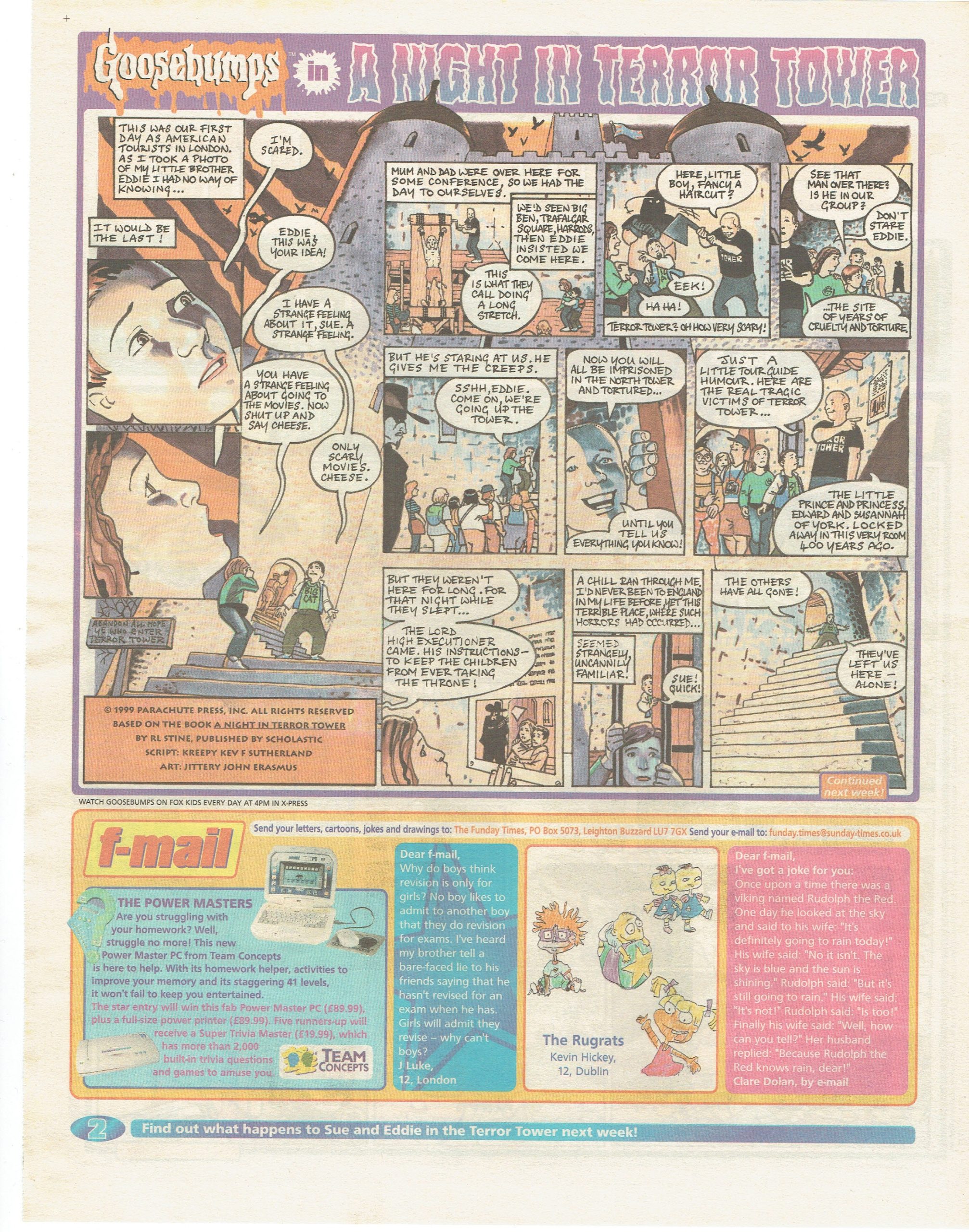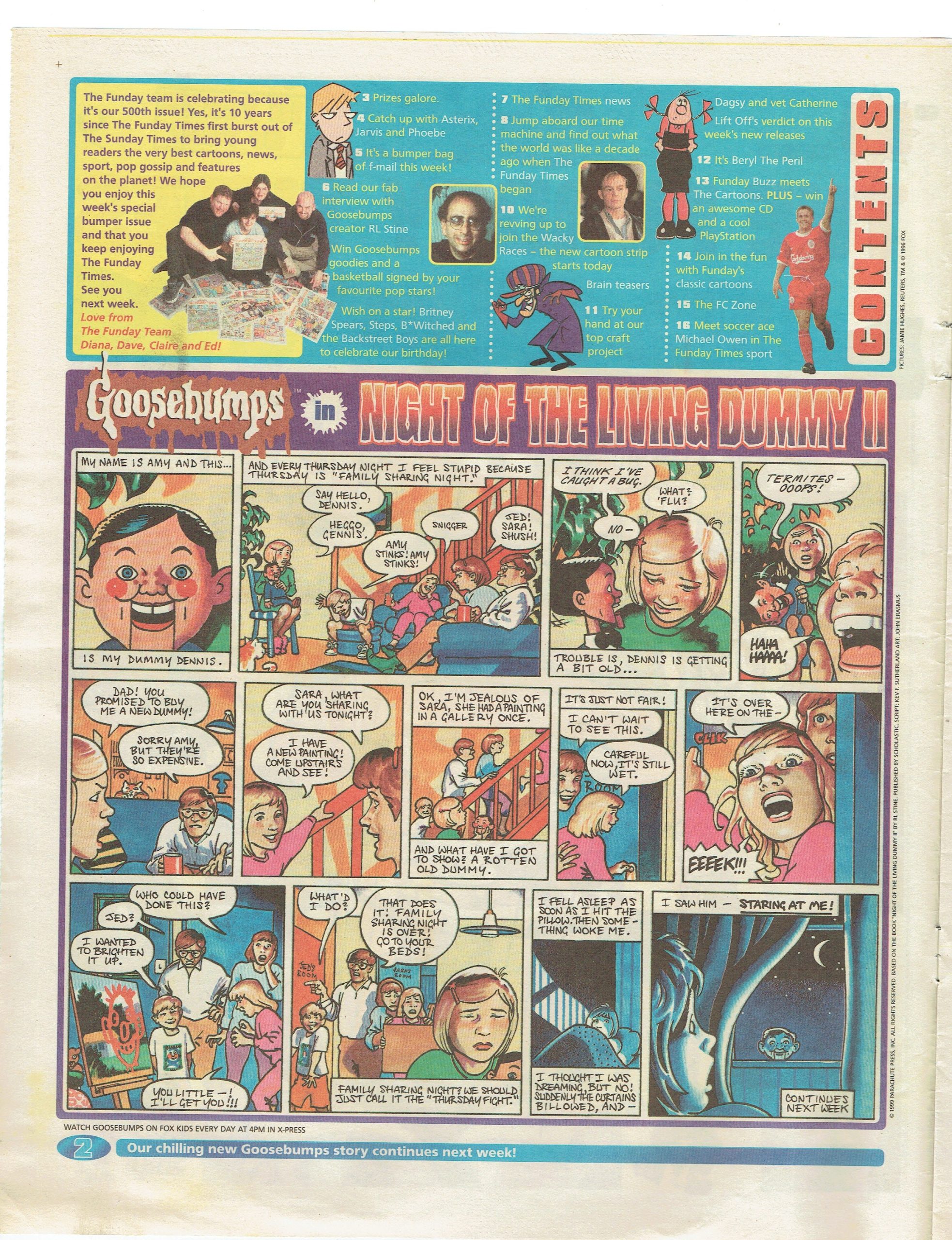 Amusingly, Night of the Living Dummy II was previously adapted for the Goosebumps TV show even though the show never adapted the original Night of the Living Dummy. The first book wouldn't receive its own comic adaption until the 2010s as part of a graphic novel by artist Dave Roman.
FBX Magazine and the Funday Times both released their Goosebumps comic strips in 1999. Two years later, another Goosebumps comic was released in England by Panini Comics.
Once again found entirely by accident, a Goosebumps Halloween Special magazine was discovered on eBay. There was absolutely no mention of this magazine made anywhere in the Goosebumps fandom, so its existence sparked a lot of curiosity.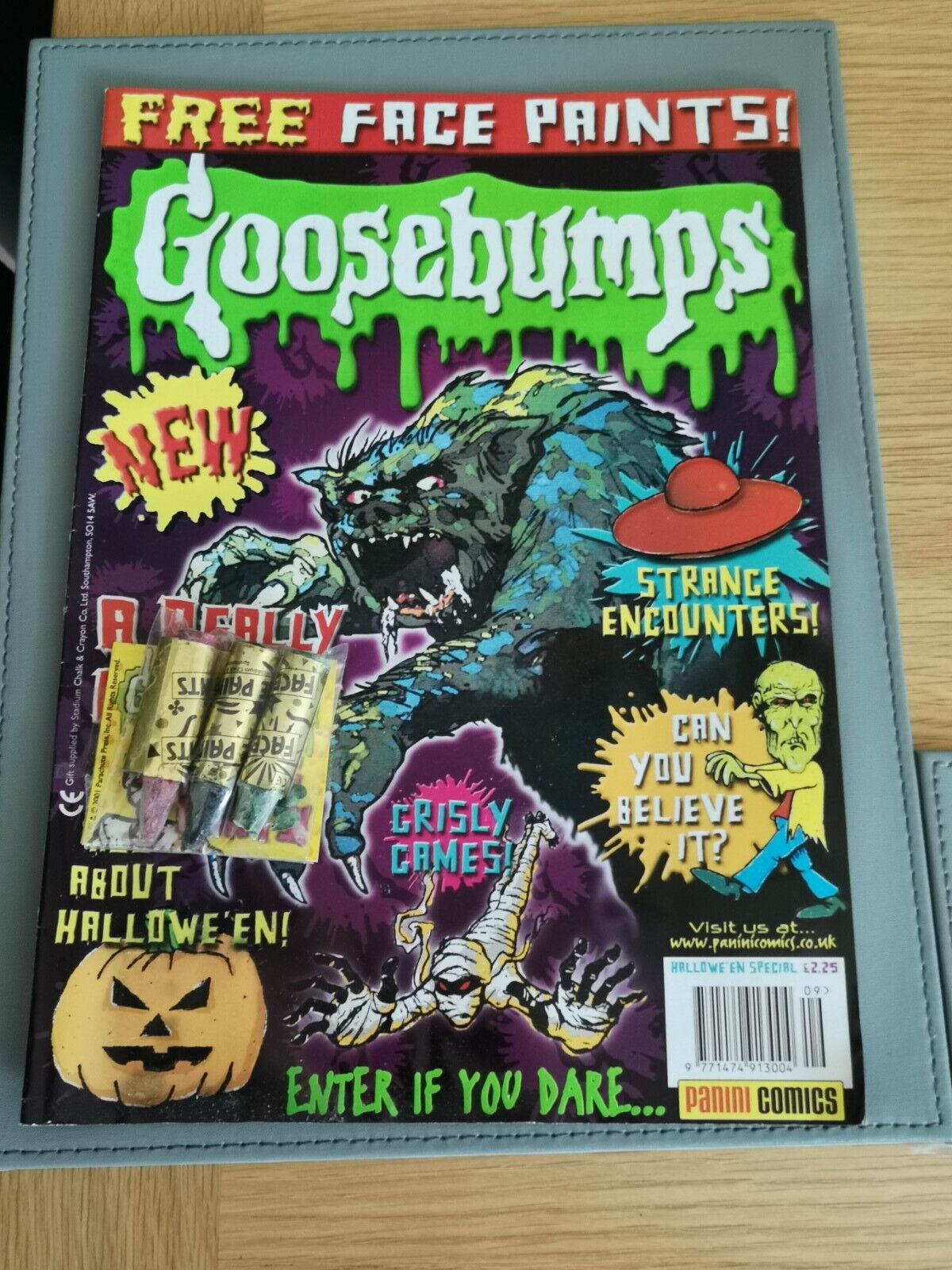 The Halloween Special featured two completely original stories told in comic format, along with the short story "A Really Exciting Night." The first of the stories, Stranglehold, focused on a small town being overrun by evil weeds.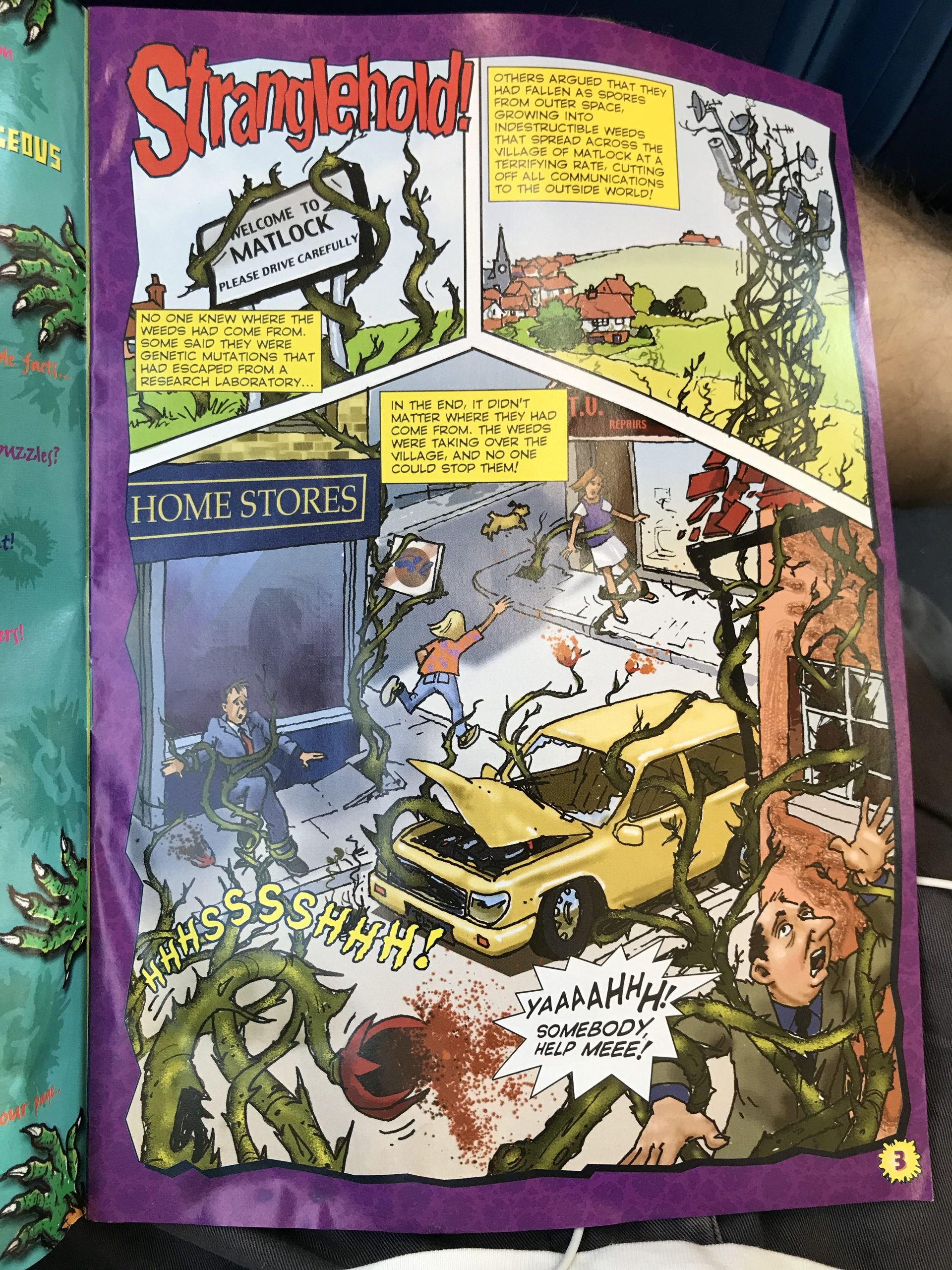 The second story, Monster Under The Bed, focused on a girl tormenting her little brother with stories about (supposedly) nonexistent monsters.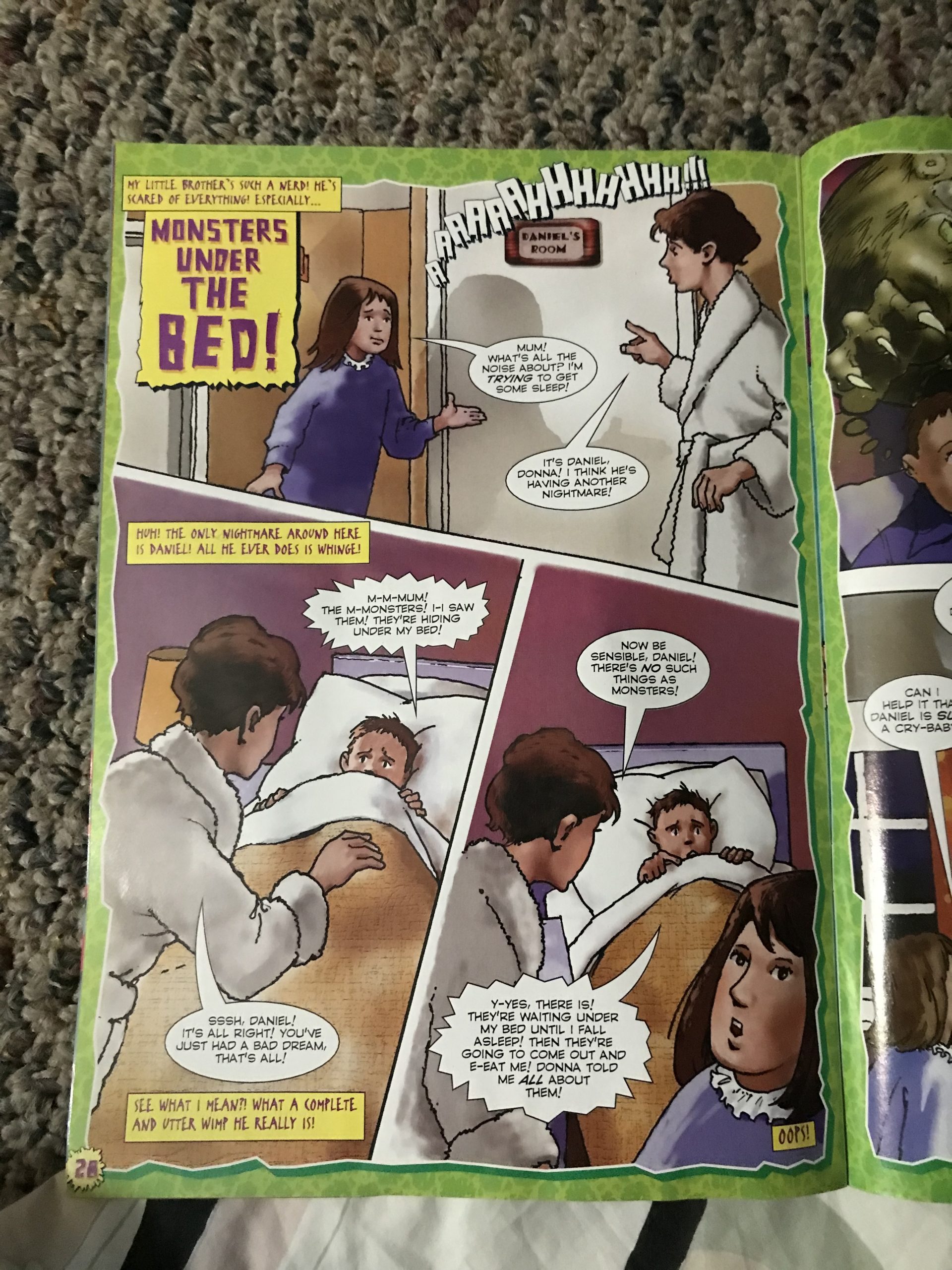 Curiously, "A Really Exciting Evening" was one of the six stories featured in the Spanish-language Pesadillas magazines. Which, recent investigating has revealed that those three magazines were also released in French (Chair de Poule) and Italian (Piccoli Brividi). Why they were never released in English still remains a mystery, but that's for another article.