After the exciting conclusion to season one, fans of Hulu's The Handmaid's Tale are eagerly awaiting the premiere of the sophomore season. The first season's finale coincided with the ending to Margaret Atwood's source material. Offred/June (Elizabeth Moss) discovers she is expecting a child. This occurs as she unexpectedly escapes into uncertainty. The narrative of the novel ends on a cliffhanger, as does season one. The show broadens the scope. This offers additional experiences from different characters. Whereas Offred's viewpoint is the sole observation for the reader in the book. The series spotlights the development of supporting characters. The audience is left to guess multiple storyline outcomes.
The first trailer revealing scenes from season two has dropped. The trailer and these First Look photos depict the series further widening the landscape. The dystopian future continues to look bleak. Shadows burden the brief moments of light. Mentioned in the show are the ominous Colonies. This is a place of punishment for those unable to follow the rules. There is a hint that the audience will get a closer look.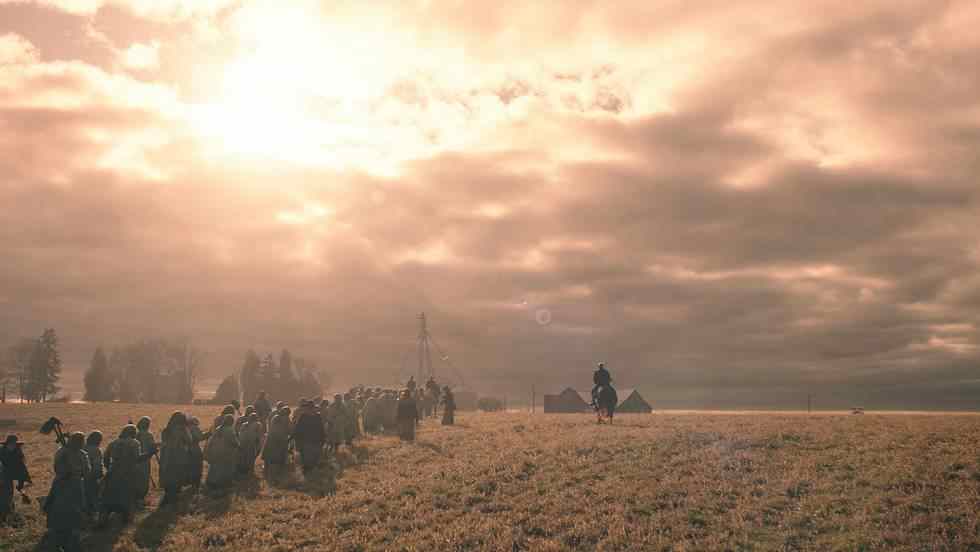 Offred's escape provides immediate relief. The pictures show that relief is temporary. The world of Gilead is fatal for a woman still willing to fight for freedom. The image showing Offred covered in blood is unpromising. There could be many explanations. Whether representing self-defense or the unfortunate loss of her baby, Offred is not yet out of the woods.
Written in 1985, Atwood's look at the oppression of women has become a prophetic warning to modern society. The acclaimed series from Hulu has emerged at such a crucial time in history. Hollywood is acknowledging the importance of a show regarding the oppression of women. Yet, this occurs at a time where many in Hollywood have been found to violate women's rights. Finally, those rights are taken seriously. Unfortunately, there is still a long way to go. The warning from this story is clear. With little effort, those rights are easily derailed and violated.
The First Look photos promise The Handmaid's Tale will continue to captivate and shock audiences. The series' second season premieres April 25th on Hulu. Check out our review of season one episodes 1-3 right here.