In the land of Wes Craven remakes, The Hills Have Eyes (2006) scored a little higher for me on the theatrical experience front. I didn't mind The Last House on the Left (2009), but I didn't feel quite as staggered as I left the theater after Tony Goldwyn pushed back against brutal home invaders. Arrow Video has delivered a new Limited Edition 4K Ultra HD two-disk set that forces re-evaluation.
Microwave scene aside, the 2009 Last House  remake took a less-gritty approach. Aaron Paul's Francis gets a pretty brutal send-off, but it's not as severe as Weasel's fate in the original 1972 film.
The unrated cut offers slightly different takes on Krug's (Garret Dillahunt) sexual assault of Mari (Sara Paxton), but on a whole this version isn't any more shocking than its theatrical counterpart.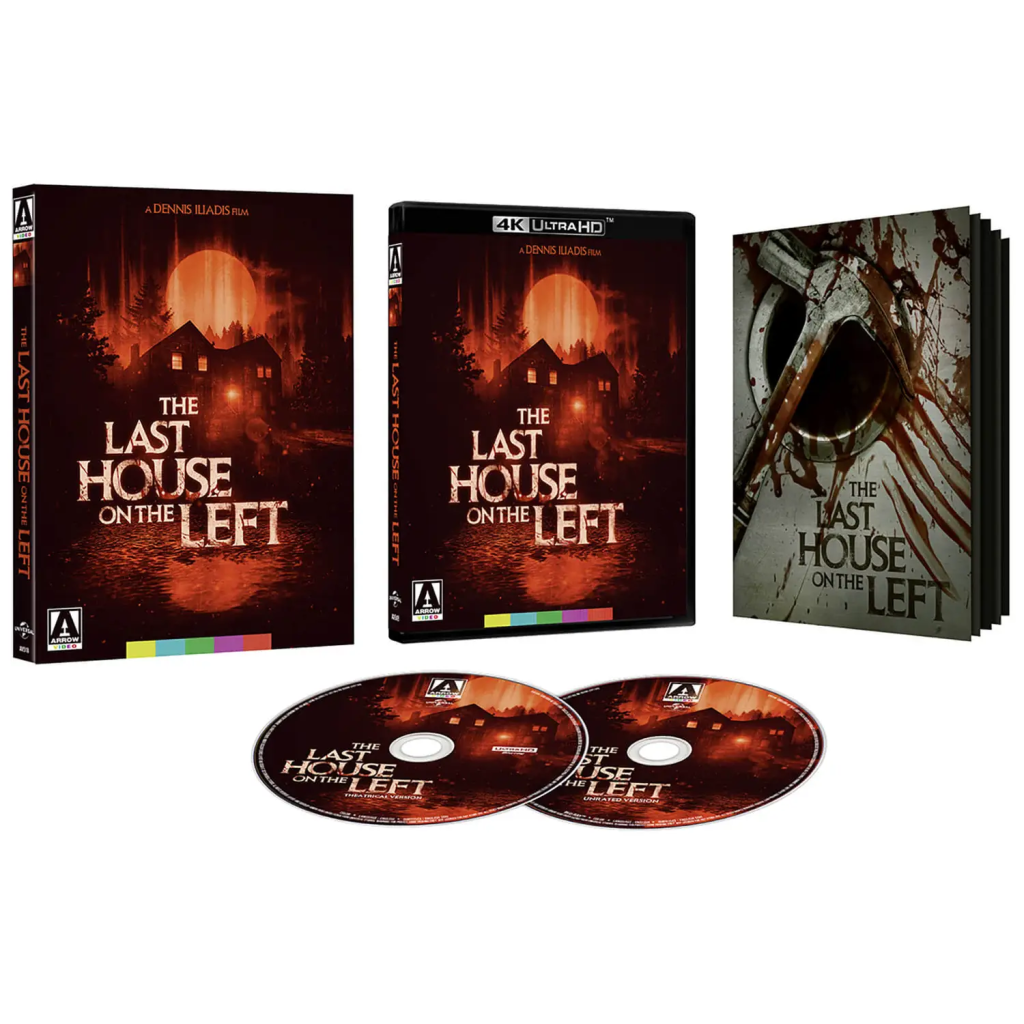 The 4K view of the film as a whole, surprisingly, is a case where there is enhancement by modern home resolution. If they're being honest, all but the highest-brow of video enthusiasts will admit sometimes the HDR experience is not that different than the Blu-Ray.
But the comparison becomes apparent in confirmation of a point made by director Dennis Iliadis in a frank introduction that's exclusive to this release. The backdrop to a horror film or a dark suspense picture needs not be dank, gritty and desaturated. The view of the lake and other South African locations doubling for the U.S. Pacific Northwest are beautiful in crisp HDR, and the interior of the lake home of the brutalized Collingwood family is often presented in warm tones even as violence escalates. The close up on the haunted, terrorized eyes of Mari is also a jarring, emblematic moment well-realized.
The higher definition never edges us into the kind of hyper-realism that, to me, detracts from artistry. Especially if you haven't seen the film in a while, Arrow makes it well worth getting back to the lake, and you get to re-evaluate Paul's sleazy take on Francis in the wake of Breaking Bad. Performances of Goldwin, Monica Potter and Riki Lindhome deserve a fresh look too.
As with most Arrow packages, extras are what really make the purchase really worthwhile, though. The Iliadis intro doesn't shy from the most controversial criticisms of the film. He raises the interesting point that it's really Dillahunt and Paxton's performances and not any explicit angles that make Mari's brutalization shocking and painful to watch. His justifications for prurient closeups of Mari's preparing for a shower may register as slightly less authentic for some viewers. That Iliadis didn't like the microwave scene but acquiesced sounds like he means it too.
The film also includes interesting commentary by critics David Flint and Adrian Smith. Long interviews with Paxton and Dillahunt offer some of the best behind-the-scenes insights. Dillahunt's sit-down dubbed "The Notorious Krug" is perhaps the highest-contrast element in the box.
Dillahunt's performance as the layered prison-escapee Krug, leader of the awful clan, has always been a memorable component of Last House. In his interview, he reveals he became interested in acting in part in reaction to personal tragedies and loss. His thoughts on art and crafting horror suspense and other discussions will bring fresh respect for his work, even among fans familiar with his send-off of Wyatt Earp in Deadwood or other heavy roles. Also interesting is his recollections of phoning David Hess, the original Krug Stillo, more-or-less for his blessing.
Paxton's interview, "A River of Blood" reveals her elation mixed with trepidation over landing the part as Mari and thinking about what lay ahead in the filming. She also reveals her initial impression of Dillahunt at callbacks and her surprise at how goofy he could be, lightening the mood on set.
"Suspending Disbelief," an 18-minute interview with screenwriter Carl Ellsworth–in a V-neck sweater!–has the highest production values of the interview segments. Ellsworth offers insights into his career as well as the script development process and how he sought to add a hopeful note to a bleak story. He also reveals the origins of the microwave scene and his elation when Stephen King praised the film in a Fangoria article.
Other extras include a quick-cut "Look Inside" with comments from the original film's creative team, Wes Craven and Sean Cunningham (Friday the 13th) and an interview with screenwriter Carl Ellsworth.
Like with many Arrow Videos, a fun, if inconsequential, extra is reversible sleeve art that offers a choice between an original theatrical poster wraparound and newly commissioned artwork by Eric Adrian Lee.