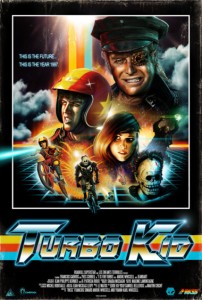 Following last night's world premiere of 
Turbo Kid
, today we have a teaser trailer to share with you. Head inside for your first look.
Turbo Kid is a violent, post-apocalyptic, BMX love story with an outcast orphan child taking center stage.
Turbo Kid is a Canadian/New Zealand co-production. The film is intended to be a throwback to the 1980s and takes place in the distant future that is 1997. The creative team behind the project has explained that they attacked the picture as if it were a lost classic from yesteryear that is just now being discovered by audiences.
Turbo Kid was directed by RKSS (The filmmaking conglomerate Roadkill Superstar). The group consists of: Anouk Whissell, François Simard and Yoann-Karl Whissell. The film stars Michael Ironside and Munro Chambers. project is a co-production between T&A films and EMA films. T&A films was most recently involved with the hilarious horror comedy Housebound and the anthology sequel The ABC's of Death 2. 
Epic Pictures Group will be representing worldwide sales rights for all territories not including Australia, New Zealand and Canada at Sundance.
The film made its world premiere last night at 11:59 PM as part of the the Park City at Midnight programming segment of Sundance. We will keep you in the loop as we learn more about Turbo Kid. In the meantime, check out our interview with Michael Ironside discussing the film and his character.