​The female gaze is strong in Level 16. ​Set in the elite Vestalis Academy (a boarding school/prison for young women), the film frequently deals with ickily implied sexual and physical assault. And yet, the all-female cast (the only men featured are a doctor and some heavies, one of whom has a distractingly loud metal-plated shoe) is never exploited or treated with anything less than the utmost care and attention.
Our heroine is Vivien, a true believer, played with quiet fortitude by Katie Douglas. She's first introduced helping out a fellow boarder, Celina Martin's partially blind Sophia, who's fallen out of line only for Vivien to end up punished herself. As she's dragged off, the young girl pleads "Don't let them hurt me" while a whole line of detainees keep their gaze forward, pretending not to even notice her.
Level 16 then skips into the future as this particular class is being inducted into, well, the 16th level of the school. Here, they will take their final steps towards personal perfection before being adopted, they are told, by a brand-new family. It's clear things aren't as rosy as they appear. For one thing, even Vivien is counting the days secretly on the wall behind her bed. Soon Sophia gravely intones all is not what it seems.  What's in those pills they're forced to ingest daily anyway?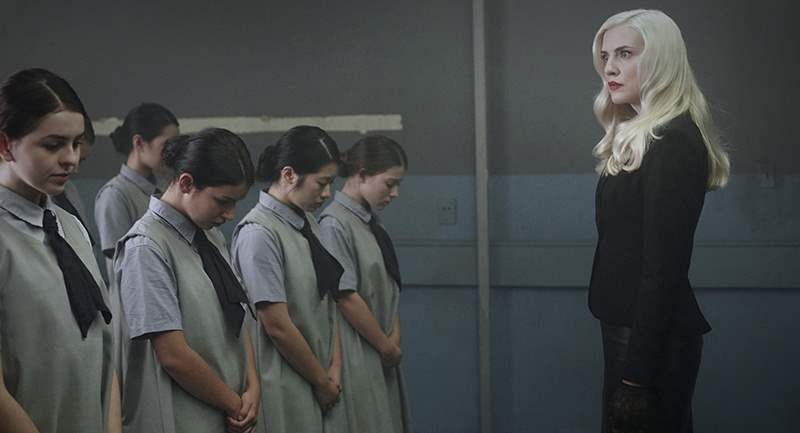 Level 16 is the sixth feature from prolific Canadian filmmaker Danishka Esterhazy. It's a mysterious, intriguing, and often deliberately provocative experience that isn't hindered by its evident low budget limitations (the entire thing takes place in the one building, but the setting is brilliantly claustrophobic). There's much discussion about "clean" girls and the whole idea of feminine virtues. "When a girl is obedient and sweet, the world cannot help but love her," Vivien is told by her doctor (a man, natch).
Although the girls are all seemingly named after famous Hollywood starlets (Greta, Vivien, Ava), they are conditioned to stay in their lane at all times. Curiosity and anger are seen as vices. Their beauty is their currency, meaning the students (prisoners?) of Vestalis aren't even allowed to venture outdoors lest it ruin their immaculate complexions.
And yet, there's a sickness in the academy. Many of the students are coming down with ghastly rashes on their skin, or even full on bedsores. Clearly something isn't right and the fact the place is run by a woman (Sara Canning's Miss Brixil, an aesthetic mixture of every character Lily Rabe and Sarah Paulson have ever played on American Horror Story), who is herself complicit in whatever's going on, makes it even worse.
Esterhazy, who ​wrote as well as directed here, keeps the mystery under wraps until the final act, the academy staff's dastardly deeds memorably revealed in the movie's single big shock. Level 16 is about atmosphere rather than all-out scares, and it's much to the story's credit that we remain on the hook right up until the end. That sense of intrigue is never lost, even for a moment.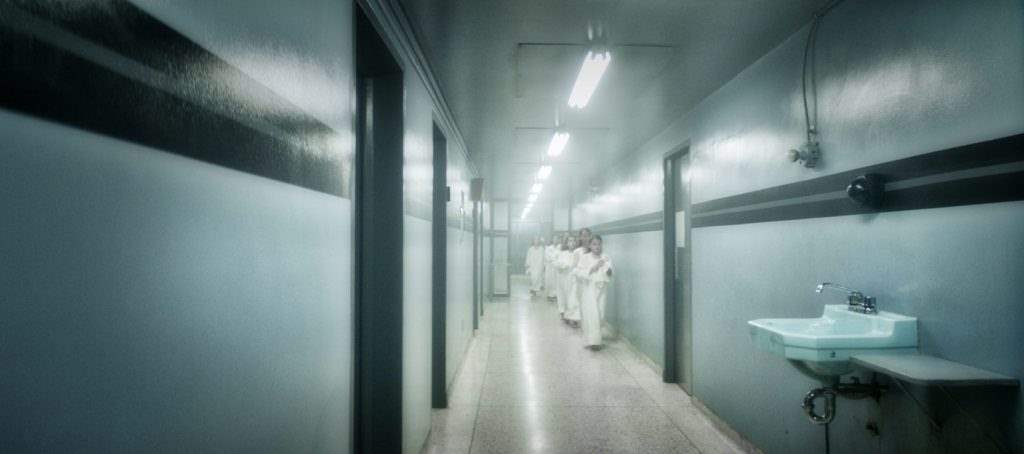 Esterhazy coaxes several great performances out of her young, mostly unknown cast, chief of which is the Florence Pugh-esque Douglas, who walks a fine line between naivete and nervous ambition as Vivien. There's a sense that things are going to down the road of something like The Village (oh god that's a bad road) when someone whips out an iPad, but the fact Vestalis clearly exists in defiance of the modern world is assumed, rather than used for shock value.
Level 16 could reasonably be read as a hyper feminist allegory about the prohibitive standards of beauty imposed upon women both young and old. The upper floors of the academy are lit blue, the lower red, suggesting that regressing leads only to pain. Esterhazy wisely leaves several questions unanswered as the film wraps up because, well, there isn't really an answer to how society treats women. Not yet.
In the meantime, though, movies like this make a mean case for standing up and fighting to dismantle the patriarchal system lest we all end up relegated to scrubbing our faces under duress.
WICKED RATING: 7/10
Director(s): Danishka Esterhazy
Writer(s): Danishka Esterhazy
Stars: Katie Douglas, Celina Martin, Sara Canning, Peter Outerbridge
Release: March 1, 2019
Studio/Production Company: Dark Sky Films
Language: English
Length: 102 minutes