We all know that it's fun to get something in the mail. Maybe it's even a little more if you don't really know exactly what you're getting. For those that love spooky surprises there is a great new subscription box company out there for your needs called Creepy Crate. Brought to you by The Line-Up, Creepy Crate ships its boxes every other month and includes a variety of collectibles, from t-shirts and books, to homewares and accessories – all related to either the horror genre or true crime. Each crate is $39.99 with free shipping, and has an average value of  $85 or more! You can purchase them individually or with a 6 or 12 month subscription.
I will continue to praise the name of Creepy Crate because they have once again given me, and all true crime enthusiasts, a great box that appeals to our interests. The February 2019 box is maybe not as epic as the last one (check that out here) but there were still plenty of wonderful gifts inside that I couldn't be happier to own. Read on and find out what we got!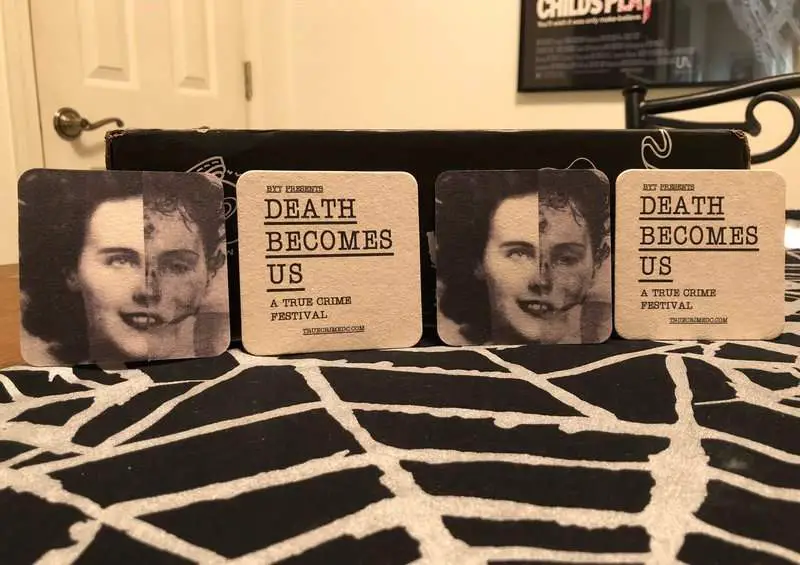 Created by the runners of Death Becomes Us, the first item in the box is this set of horrific coasters. Death Becomes Us is a true crime festival (who knew there were already so many of them out there?!) which will take place March 20-24, 2019 in New York City. The show will feature several speakers from the true crime world, from podcasters to actual investigators from some very famous cases.
Death Becomes Us went back to a true classic in designing these coasters by choosing an image of the most famous unsolved murder, the death of Elizabeth Short, or the Black Dahlia. The split image shows Elizabeth's beautiful portrait on one side, and her grisly autopsy photo on the other. While I'm definitely interested in this case like most true crime fans are, this image has always been a bit much for me to handle, so perhaps I'll just stick to using the other side with the much nicer logo of the festival.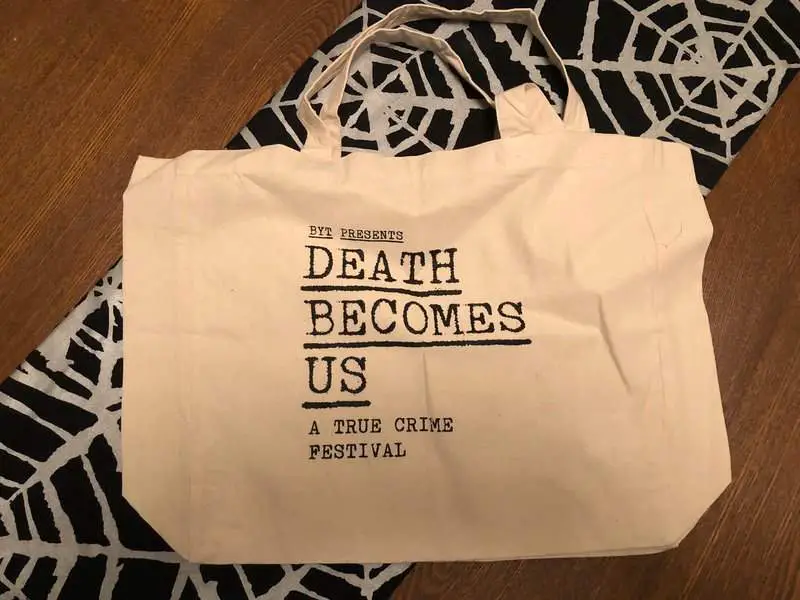 Related to the previous item, the next thing in the box is also from Death Becomes Us. Creepy Crate seems to be a fan of tote bags, and so am I! This off-white canvas tote again features the festival's logo, and is of great quality. It's more wide than it is tall and the straps are a little short, like a small handbag. Still, it would be great for carrying around a laptop or notebooks, while supporting a great festival.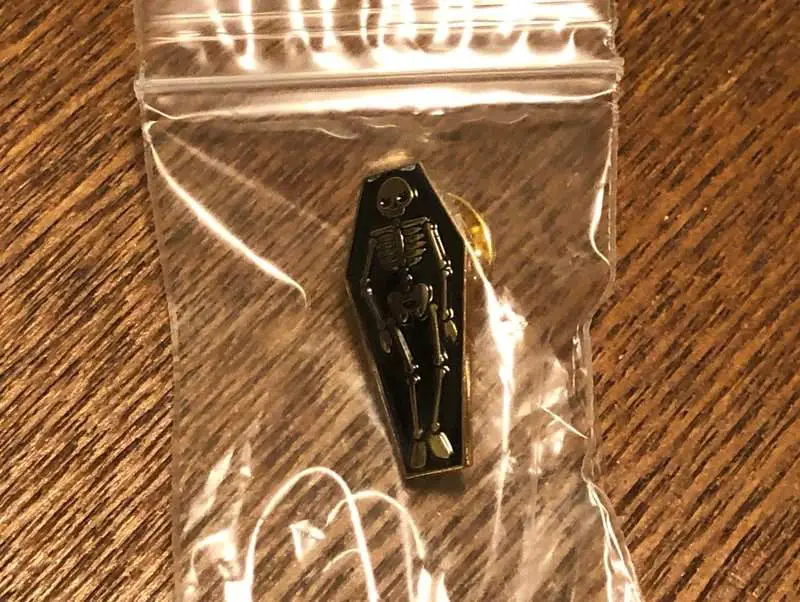 You know what else I'm a big fan of? Pins! This adorably creepy pin is in the shape of a coffin with a skeleton inside, with a gold-colored backing. It is about an inch tall so it's a little on the small side, but again, the pin is very cute and great quality. It's the perfect accent for any bag or outfit to show off your macabre horror love.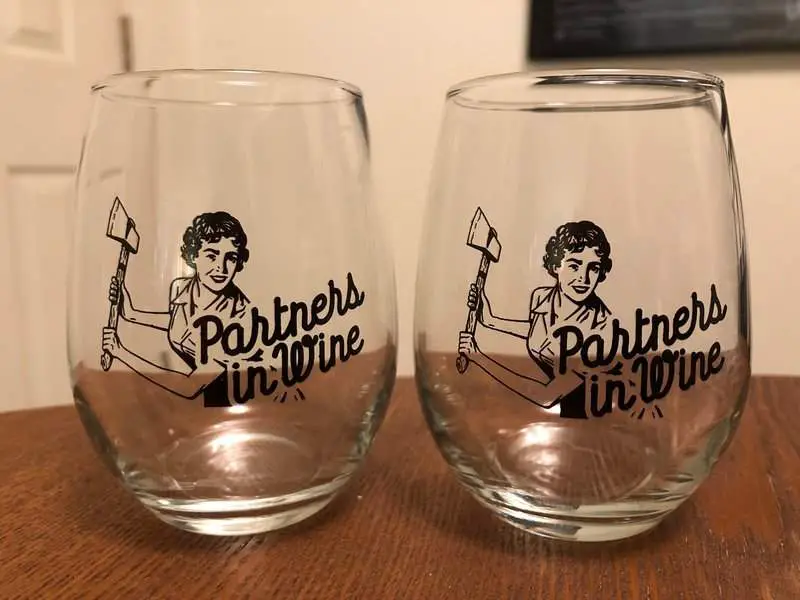 From the homewares line of Creepy Crate, we have these adorable glasses! This limited edition set of stemless wine glasses makes a cute take on being "partners in crime" with the smiling image of a woman holding an ax. I love the sense of humor with the style of the picture and the font used. It's the perfect way to enjoy a glass of wine (preferably red) with your true crime buddy while you gossip about cases or watch "Forensic Files." Or if you don't drink (like me), these are still great as decoration in your kitchen.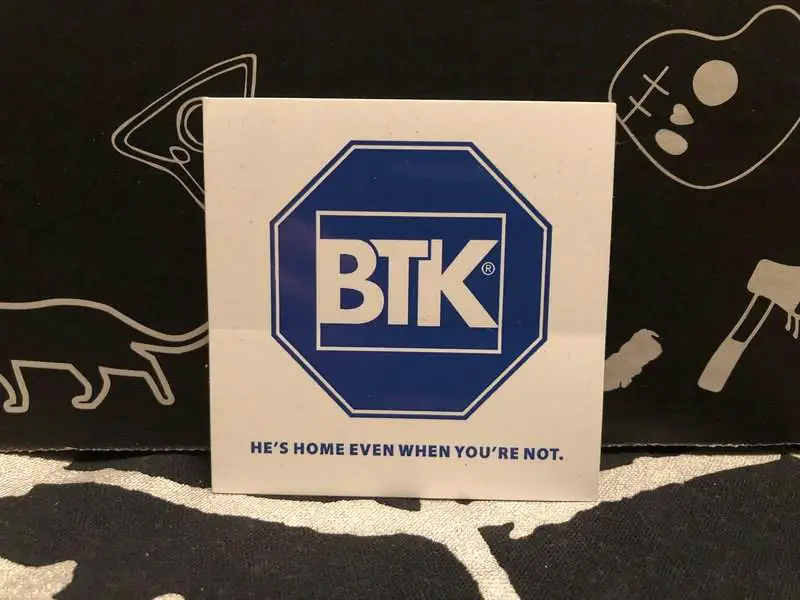 We're getting punny again! The next Creepy Crate item is this about 2.5 inch square sticker that resembles the ADT home security company logo with the initials changed to BTK. BTK is obviously the nickname for serial killer Dennis Rader, and stands for "Bind, Torture, Kill." Rader actually worked for ADT installing home security systems while carrying out the majority of his killings. This knowledge and the text below the logo, "He's home even when you're not," is a clever but also important reminder of how these monsters were able to operate, hiding in plain sight.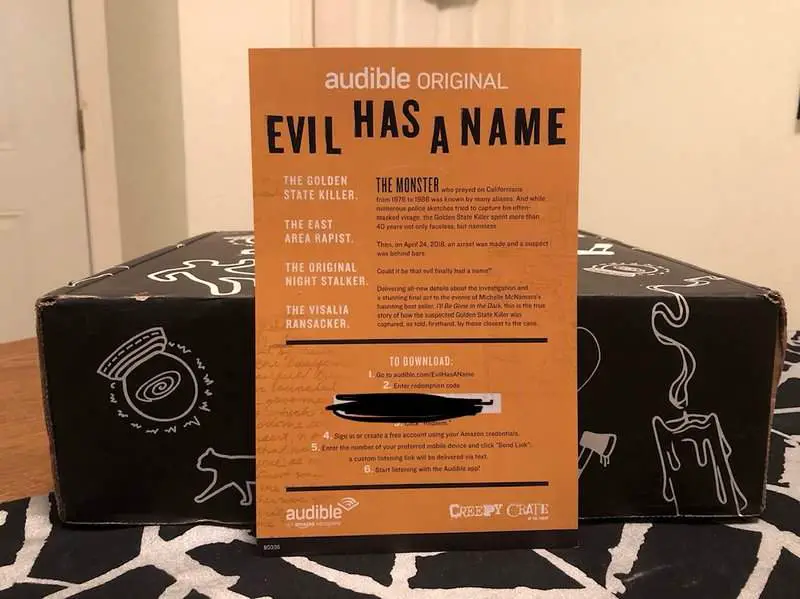 One of the most amazing developments in true crime occurred just last year in April when police arrested the man they believed was the infamous Golden State Killer. Also known as the East Area Rapist, he eluded identification and capture for decades after his string of horrific crimes in the 70s and 80s in California. This Audible original, Evil Has a Name, tells the story of how police finally caught Joseph James DeAngelo, with all new details of the investigation. This would be an excellent follow-up to the late Michelle McNamara's bestselling book on the case, I'll Be Gone in the Dark. This is a wonderful treat from Creepy Crate, and I can't wait to listen to my first Audible book on this fascinating case.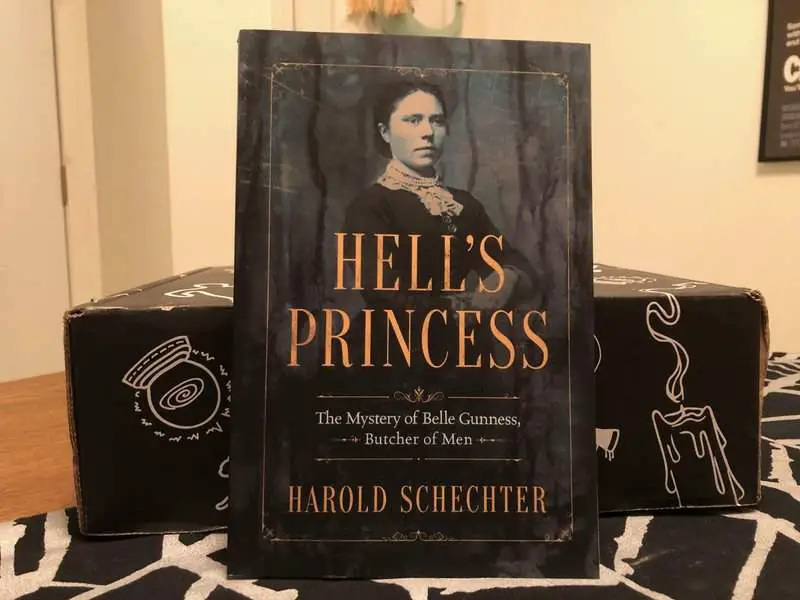 The last item in the box is my absolute favorite. It's been hard to get me back into reading more regularly, but I think Creepy Crate has finally done it by providing this book — Hell's Princess: The Mystery of Belle Gunness, Butcher of Men by Harold Schechter. Belle Gunness is a notorious female serial killer from the late 1800s who would lure men to her farm through advertisements for male companionship, only to murder and rob them when they arrived. She faked her own death and fled, never to be caught by police. Schechter is a well-known name in true crime writing, and I am actually a big fan of his, owning several of his books on other killers like Albert Fish, Jesse Pomeroy, and Ed Gein. I love his writing style and am definitely excited to delve deeper in Gunness's story as told by him.
Thank you, Creepy Crate, you've done it again! If you like what you've seen here and want to get your own subscription to this fantastic box, head over to Creepy Crate here and sign up now!