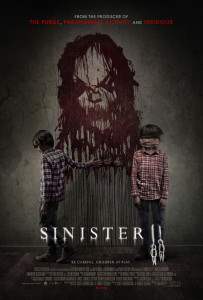 Sinister 2
 premiered a
teaser trailer
last week and today we have a newly debuted one sheet to share with you. Head inside for your first look at the brand new poster art.
The brand new one sheet is pictured to the left. Click the image to see the full resolution version of the design.
The upcoming second installment in the Sinister franchise will be toplined by Shannyn Sossamon (One Missed Call) and James Ransone (Sinister). You can check out the newly released teaser trailer in the player below. As always, we have it available for you to check out. Sossamon will play a mother of twin nine year old boys that moves into the home recently vacated by the Oswalt family from the previous film. Ransone will be reprising his role as a deputy sheriff.
Sinister 2 has been slated for a release date of August 21, 2015 and is still on track for that as of this posting. Like the original film, the upcoming sequel will be produced by Jason Blum's Blumhouse Productions.
Sinister 2 is helmed by Ciaran Foy who previously helmed the horror film Citadel. Scott Derrickson, who co-wrote and directed the first film has penned the screenplay for the sequel with C. Robert Cargill, with whom he scripted the original Sinister film. Derrickson is also serving as a producer on the upcoming sequel.