As a general rule, good horror movies have simple plots. In Halloween, Michael Myers breaks out of a mental asylum to terrorize Haddonfield and hunts Laurie Strode. In The Shining, Jack Torrance is driven insane by the Overlook Hotel. In The Exorcist, Pazuzu possesses Regan MacNeil to take revenge on Father Merrin. There are exceptions to the rule, but A Deadly Legend isn't one of them. 
There's no one-sentence (and maybe not even one paragraph) that could sum up all that's going on in A Deadly Legend's opening. The Huntar Family is on their way to a summer camp by Pilgrim Lake when a ghost appears in front of their car. They swerve, and the father is killed. 
From there, the film flashes forward to a year later, when Joan Huntar (Kristen Anne Ferraro, who also served as a producer on this film) and her new business partner Raj (Shravan Amin) are arguing in front of a town hall to be allowed to buy the land of that summer camp. Carl (Judd Hirsch from Independence Day, Taxi, and others) opposes the move, yelling, "They're going to dig up the mound" which is full of bodies, though "There are no records because [the dead] were demon worshipers." 
After that, Tina Jones (Summer Crockett Moore) drags Joan and their respective daughters Krissy (Andee Buccheri) and Amy (Daniella DeCaro) into a store that sells crystals. The owner Matthias Leary (Corbin Bernsen of LA Law fame) who happens to have sold them the land that the Mound was on sells them some specialty crystal packages with the line, "The crystals let you tap into a supernatural network."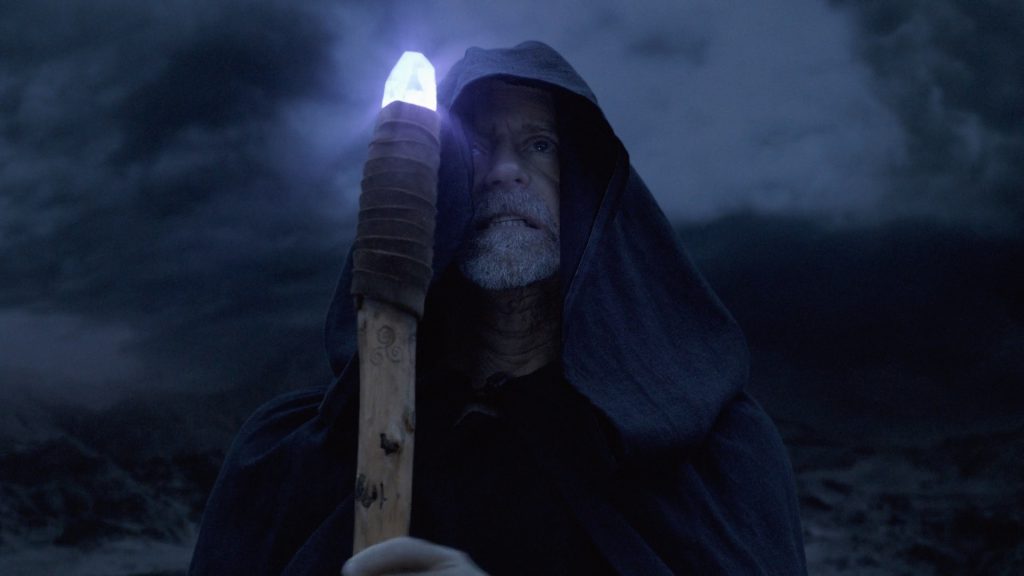 Meanwhile,
Carl is visited by Luci (Tatiana Szpur) who offers to sell him a piece of chocolate for a dollar. Despite her clearly being undead, he buys it. She warns him, "You shouldn't scare away the new people. I need them." The chocolate gets on his fingers and he collapses. The Huntars and the Jones arrive and call him an ambulance out of the movie. 
They take the crystals and some complimentary t-shirts from the first store to a party celebrating closing the deal as Tina's husband Sam (Dwayne A. Thomas from The Americans) goes to check on Mike (Eric Wolf, who penned the script). Sam tells him that the Mound needs to be cleared by early the next day, and they're going to be installing lights so Mike can work all night by himself. Sam, Mike's boss, also brings him a cooler of beer to drink while he operates the heavy machinery.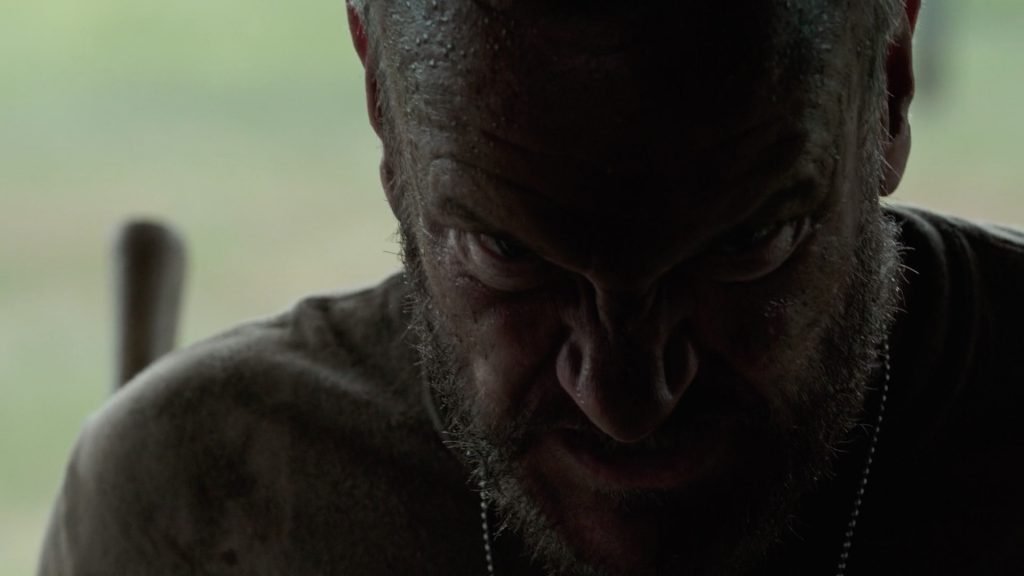 At the party, they take the crystals into the basement and have a seance. And that covers the first fifteen minutes of the movie or so. If you're having trouble following the summary, watching the movie isn't any easier. The cast is huge, and the plot developments hit quickly, leaving no time to breathe.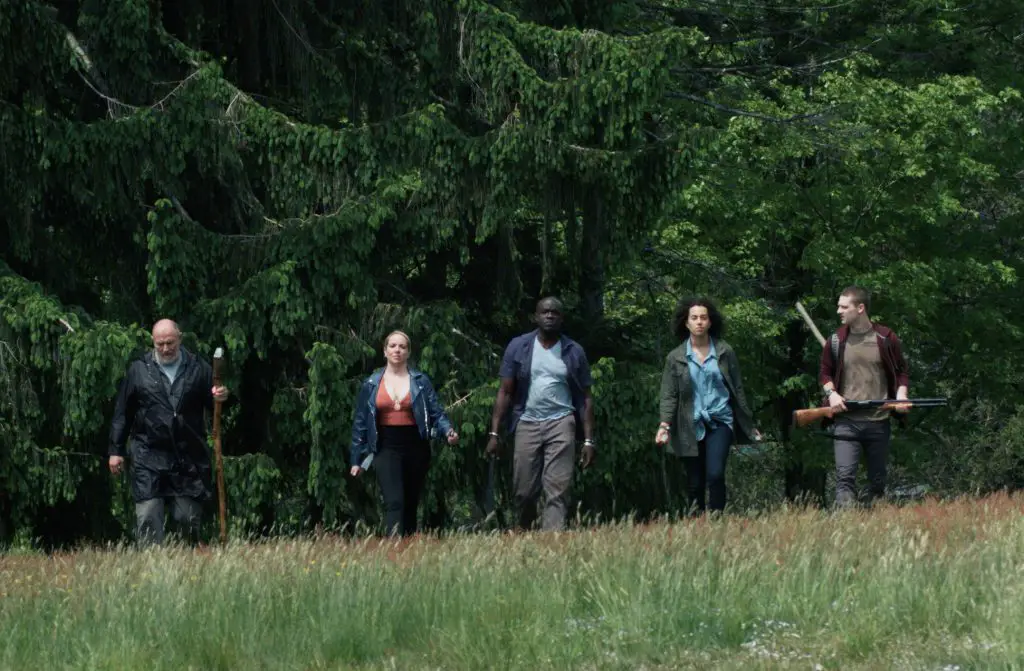 In that scene with the séance, Amy complains to her mother, "Really, Mom? Fake candles?" Tina answers, "It's the thought that counts." I have no doubt that the people working on it care about it deeply and had a great time making it. But the thing is, once a movie is out in the world, it stands on its own merit. The thought doesn't count. What matters at that point is the quality of the film, not what went into making it. 
The acting, outside of the big names — Lori Petty as the drunk Wanda, Judd Hirsch as the crazy old man yelling warnings, and Corbin Bernsen as a store owner who knows more than he's letting on — is wooden. The lighting is dark to the point where it's difficult to see, especially when it comes to Dwayne A. Thomas. It's a struggle throughout to see the features of his face because the lighting isn't set for his dark skin. Hiring people of color in front of the camera is good, but there's a history of racism in the way film was developed so white skin tones show up better (which you can read about here and here) that needs to be accounted for when filming people of color.  
Note: The film's writer Eric Wolf took umbrage with this criticism and has written in to clarify that, "The primary mission upon which we founded our production company is to foster diversity in front of and behind the camera.  From its inception, A DEADLY LEGEND has manifested this commitment.  We have been recognized as a diverse film by the Screen Actors Guild (SAG/AFTRA), a designation we hold with pride…
…unlike most films of this genre,  A [sic] majority of A DEADLY LEGEND was filmed during the day.  In addition to natural light, we lit the set with thousands of watts of lighting to capture each nuance of our actors.  In post-production, we were equally sensitive to lighting and made special efforts in color correction to capture our actors' outstanding performances.  We are grateful to – and proud of – all of our talent on both sides of the lens."
The editing in A Deadly Legend, something that's hard to notice when it's done well, is right in the viewers' face the entire time because of an over-reliance on fade outs. Every scene ends with the screen fading to black, often at awkward times. Normally fade outs are reserved for the end of a film, which isn't a big problem. The issue is that it's repetitive in a way that makes the movie visually boring. 
The special effects are clearly hampered by the budget, with the CGI standing out obviously. It's hard to ding a movie for not having a budget, but other films like Coherence, Dementer, and Head Count prove that it's possible to make a scary movie without a big budget if you can come up with a good enough conceit. 
A Deadly Legend is the first feature film for director Pamela Moriarty, though she's worked as an assistant director or second unit director on forty-nine other films. Hopefully next time out, she'll have better material to work with. 
While A Deadly Legend looks like it would've been a blast to make, it's a chore to watch. 
Wicked Rating – 2/10 
Director: Pamela Moriarty
Writer: Eric Wolf
Stars: Lori Petty, Corbin Bernsen, Judd Hirsch
Release Date: July 24, 2020
Studio/Production Company: REMCycle Productions
Language: English
Runtime: 97 minutes