A Mermaid In Paris, is a multimedia project from writer/director Mathias Malzieu (Jack And The Cuckoo Clock Heart, lead singer of the band Dionysos). In addition to the feature film currently screening at Fantasia Fest, A Mermaid In Paris also has a novelization and an attached concept album to further flesh out the director's vision of mermaids and magic in present day France.

Gaspard (Nicolas Duvauchelle) is a recently heartbroken singer, his gigs failing to help the flagging fortunes of the Flowerburger, his family's barge cabaret. During a terrible storm, rainwater floods the Seine, causing a mermaid named Lula (Marilyn Lima) to wash up on the club's dock. Initially immune to her lethal siren song, he finds himself under Lula's spell in a much more human manner as he attempts to help tend to her injuries.

A Mermaid In Paris immediately stakes its claim in the territory of twee magical realism, with Michel Gondry style stop motion animation credits, and a hero who favors neat suits and roller skates as a daily uniform. Gaspard doesn't seem the least bit shocked in finding a mermaid collapsed outside the club. Instead, he daffily commandeers a tuk tuk to take Lula to the hospital, as if she were just another wayward party guest who has had too much to drink.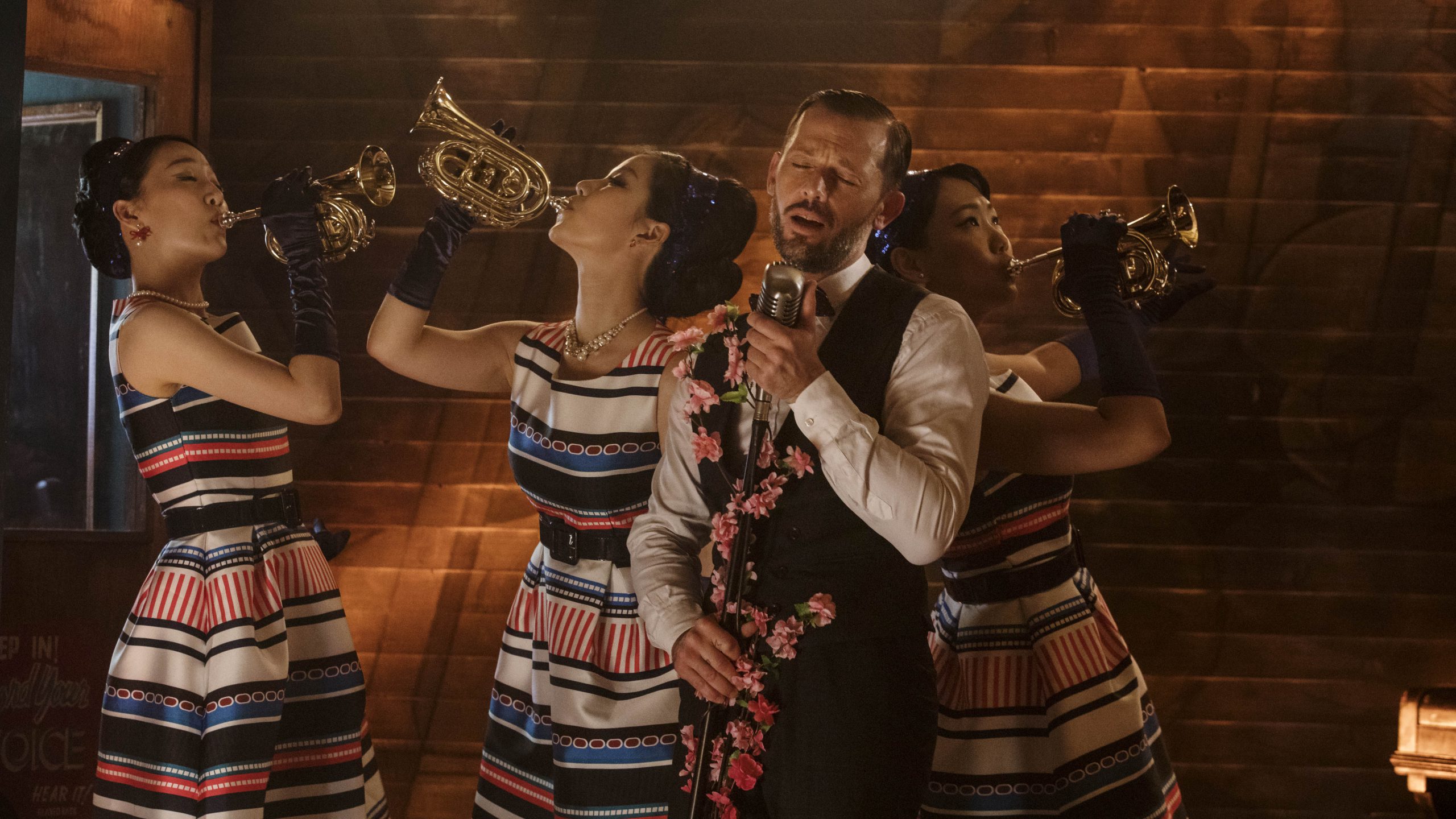 By the time this madcap misadventure leads to Lula being installed in the bathtub of Gaspard's tchotchke filled apartment, our world weary innocent naif and survival hardened mythical creature are opposites bound to attract, two lonely hearts with only their songs to protect them. The only real question is how their inevitable love story will play out in the 48 hours Lula has before being on dry land becomes deadly for her.
It's a simple story, with the same basic beats as 1984's
Splash
. Mathias Malzieu and co writer Stéphane Landowski do try to add both tension and a bit more color via the secondary characters and subplots. The Flowerburger was once the salon of a group called the Suprisers, who were devoted to bringing whimsy to daily life and furthering the wartime resistance movement. Gaspard and his father (Tchéky Karyo) are at odds with what to do about the club and its failing fortunes, as it's the only connection they have left to Gaspard's long deceased mother and grandmother.

Gaspard's nosy neighbor, Rossy (model/actress Rossy de Palma), can't help but try to help the nascent romance along, happy to see Gaspard connect with someone, even if it's an odd woman in what she thinks is a fish suit. In the midst of this interspecies meet cute, a hospital doctor named Milena (Romane Bohringer) is trying to track down the mermaid, who killed the father of her unborn child with her impossible to resist song.
All of these elements do give a bit of room for aesthetic experimentation, from the faded period glamour of the flashback sequences, to a film within the film that riffs on the credit sequence animation, and an underwater love scene clearly inspired by The Shape Of Water. Both Gaspard and Rossy's apartments are lovingly detailed in Art Noveau color palettes, while the dark streets and the hospital corridors are all hard edges and cool tones straight out of a traditional horror movie. A Mermaid In Paris is steadfastly devoted to how whimsical this all is, in a manner familiar to fans of Wes Anderson and Tim Burton and other recent purveyors of protagonists who grow older without the loss of innocence that comes with growing up.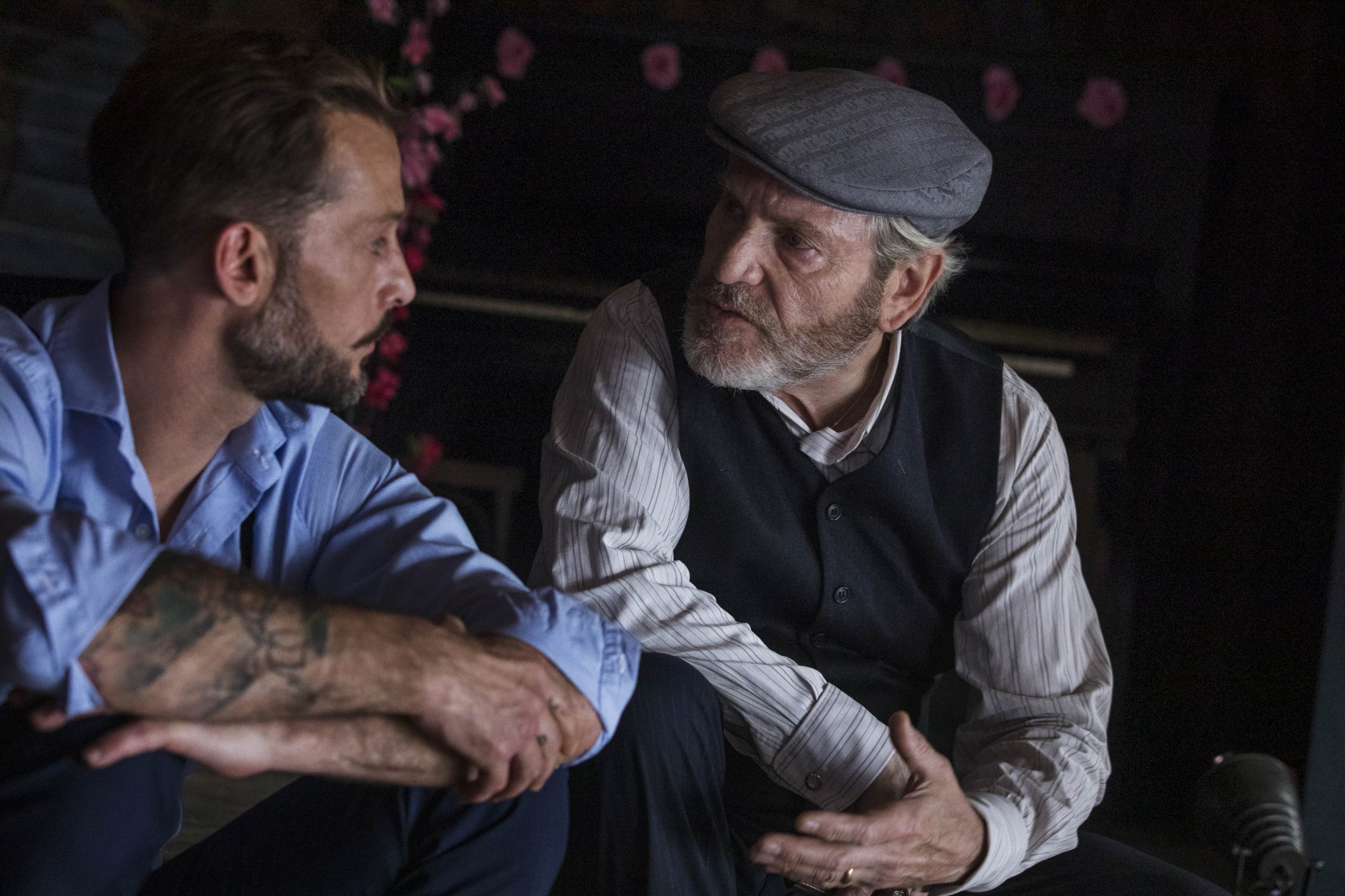 This is all supposed to be a studious exercise in charm, and the film does do a commendable job of reproducing visual elements from films with much larger budgets. The bulk of the work rests on its two leads, as the secondary characters are woefully under written.  Romane Bohringer in particular struggles gamely with Milena, a character that is little more than a plot device to accelerate the pace of the central love story.

Nicolas Duvauchelle fares surprisingly well cast against his usual bad boy type, imbuing Gaspard with the correct degree of wounded innocence and a passable nightclub croon. Marilyn Lima has the right look for Lula, with an ethereal beauty that's all doe eyes and cheekbones. However, something behind the eyes is missing, as she models her way through her scenes without selling us on the joys of fried fish dinners, shower songs or watching her sit silently plotting in a tiny bathtub.

For a film about the power of imagination, of how well executed wonder can change the world, pretty much everything about it is maddeningly familiar, undercutting any emotional heft the movie may have had. Everything here is carefully crafted, each delicately detailed set piece underscored by some rather lovely cabaret inflected pop. That said, for all of its loving handicraft, the film fails to surprise or delight enough to make a strong impression in an increasingly crowded field of bittersweetly whimsical cinema.

A Mermaid In Paris is as light and as sweet as the spun sugar of cotton candy, and its vague artificial color filled flavor disappears just as quickly once you've consumed it. While there's nothing wrong with an occasional binge into cinematic confections, this film's forced gaiety will be a bit too cloying to be something that most viewers will want to revisit very often.
Wicked Rating – 5.5/10
Director: Mathias Malzieu
Writer(s): Stéphane Landowski, Mathias Malzieu
Stars: Nicolas Duvauchelle, Marilyn Lima, Rossy de Palma
Studio/Production Company: Entre Chien et Loup, Kinology, Overdrive Productions
Language: French
Run Time: 102 minutes