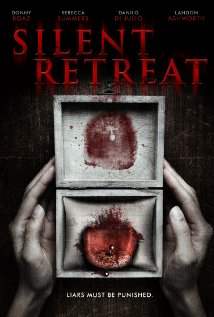 "Silent Retreat 
features six members of a media company go on a weekend business retreat at an isolated lodge in the woods. When one of the members goes missing, they discover that the lodge was formerly a private mental institution that had been shut down after allegations of devious misconduct. One by one, they fall victim to the dark secrets buried at the lodge."
This movie starts off as a cube city Breakfast Club with the boss, the hottie and her boyfriend, the annoying nerd, the cute British girl, the Jesus freak, the creepy caretaker, and the regular office guy trying to get out of the friendzone stuck at a refurbished cabin in the middle of nowhere. The plot in the first half of the movie is flimsy at best with pretty rough dialogue, childish interactions between the coworkers, and the Jesus freak woman being as imposing as possible.
As the title implies, this movie takes a little time to get going, but once the violence starts, the game is on as this movie becomes a horror version of the board game Clue. As the viewer is enraptured with the first disappearance, there is another huge plot point that parallels the characters being hunted. What starts out as a business trip turns into a terrifying mystery involving the caretaker, allegations of child abuse, and a surprising murderer with a sinister signature.
This film is nice to help enlist the spirit of Halloween during the fall or any other time of year. It is the right kind of flick for when you just want some thrills without having to think too much. I enjoyed myself and I was intrigued by the paranormal asylum aspect while also rooting for the bitchy pretty girl character to eat a face full of axe.
Silent Retreat is a simple horror movie that doesn't go overboard on comical amounts of violence and an intensely complicated storyline. The movie plays itself out in a manner that is not only realistic to pacing in real life, but doesn't dabble in exuberance in order to sell itself. I appreciated The Cabin in the Woods feel and was actually surprised by the twist, unlike Silent Retreat's numerous high budget counterparts that tend to be painfully predictable. You can check it out now on DVD.
WICKED RATING: 5/10  [usr 5]
Director(s): Ace Jordan
Writer(s): Ace Jordan, Heather Smith, Taryn Stenberg
Stars: Donny Boaz, Rebecca Summers, Eli Bildner
Year: 2016
Studio/ Production Co: Starko Entertainment
Language: English
Length: 92 Minutes
Sub-Genre: Horror-Thriller