Hank Has given up on life and is intent upon bringing his to an end. But right as he is getting ready to take his own life, Manny, a seemingly lifeless corpse, washes up on the beach next to him. Hank finds himself with a new lease on life and a renewed sense of purpose after discovering Manny. Then, Manny's post-mortem flatulence allows Hank to ride him around the ocean like a jet ski. However, Manny's usefulness does not stop there. He has a unique skill set that comes in handy in a variety of situations. Hank helps bring Manny back to life by helping him discover the power of love and Manny helps Hank by showing him what it feels like to have a best friend.
The picture is written and directed by Dan Kwan and Daniel Scheinert in their feature film directorial debut. Although this is the duo's first feature, you wouldn't guess that by watching it. Swiss Army Man is free from nearly all of the pitfalls and trappings common to a first time directorial effort. It feels like the work of a much more experienced director.
Swiss Army Man is a weird movie. Period. That's not a criticism. It's just a fact. The idea of a buddy comedy that's part Weekend at Bernie's and part Castaway starring a farting corpse is not really what one would call normal. But that is part of its charm. It is an original idea swimming in a sea of remakes, reboots, reimaginings, small screen reduxes, and sequels. And for that alone, it should be commended. Not only that, I have to thank and congratulate A24 (the film's distributor) for taking a chance on a wide release with a completely insane premise. Any other studio would almost certainly dump this flick on VOD but A24 is taking chances and kicking ass and I love them for it.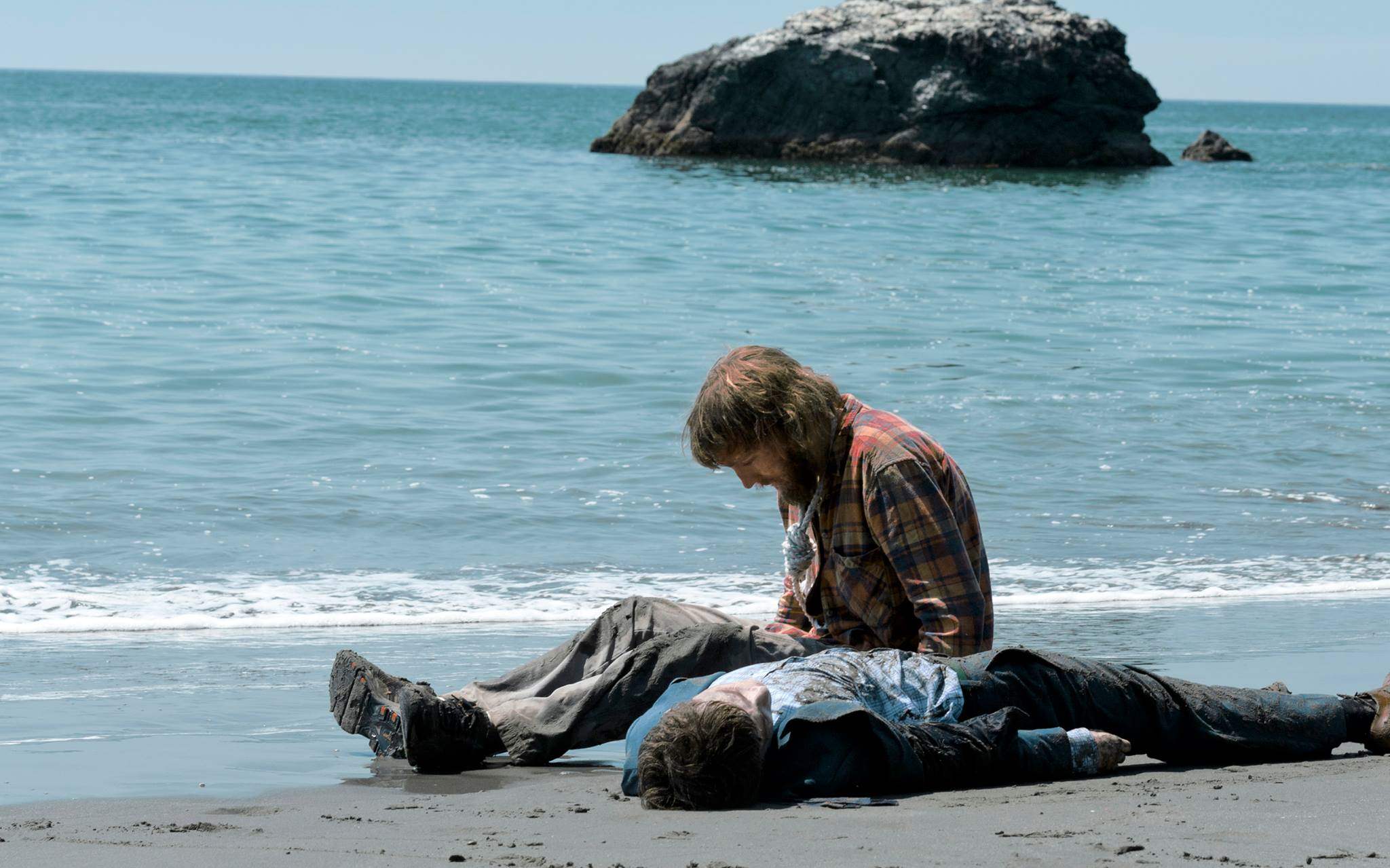 This is a film that lives or dies by its performances and fortunately, it features two highly capable performers in the lead roles. Paul Dano (
Looper
) and Daniel Radcliffe (
The Woman in Black
) have fantastic onscreen chemistry and serve to carry the film on their shoulders (seemingly effortlessly) for the course of 95-minutes. Although it gets a little sentimental towards the middle, the premise rarely wears thin. And that is saying something, because it's not a terribly complex setup and there is very little going on, so the film lives or dies by the audience's connection with its characters. Fortunately, Manny and Hank are likable and their relationship is very sweet.
It's worth mentioning that while Swiss Army Man has been covered extensively by genre film outlets, it's really not a horror picture. There are horror elements but it's far from straight horror. Yes, there is a farting zombie corpse in it. But, at its heart, it is a buddy comedy. And a touching one, at that. The relationship between Manny and Hank is sweet and smartly showcases the importance of friendship and human connection. The picture also reminds the viewer of the importance of taking joy in life's little pleasures and reminds us that it's perfectly OK to march to the beat of your own drum.
If you can get past the flatulence and look a little deeper, this is a charming film with a lot of heart. A lot of viewers reportedly walked out of the film's festival debut but they really should have given it a chance. There's a lot to like about Swiss Army Man. 
My only real complaints are that the pacing is a little up-and-down and things are a bit overly sentimental at times. But neither of those quips are substantial enough to have soured my enjoyment of the film.
The home video release features an impressively robust lineup of special features, including deleted scenes, a filmmaker Q&A, a behind-the-scenes look at the film, a featurette detailing the process of bringing Manny to life, and an audio commentary track.
Swiss Army Man is now available on DVD and Blu-ray from A24 and LionsGate.
WICKED RATING: 6.5/10
Director(s): Dan Kwan, Daniel Scheinert
Writer(s): Dan Kwan, Daniel Scheinert
Stars: Paul Dano, Daniel Radcliffe
Release: October 4, 2016
Studio/ Production Co: A24, LionsGate
Language: English
Length: 95-minutes
Sub-Genre: Buddy Zombie Comedy