All Hallows Eve (2013), written and directed by Damien Leone, was a refreshing take on the horror anthology. The film had a simple but solid premise that was used as a framing device for the omnibus; two children discover an unmarked VHS tape in their haul of sweets after trick or treating. This tale, in the vein of an urban legend, fuses each of the three separate segments on the tape via a character that appears in each, a very creepy killer clown.
In All Hallows' Eve 2, Leone has stepped away from the camera, allowing a myriad of filmmakers to contribute to self-contained stories tenuously connected to Halloween. The film is thus truly All Hallows' Eve; despite some standout stories, the increased number of segments and contributors results in an overall package that unfortunately does not feel quite as cohesive as the original.
This is largely due to the framing story. In the first film, the clever integration of the clown within each segment, in addition to the framing story, adds to the scares and mystery. In the sequel we are presented with a character credited as 'Trickster', who is fittingly reminiscent of Michael Myers from the Halloween franchise: he wears the same blue jumpsuit, wields a knife and has a pumpkin mask that appears to be influenced by the original Halloween film poster from 1978.
Trickster leaves the VHS tape on the doorstep of a woman pining for a man who doesn't appear to be returning her calls. She has been conducting a séance – it is Halloween after all – in which she calls to the "great spirit of Halloween" to bestow upon her the reason why she has been blighted. More could have been made of this framing narrative, but unfortunately it simply serves to do just that.
The eight segments themselves vary in length and effectiveness. A common critique of anthology films, due to their length, is that they produce simplistic scares with little originality. This is the case with The Offering, a short story about a father and son journeying into the woods to make a sacrifice. The expected ending is simplistic and the dialogue does little to flesh out what could have been an interesting familial character piece.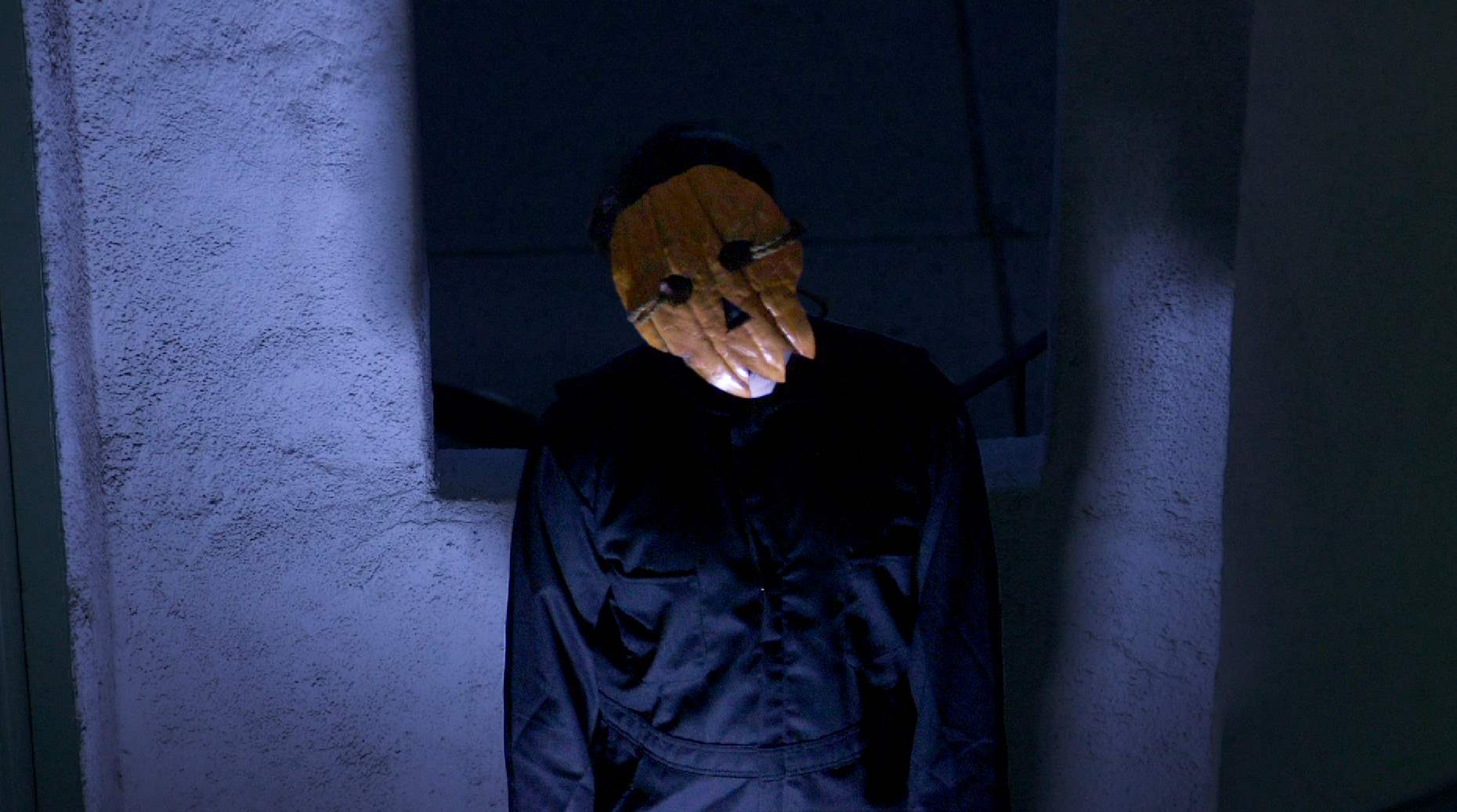 Similarly, Mr Tricker's Treat has no narrative as such; instead it presents a Halloween fanatic who goes all out for his decorations, creating the ultimate plan tableau.
A clear stand out is A Boy's Life, not so much for its horror but for its heart. A young boy who has recently lost his father in combat is troubled by noises at night and complains to his mother that there is a monster in his room. His mother of course doesn't believe him. Upon realising that her son's alleged haunting and grief are connected, she engages with him on his level in a touching scene that comments also on the very adult loss of imagination. Though predictable in its resolution, the characterisation was much more pronounced here than in any other vignette in the series, allowing the audience to invest in the characters and relate to the age-old fear of the monster under the bed.
This is also the case with Alexia, a Spanish offering that makes clever use of a single location and lighting for some truly creepy moments. The film also has some interesting comments about the addictive nature of social media. The most affective of the installments, it follows a man who is racked with guilt after his girlfriend killed herself when he ended their relationship. He needs to let go, but her online presence is very much still felt…
For fans of gore, Jack Attack is a fun, dark segment that utilises its short length to maximum effect. Part modern folklore, part B-movie homage, the film answers the question as to whether pumpkins feel pain – or the need for revenge – in a clever, bloody twist on the urban legend about tainted candy.
The most memorable instalment is The Last Halloween, a film set in a post-apocalyptic landscape on Halloween. We follow four children as they go from house to house, dressed as iconic Halloween figures: a witch, a devil, a ghost, and death. One woman takes pity on them and lets them inside. The most surreal and strange of the series, this story is left open for the viewer's personal interpretation and could be read as a commentary on loss, grief, sin, guilt, death and madness.
Overall the film is a fun anthology that showcases some individual styles, even if it is lighter on the scares and the gore than its predecessor. Give it a watch. Trickster dares you. All Hallows' Eve will be available on DVD February 2, 2016.
WICKED RATING: 5/10
Director(s): Jesse Baget, Elias Benavidez, Andrés Borghi, Jay Holben, Mike Kochansky, James Kondelik. Jon Kondelik, Bryan Norton, Antonio Padovan, Ryan Patch, and Marc Roussel
Writer(s): Jesse Baget, Elias Benavidez, Andrés Borghi, Jay Holben, Mike Kochansky, James Kondelik, Jon Kondelik, Bryan Norton, Antonio Padovan, Ryan Patch, and Marc Roussel
Stars: Landon Ackerman, April Adamson, Ali Agatia
Release: February 2, 2016
Studio/ Production Co: RLJ Entertainment
Language: English
Length: 91 Minutes
Sub-Genre: Various, Anthology