A family of seven relocates to a remote part of New England after being banished from their church. They set out with plans to start anew but their meager existence is challenged when their youngest child is abducted and killed by a witch. This leads to panic, distrust amongst the family unit, and an eventual descent into utter madness.
The Witch is Robert Eggers feature film directorial debut. But you wouldn't know that by looking at it. The film has an incredibly polished quality rarely seen in first time directorial efforts. The atmosphere, mood, and mounting sense of tension are all expertly crafted. The build up is definitely slow burn but it's not tedious. The audience is not likely to lose interest while waiting for the madness to start. There is enough going on during the first sixty-minutes to not only sustain viewer interest but to actually keep him or her riveted. But when the proverbial shit hits the fan, it pays off in a big way.
In addition to directing, Eggers also penned the screenplay for his film. He smartly scripted many of the scenes in a single location, allowing him to produce the film on a small budget without falling prey to many of the trappings of low budget filmmaking.
The Witch is more in the vein of an arthouse picture than typical cineplex horror fare. And it has proved to be a divisive picture for that very reason. But that shouldn't be a deterrent for anyone that appreciates quality filmmaking.  This is a cinematic effort that transcends the genre and has wowed critics and many horror fans with its attention to detail, strong performances, and breathtaking cinematography. With that said, The Witch isn't for everyone. Those who prefer more generic supernatural films like The Grudge will be sorely disappointed as The Witch is anything but run-of-the-mill. But its uniqueness is a large part of what makes it so special.
Eggers's attention to even the smallest of details and insistence upon near total historical accuracy pays off in spades. He has crafted an atmospheric thrill ride that will appease even the most discerning scholar of colonial history. Even those not familiar with the film's painstaking attempts to recreate the era in which it is set will be wowed by the breathtaking cinematography and the sensation of being transported back in time several hundred years.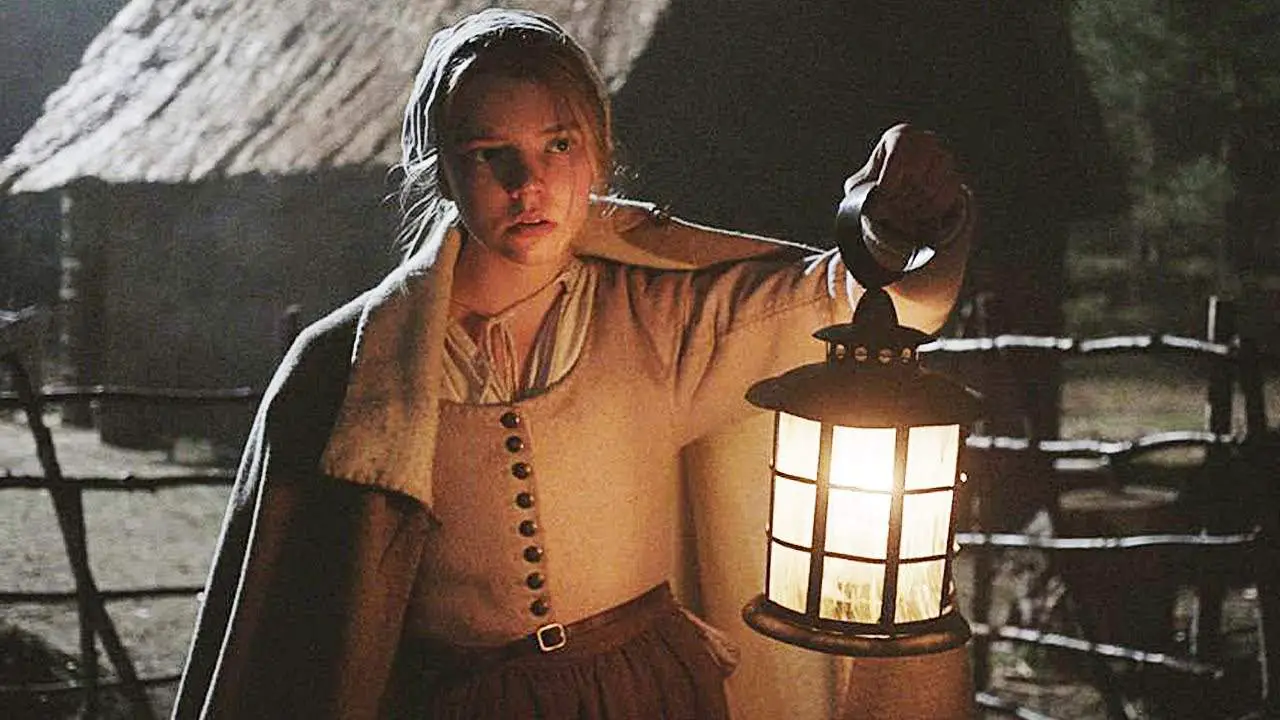 The Witch stars Anya Taylor-Joy, Ralph Ineson, Kate Dickie, Harvey Scrimshaw, Ellie Grainger, and Lucas Dawson. And every one of their performances are on point. The way that each of the characters depicts the descent into madness is realistic and harrowing.
I watched this one at a festival screening, prior to its theatrical run and could barely make out what anyone was saying. That's partially due to my inability to clearly understand regional dialect. However, in my defense, the accents are extremely thick and the characters are speaking in old english. Thankfully, with the home video release comes the ability to turn on subtitles. I highly recommend doing so. It made a huge difference not having to guess what the characters were saying. I was free to actually take in the film, instead of wondering if I was hearing what I thought I was hearing.
There's not much left to say that hasn't already been said about this picture but suffice to say, it is a must see. A standout effort that will very likely become a classic in its own right. It won't please everyone but you won't know how you feel about it until you have a look for yourself.
Blu-ray special features include audio commentary with Robert Eggers, a featurette, a Q&A session, and a Design Gallery. While definitely worth checking out, the bonus content is not exactly earth shattering. I would have liked to have seen some additional features beyond what is included. But, it's not bare bones, by any means. The Witch is now available on DVD, Blu-ray, and Digital HD.
WICKED RATING: [usr 7.5]
Director(s): Robert Eggers
Writer(s): Robert Eggers
Stars: Anya Taylor-Joy, Ralph Ineson, Kate Dickie, Harvey Scrimshaw, Ellie Grainger, and Lucas Dawson
Release: May 17 (Blu-ray)
Studio/ Production Co:
Budget:
Language:
Length:
Sub-Genre: