​When last we saw the sprightly Sabrina Spellman, as Season 1 of The Chilling Adventures of Sabrina wrapped up, she was striding confidently through the halls of her Satanic high school with a trio of frenemies, newly platinum hair perfectly coiffed. As the sophomore season opens, it quickly becomes apparent that parting image was more a tease of what's to come rather than an outright statement on our heroine's new state of mind/dress.  Sabrina is much darker now (well, apart from her hair), but she's still Sabrina.
Season 2 of Netflix's Chilling Adventures of Sabrina, from the brains behind the ludicrously addictive Riverdale, was shot in tandem with Season 1. As a result, this feels more like a continuation of the story rather than a standalone second trip to Greendale, and it's all the better for it. The action kicks off instantly, no tedious recap in sight, with our heroine tussling with her light and dark sides.
Related: Our Review of Season One Calls the Show a Devilishly Dark Delight
It doesn't help that new paramour Nick Scratch (that's an old-timey name for the Devil, fact fans) is skulking around, hoping to take the place of her ex-boyfriend Harvey who still doesn't really want to know the new her. Thankfully, both Sabrina's mortal friends and her new, kind-of friends in the Academy are accepting of her new outlook…and look. This time around, Sabrina is even wearing darker colors, leading Hilda to tease her about trying to be "edgy."
Her causes continue to be focused on female empowerment, with our heroine looking to become the Academy's first female Top Boy, which may lead Sabrina to one day be the first ever High Priestess of the Church of Night, helping Theo (née Susie) get on the boys' basketball team, and, oh yeah, the small matter of deciding whether her essential nature is good or evil. The stakes are simultaneously high enough for a dark fantasy show and grounded so we still believe Sabrina as a regular high school student.
Supporting characters like the dastardly but still attractive Nick, the clearly evil Father Blackwood (Richard Coyle, hamming it up once again), and scene-stealer Prudence get considerably more to do this time around. In particular, the latter is afforded her own compelling story-line regarding her heritage and the true meaning of family. Prudence petitions Blackwood to allow her use his surname and he resists, using her for his own gains all the while.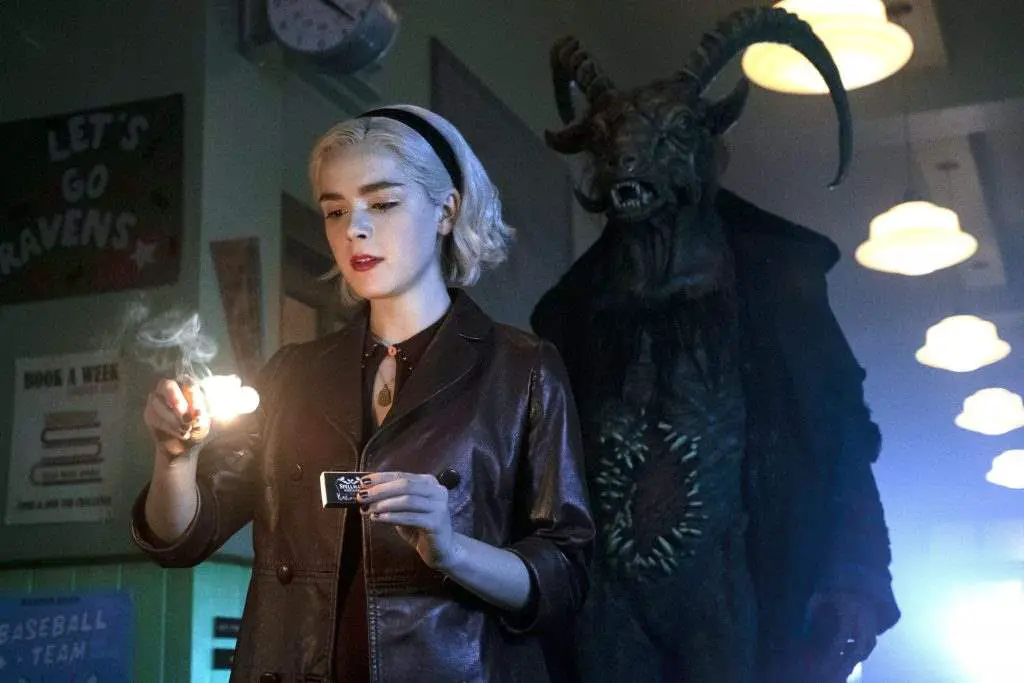 Prudence continues to be arguably the best character on Chilling Adventures of Sabrina, even though Kiernan Shipka once again kills it in the leading role, bringing depth and nuance to her portrayal of the teenage witch struggling to figure out who she is in increasingly bizarre circumstances. Sabrina remains consistently, and understandably, torn between the mortal world, where her friends are, and the supernatural one, where untold power awaits.
Michelle Gomez's conniving Mary Wardwell, revealed in Season 1 as Lilith, first wife of Adam and Satan's erstwhile mistress, continues to be a delightfully confusing presence. It's clear to the audience her intentions aren't good but, similar to Todd and the Book of Pure Evil's brilliant Atticus, Wardwell isn't all bad either. She might be plotting against Sabrina, but she also tries to help her, too, and often against the wishes of the dark lord.
Chilling Adventures of Sabrina takes pretty much the entire season, with dark shenanigans aplenty, before finally allowing Sabrina to cop on to who and what her confidante really is, but the big reveal doesn't pay off in the way you might expect. If anything, it's yet another stamp for the show's fiercely feminist credentials, as two more women join forces to fight back against a tyrannical man. Or, rather, a beast in the form of a man.
Zelda has her own issues with a horrid male as she's betrothed to Father Blackwood, realizing too late for her own good that he's after a Stepford wife rather than an equal partner. This plot-point, again, doesn't pay off the way we've come to expect. In fact Zelda, who in Season 1 was a clear and arguably even proud agent of the patriarchy, comes into her own this time around, finding common ground with Hilda and finally coming to her senses about the sexist issues rotting at the core of the church's leadership.
Chilling Adventures of Sabrina is, at its dark heart, about the continuing fight for equality of the sexes. Sabrina fights tirelessly to be recognized as just Sabrina, rather than an unruly woman causing problems in a man's world (or worlds, considering she also has her battles in the mortal realm to contend with). Father Blackwood is the ideal foil for her in this regard, consistently undermining her efforts by moving the goalposts whenever Sabrina gets anything close to a win (his solution to everything is to create yet another all-male secret society, to keep her away from the table).
Cousin Ambrose, a fan favorite from Season 1 (who I found incredibly irritating first time around), is given more room to breathe — particularly in reluctant servitude to Blackwood. Likewise Zelda finds herself as an unlikely double agent while pretending to be her new husband's pet. When the dark lord himself does eventually come knocking, in his sexier, less goat-life form, it's a given he expects to rule while the women bow down to him (crucially, however, it's a man's sacrifice that eventually sends Satan packing…at least for a while).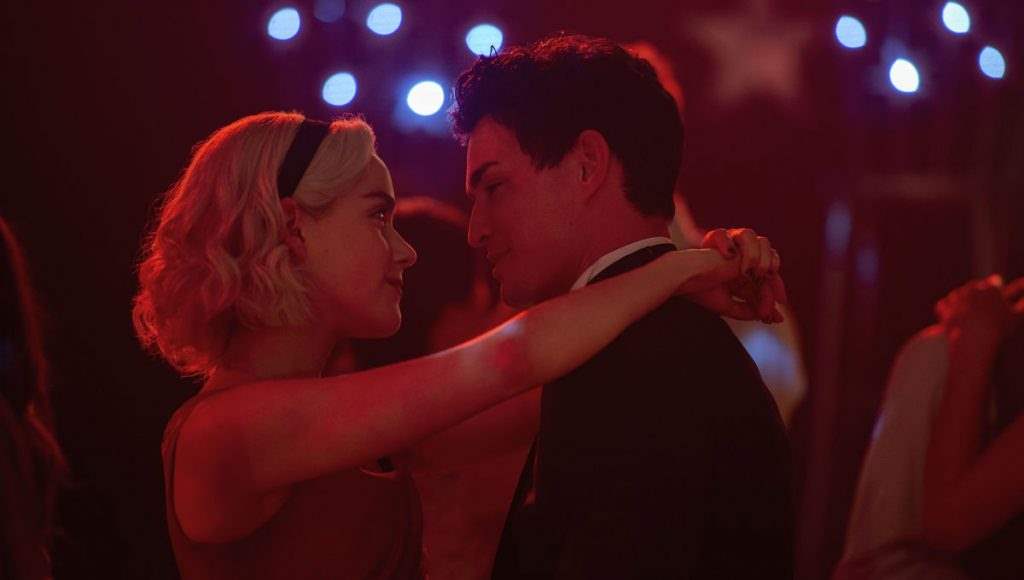 It's not all doom and gloom of course, as Chilling Adventures of Sabrina straddles that same, deliberate line it did in Season 1 between deliciously black comedy, sweet romance, and dark fairy-tale oddity. Hilda gets her guy, finally, and his dark secret brings them together rather than tearing them apart. Sabrina, as previously mentioned, finds a new man who's, I guess, the witch idea of a bad boy (eye roll) but it's clear her heart still lies with Harvey (at least I hope so, otherwise this show is dead to me).
As for our favorite farm boy — Nick still refers to Harvey as such, in a continuing nod to the show's previous incarnation — his relationship with Sabrina is complicated. Ross Lynch's sensitive portrayal of a beloved character is entirely separate from the Sabrina, the Teenage Witch incarnation chiefly because he's not a complete doofus, nor is his story-line entirely enslaved to Sabrina's.
Season 2 even pairs him with another woman, ending with the two happily entwined as Sabrina looks on, seemingly happy to focus on her new fella instead (the one major bum note is actually the final line of the season, which seems completely opposed to everything we know about her character). It's an odd choice but one that will hopefully bring the pair back together over the coming episodes.
See Also: The Blackcoat's Daughter is an Inspired Debut
Chilling Adventures of Sabrina is more finely drawn than Riverdale, which throws everything at the screen each week in hopes something will stick. The story here is carefully crafted and keenly observed. Even when certain characters feel like they haven't been properly given time to shine (Theo is a key example, and one a trans writer would be in a better position to fully explore), the world is so richly detailed it all sort of fits together anyway.
As with Season 1, Shipka's spirited performance anchors the show's zanier moments, but there's plenty of campy goodness to enjoy this time around regardless, whether it's Dorcas' unbridled horniness or Ray Wise showing up as the goddamn Anti-Pope. Chilling Adventures of Sabrina is at its best when it gives in to those darkly comic tendencies, rather than relying on the Riverdale-esque big reveals (of which there are, mercifully, very few).
It may be a little on the nose at times — though the argument could be made that feminism no longer utilizes a softly, softly approach because there's no time for that anymore — but the continuation of a firmly female focus, delightfully dark angles on religious worship, education, and teenage issues, and terrific performances across the board ensure this is nothing short of a stellar Season 2. Long may Sabrina's reign continue; the dark lord can suck it.