Jigsaw sees a series of crimes similar to those committed by John Kramer and his followers. The surprising thing is that the late John Kramer appears to be behind the latest rash of murders. Could it be a clever copycat or is Jigsaw back from the dead?
Jigsaw stars Tobin Bell, Laura Vandervoot (Smallville), Callum Keith Rennie (Memento), Brittany Allen (It Stains the Sands Red), Matt Passmore (The Glades), and Hannah Emily Anderson (Lizzy Borden Took an Ax). It was written by Josh Stolberg and Pete Goldfinger (Sorority Row and Piranha 3D) and directed by The Spierig Brothers (Daybreakers).
The horror genre has evolved since the release of Saw: The Final Chapter and I have to say that Jigsaw (to some extent) acknowledges that. There weren't as many grotesque kill scenes with close up camerawork as there were in the second through seventh films. This is still very much a Saw movie and there is certainly an element of gore. But the carnage is not necessarily the singular focus of the film.
I commend the creative team behind Jigsaw for not rehashing what we've seen in the first seven films. Although, far from a total departure from the previous entries, Jigsaw is different enough that it doesn't feel like a regurgitation of what we've seen so many times before. For better or worse, this latest installment has a somewhat different feel to it.
Differences from the previous installments aside, the third act is where Jigsaw really shines. Everything that comes before the climax is leading up to the final act of the flick. This makes for a pretty grand finale, full of twists and turns. But unfortunately, not enough effort was invested in the picture's first hour to make it come across as a wholly well rounded outing.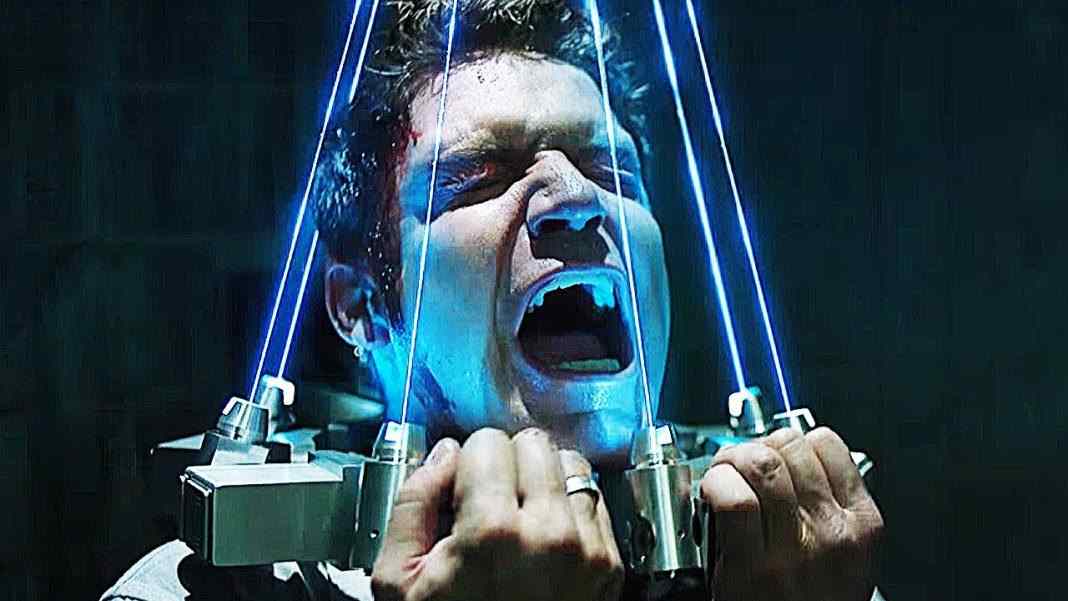 Part of the problem with the first two acts is that the characters are two-dimensional and dull. This makes it almost painstaking getting from minute one to minute sixty. If Josh Stolberg and Pete Goldfinger had written some or all of the players as a little more likable, that would have gone a long way in making acts one and two more enjoyable. But the blame doesn't belong solely to the screenwriters. The Spierig Brothers don't come across as particularly character-focused directors. Their efforts to build a solid third act payed off but I never got the impression that they really invested in bringing their characters to life in a meaningful way.
Another issue I had with the first sixty minutes of the film is that it suffers from serious pacing issues. The action effectively dies in the second act. There's an extended period of time with no trap action and the dialogue between the characters is almost as dull as watching paint dry. As I've said before, things pick up from there but a strong conclusion is not enough to make up for a really rough road to the finale.
For a second opinion on Jigsaw, be sure to check out Wicked Horror contributor Ryan Bradley's take on the film. Jigsaw is available on Blu-ray Combo Pack, 4K Ultra HD, and DVD.  Blu-ray and 4K special features include and audio Commentary track with the producers, a seven-part documentary on the franchise, and a whole host of featurettes.
WICKED RATING: 5/10
Director(s): The Spierig Brothers
Writer(s): Josh Stolberg and Pete Goldfinger
Stars: Tobin Bell, Laura Vandervoot, Callum Keith Rennie, Brittany Allen, Matt Passmore, and Hannah Emily Anderson
Release: January 23rd (Home Video)
Studio/ Production Co: LionsGate, Twisted Pictures
Budget: $10 Million (estimated)
Language: English
Length: 92-minutes
Sub-Genre: Torture