Marla, aka Marla Mae, is the definition of a woman's film. Directed, written by, and starring Lisa Van Dam-Bates (who also takes a credit for special FX, in which he's worked extensively), its premise is based around, well, a killer IUD. Let's face it, you don't get much more female than a story focused on a woman's issues with her birth control implant. And, hey, even without the horror element, this would be a pretty scary story.
In keeping with the female energy of the piece, the first face we see onscreen is indeed Marla's, following a prologue where something is built especially for her that looks a bit like a computer part (See? Scary). She's a waitress, living a relatively simple, easy life in Washington. Her boyfriend, a sweet, heavily tattooed bartender (there are lots of tattoos in this movie, which is always nice to see), is also her boss (Travis Johnny Ware, who's like a dark Michael Cera), which isn't as complicated as you'd think.
After being contacted by an old family friend now working as a gynecologist and offered a free IUD, Marla takes him up on it and, in the process of getting the spiky cervical implant, makes a new friend along the way, Jules (Katie Hemming, wearing way too much eyeliner). The two are soon living together, which is handy when Marla's IUD goes completely haywire, albeit not at all in the expected manner.
Before any of that happens, though, a sub-plot is introduced regarding a serial rapist (who looks like Daniel Bryan at his hairiest) in the locality. Indeed, as Marla walks home alone after a long shift, the camera lurks behind in the shadows as though someone, or something is watching her. Moments like this capture the innate fear of walking home, or indeed anywhere, alone as a woman. Only a female filmmaker could present them this effectively.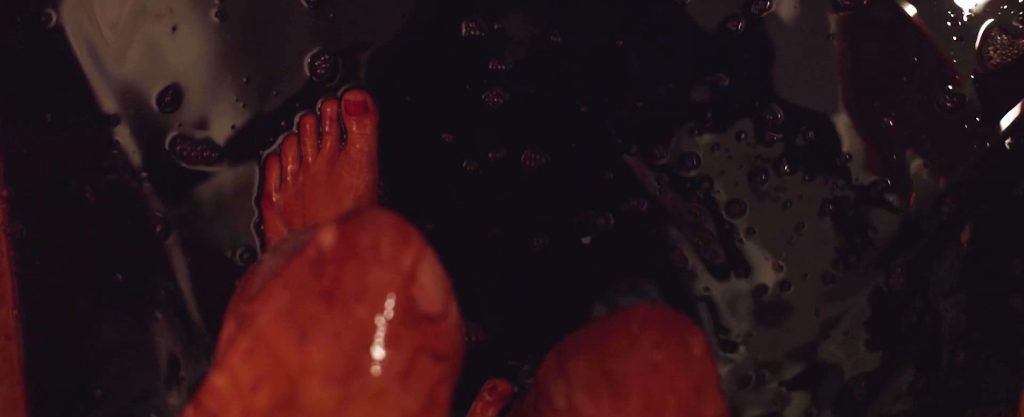 Likewise, the process of actually getting an IUD (the doc offers her a free smear test too — handy!) is horrifying enough as it is without any kind of supernatural add-on. In this way, the mood of Marla is similar to the films of Joe Begos, or even his frequent collaborator, Graham Skipper's, directorial debut, Sequence Break. It's based around regular people going through something strange while just trying to…exist.
The red stuff flows, of course; first when Marla is bleeding so much after her procedure she needs to insert a tampon. Then, without spoiling too much, in the shock death of someone by snoo snoo, as it were, which involves the kind of gruey, crunchy SFX that only exist in low budget fare made by people who genuinely care how gross it looks.
Once Marla realizes her IUD is, er, one hell of a contraceptive, she sits for days caked in blood, unable to process the gravity of the situation. The aftermath is more realistic than usual in these kinds of movies, as Marla tries to piece her life back together while simultaneously dodging a nosy police officer intent on linking what's happened to her with the other horrific crimes in the area.
Marla is a little rough around the edges, much like its protagonist, but the concept is strong and well-considered. A good ol' retrowave score keeps the atmosphere intriguingly difficult to decipher, while the performances, although not exactly peerless, are fully committed across the board. Killer vaginas have been a thing before, of course, as with the bizarrely overrated Teeth, but here the focus, thankfully, isn't on "scary" female body parts.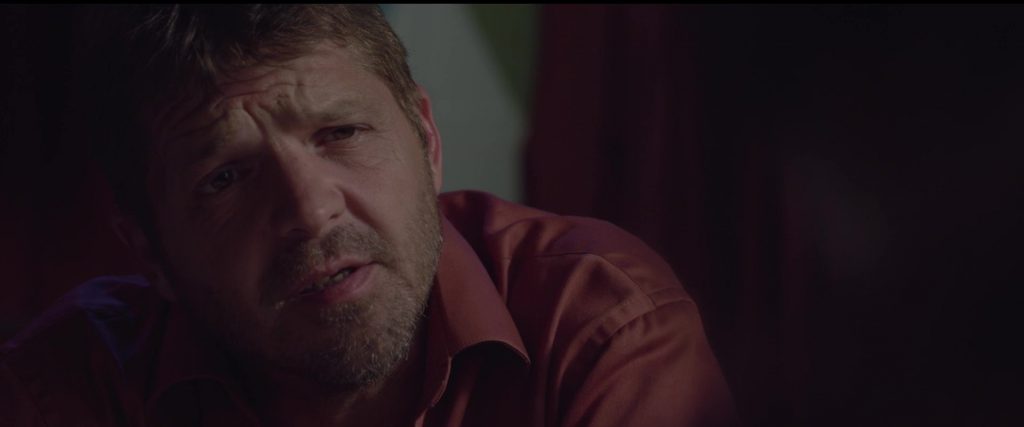 Van Dam-Bates herself is terrific as Marla, imbuing the character with sensitivity and grace. She might take a clearly dodgy doctor up on his offer without completely thinking it through, but Marla is just trying to take control of her reproductive health with what little resources she has at her disposal. The situation might turn crazy, but her predicament is very real.
Marla lags a bit in its final moments, possibly because Van Dam-Bates wasn't quite sure how to end it, and a final act reveal feels tacked on and clunky. However, prior to that, it's quite a bold climax boasting an amazing shot of the lead actress, writer, and director that's irresistibly Carrie-esque (except, in this case, her actions are deliberate).
Even if it's a bit awkward in its execution at times, Marla is a hugely impressive debut for Van Dam-Bates, in all the roles she occupies (and, considering this is a small movie, she likely did a whole lot more than she's taking credit for). Beautifully shot and crisply edited, it tells the kind of horrific, based in reality, story only a woman could tell while also staying true to its genre trappings.
WICKED RATING: 7/10
Director(s): Lisa Van Dam-Bates
Writer(s): Lisa Van Dam-Bates
Stars: Lisa Van Dam-Bates, Travis Johnny Ware, Katie Hemming, Jason Strange, Palmer Chase
Release date: November 5, 2019 (Digital and DVD)
Studio/Production Company: Cut Publishing
Language: English
Run Time: 92 minutes
Follow us on social media: Twitter, Facebook, Instagram, and Youtube