Don't Breathe is a psychological horror film that follows three thieves and chronicles the price the trio pays for greed. As the film begins we are introduced to the three main characters, Money (played by Daniel Zovatto, It Follows), Rocky (played by Jane Levy, Evil Dead), and Alex (played by Dylan Minnette, Goosebumps) who have made a hobby out of robbing luxury items from wealthy homes and turning a profit on their stolen merchandise. While the male characters, Money and Alex have differing romantic interests in Rocky, the only female protagonist, is motivated by more powerful forces: love and family. The three of them are given a tip regarding an old, blind man (played by Stephen Lang, Avatar) who keeps hundreds of thousands of dollars in  cash in his home. But things turn very dark  very quickly and the three go from hunters to hunted.
Don't Breathe is an amazing thrill ride that has all the characteristics of a great horror film. It actually features interesting and well-developed characters. Rocky, who has a more in-depth reason for committing crimes is easy to warm up to. We also get an amazing characterization of the antagonist, known only as the blind man. The blind man rarely talks in the film, but he doesn't need to because his body language and actions tell a story that leaves a deeper impression than if he were to explain himself. His mannerisms are extremely unsettling. There are small bits of information that we learn about the blind man, but they are few and far between. This serves to make him an even more perfect and horrifyingly evil antagonist. It is easier to make someone out to be a complete monster when you know very little about them.
The pacing is well crafted. As viewers were treated to action, barely twenty minutes into the movie and it never lets up. There are small moments of reprieve, but for the most part Don't Breathe is full of non-stop action that will have the viewer on the edge of their seat.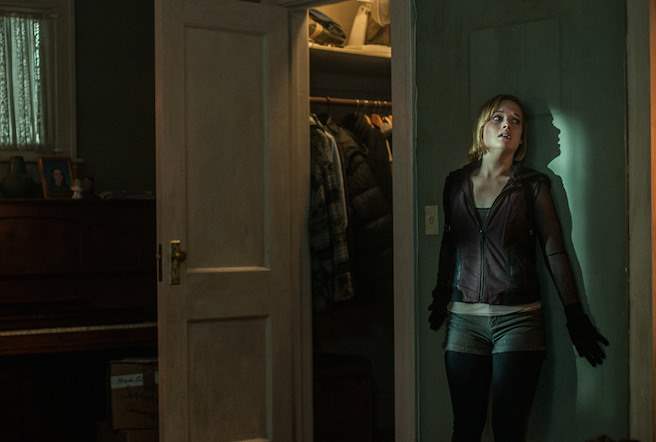 Another aspect of Don't Breathe that impressed me was the accurate depictions of graphic violence throughout the film. For example, when the blind man shoots one of the characters in the very beginning (this is in the trailer, so I'm not counting it as a spoiler), it isn't this grand spectacle that borders on the ridiculous. It is a quick, gruesome death. The blind man has a military background and often disarms or overpowers the protagonists using military-style hand-to-hand combat and techniques.
I actually do not have any complaints about this movie. I think the execution is amazing. The characters are well-developed. And the story is interesting enough to keep you intrigued. If I had to offer any criticism, it would be that the Rocky can be unbearable and foolish at times. But, then again, she is dealing with an awful lot.
Overall Don't Breathe is an amazing film and I had a fantastic time watching it. In fact, it was so good that I would see it again if I had another opportunity. I highly recommend this for a scary time out. It opens in theatres, nationwide today.
WICKED RATING: 8/10
Director(s): Fede Alvarez
Writer(s): Fede Alvarez, Rodo Sayagues
Stars: Stephen Lang, Jane Levy, and Dylan Minnette
Release: Augsut 26, 2016
Studio/ Production Co: Screen Gems
Language: English
Length: 88-Minutes
Sub-Genre: Home Invasion