Carter (Thomas Jane) lost his son in a tragic accident. That loss led to the dissolution of his marriage and left Carter with nothing to live for. That is, until a 12-year old girl named Bird, who witnessed a mob-style execution shows up on his doorstep looking for help. What ensues is a standoff between Carter and a coldblooded assassin (Laurence Fishburne) trying to eliminate the only living witness to his crime.
Standoff marks Adam Alleca's feature film directorial debut. However, he is no stranger to Hollywood. Alleca penned the screenplay for the gritty reboot of Wes Craven's The Last House on the Left. There are certain tonal similarities between Last House and Standoff. Alleca helmed Standoff from a script that he wrote and knowing that, viewers may be able to to see certain trademarks of Alleca's scripting style present across his (albeit somewhat small) body of work.
The main thing that makes this film work is the dynamic between the three main characters. Thomas Jane sees saving Bird (Ella Ballentine) as an opportunity to redeem himself for his son's death (for which he blames himself). And Bird, although a very independent 12-year-old has no one left in the world and desperately needs Carter's help. Laurence Fishburne plays Sade as a cagey hitman that will do or say anything to get his mark. The relationship between those three central characters really carries the film. Were any one of their performances not believable, the whole picture would have fallen very flat.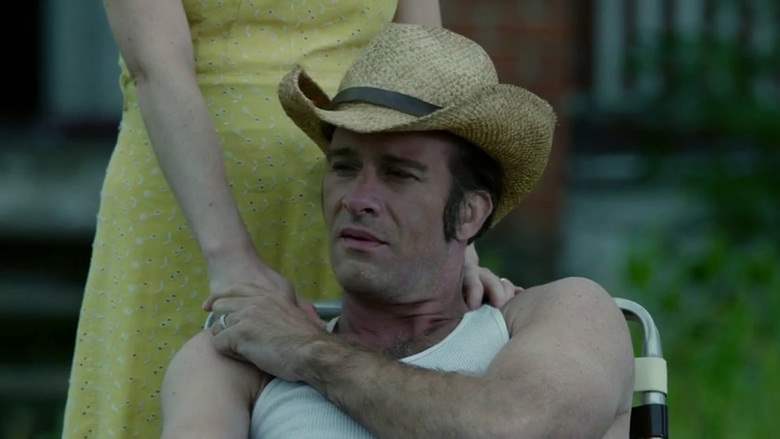 In spite of not boasting a particularly large body count,
Standoff  
is still pretty brutal. It feels very much like an updated take on the action-grindhouse thrillers of the '70s and '80s. There's a certain grittiness to the future that conjures memories of that time period. There's also the sense that you don't ever quite know for sure who will live and who will die.
My chief complaint with Standoff is that it is a little slow towards the middle. It starts and ends with a bang but it relies pretty heavily on the character piece in the second act. Since the relationships are believable, the picture doesn't totally lose steam at the midway point but it will likely be a little trying on anyone with a short attention span.
I ultimately found Standoff to be sincere and good for what it is: A B-Movie with a strong cast and a series of taut action sequences. I won't be rushing out to watch it again anytime soon. But I genuinely enjoyed it and would suggest giving it a shot if you dig a throwback to the heyday of the drive-in theater and grindhouse double bills.
WICKED RATING:  [usr=6]
Director(s): Adam Alleca
Writer(s): Adam Alleca
Stars: Thomas Jane, Laurence Fishburne, Ella Ballentine
Release: April 12, 2016 Blu-ray and DVD
Studio/ Production Co: LionsFate
Language: English
Length: 80 Minutes
Sub-Genre: Neo-Grindhouse, Action